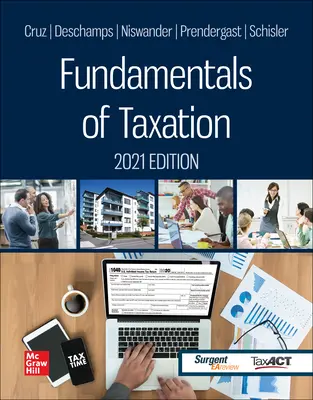 Fundamentals of Taxation 2021 Edition
14th Edition
By Ana Cruz and Michael Deschamps and Frederick Niswander and Debra Prendergast and Dan Schisler
ISBN10: 1260247104
ISBN13: 9781260247107
Copyright:
2021
Product Details

+
Connect Accounting: Reliable, intuitive, and rigorous learning management system – the market-leading digital solution.
Follows the Form: Organized to follow the IRS tax forms, enabling students to understand tax law logic and obtain client information.
Surgent Enrolled Agent Review: Partnership with Surgent Review provides 6-month free access to Part 1 of the Enrolled Agent exam review material to students.
Read more +
Program Details
Ch. 1 Introduction to Taxation, the Income Tax Formula, and Form 1040
Ch. 2 Expanded Tax Formula, Form 1040, and Basic Concepts
Ch. 3 Gross Income: Inclusions and Exclusions
Ch. 4 Adjustments for Adjusted Gross Income
Ch. 5 Itemized Deductions
Ch. 6 Self-Employed Business Income (Line 12 of Schedule 1 and Schedule C)
Ch. 7 Capital Gains and Other Sales of Property (Schedule D and Form 4797)
Ch. 8 Rental Property, Royalties, and Income from Flow-Through Entities (Line 17, Schedule 1, and Schedule E)
Ch. 9 Tax Credits (Schedule 3, lines 48 through 54, and Schedule 5, lines 70 through 74)
Ch. 10 Payroll Taxes
Ch. 11 Retirement and Other Tax-Deferred Plans and Annuities
Ch. 12 Special Property Transactions
Ch. 13 At-Risk/Passive Activity Loss Rules and the Individual Alternative Minimum Tax
Ch. 14 Partnership Taxation
Ch. 15 Corporate Taxation
Appendix A: Amended Tax Returns (Form 1040X)
Appendix B: Comprehensive Problems
Appendix C: Concept Check Answers
Appendix D: IRS Tax Tables
Appendix E: IRS Tax Forms
Appendix F: 2018 Federal Income Tax