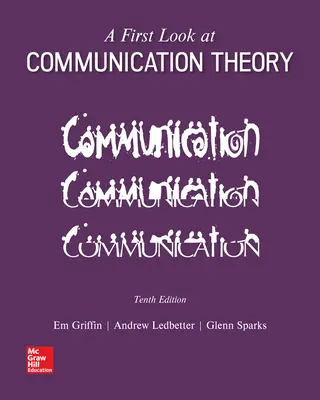 A First Look at Communication Theory
10th Edition
By Em Griffin and Andrew Ledbetter and Glenn Sparks
ISBN10: 1259913783
ISBN13: 9781259913785
Copyright:
2019
Product Details

+
● Offers students with no background in communication theory a broad introduction to theories.
● Discusses a single theory in each chapter, with concentrated coverage giving students a chance to focus their thoughts and engage with each theory, and making it easy for instructors to teach theories in any order.
● Explores ethical principles throughout the book, emphasizing that communication is a field heavily influenced by concerns about what's right or wrong.
Program Details
Griffin: A First Look at Communication Theory, 10e


CHAPTER 1: Launching Your Study of Communication Theory
CHAPTER 2: Talk About Theory
CHAPTER 3: Weighing the Words
CHAPTER 4: Mapping the Territory (Seven Traditions in the Field of Communication Theory)
CHAPTER 5: Symbolic Interactionism of George Herbert Mead
CHAPTER 6: Coordinated Management of Meaning (CMM) of W. Barnett Pearce & Vernon Cronen
CHAPTER 7: Expectancy Violations Theory of Judee Burgoon
CHAPTER 8: Social Penetration Theory of Irwin Altman & Dalmas Taylor
CHAPTER 9: Uncertainty Reduction Theory of Charles Berger
CHAPTER 10: Social Information Processing Theory of Joseph Walther
CHAPTER 11: Relational Dialectics of Leslie Baxter & Barbara Montgomery
CHAPTER 12: Communication Privacy Management Theory of Sandra Petronio
CHAPTER 13: Media Multiplexity Theory of Caroline Hawthornthwaite
CHAPTER 14: Social Judgment Theory of Muzafer Sherif
CHAPTER 15: Elaboration Likelihood Model of Richard Petty & John Cacioppo
CHAPTER 16: Cognitive Dissonance Theory of Leon Festinger
CHAPTER 17: Functional Perspective on Group Decision Making of Randy Hirokawa & Dennis Gouran
CHAPTER 18: Symbolic Convergence Theory of Ernest Bormann
CHAPTER 19: Cultural Approach to Organizations of Clifford Geertz & Michael Pacanowsky
CHAPTER 20: Communicative Constitution of Organizations of Robert McPhee
CHAPTER 21: Critical Theory of Communication in Organizations of Stanley Deetz
CHAPTER 22: The Rhetoric of Aristotle
CHAPTER 23: Dramatism of Kenneth Burke
CHAPTER 24: Narrative Paradigm of Walter Fisher
CHAPTER 25: Media Ecology of Marshall McLuhan
CHAPTER 26: Semiotics of Roland Barthes
CHAPTER 27: Cultural Studies of Stuart Hall
CHAPTER 28: Uses and Gratifications of Elihu Katz
CHAPTER 29: Cultivation Theory of George Gerbner
CHAPTER 30: Agenda-Setting Theory of Maxwell McCombs & Donald Shaw
CHAPTER 31: Genderlect Styles of Deborah Tannen
CHAPTER 32: Standpoint Theory of Sandra Harding & Julia Wood
CHAPTER 33: Muted Group Theory of Cheris Kramarae
CHAPTER 34: Communication Accommodation Theory of Howard Giles
CHAPTER 35: Face-Negotiation Theory of Stella Ting-Toomey
CHAPTER 36: Co-Cultural Theory of Mark Orbe
CHAPTER 37: Common Threads in Comm Theories