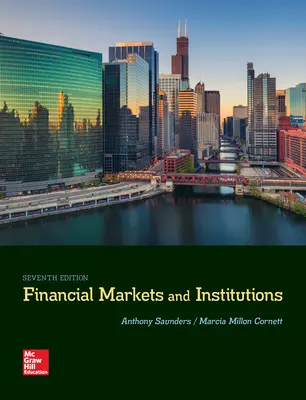 Financial Markets and Institutions
7th Edition
By Anthony Saunders and Marcia Cornett
ISBN10: 1259919714
ISBN13: 9781259919718
Copyright:
2019
Product Details

+
● Offers a distinct analysis of the risks faced by investors and savers interacting through both financial institutions and financial markets.
● Recognizes that foreign and domestic financial markets are increasingly integrated.
● Provides analytical rigor that is mathematically accessible to students of all levels.
Program Details
Part 1 INTRODUCTION AND OVERVIEW OF FINANCIAL MARKETS

1. Introduction
2. Determinants of Interest Rates
3. Interest Rates and Security Valuation
4. The Federal Reserve System, Monetary Policy, and Interest Rates

Part 2 SECURITIES MARKETS

5. Money Markets
6. Bond Markets
7. Mortgage Markets
8. Stock Markets
9. Foreign Exchange Markets
10. Derivative Securities Markets

Part 3 COMMERCIAL BANKS

11. Commercial Banks: Industry Overview
12. Commercial Banks' Financial Statements and Analysis
13. Regulation of Commercial Banks

Part 4 OTHER FINANCIAL INSTITUTIONS

14. Other Lending Institutions: Savings Institutions, Credit Unions, and Finance Companies
15. Insurance Companies
16. Securities Firms and Investment Banks
17. Investment Companies
18. Pension Funds

Part 5 RISK MANAGEMENT IN FINANCIAL INSTITUTIONS

19. Types of Risks Incurred by Financial Institutions
20. Managing Credit Risk on the Balance Sheet
21. Managing Liquidity Risk on the Balance Sheet
22. Managing Interest Rate Risk and Insolvency Risk on the Balance Sheet
23. Managing Risk off the Balance Sheet with Derivative Securities
24. Managing Risk off the Balance Sheet with Loan Sales and Securitization