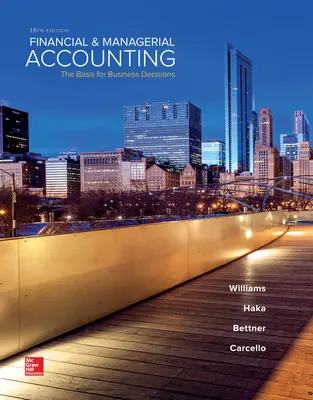 Financial & Managerial Accounting
18th Edition
By Jan Williams and Susan Haka and Mark Bettner and Joseph Carcello
ISBN10: 125969240X
ISBN13: 9781259692406
Copyright:
2018
Product Details

+
* Financial and Managerial Accounting, 18/e provides a solid foundation for students who are learning basic accounting concepts.
* Known for giving equal weight to financial and managerial topics, the authors emphasize the need for a strong foundation in both aspects of accounting, creating a well-balanced course.
* Connect: A highly reliable, easy-to-use homework and learning management solution that embeds learning science and award-winning adaptive tools to improve student results.
Program Details
1 Accounting: Information for Decision Making
2 Basic Financial Statements
3 The Accounting Cycle: Capturing Economic Events
4 The Accounting Cycle: Accruals and Deferrals
5 The Accounting Cycle: Reporting Financial Results
6Merchandising Activities
7 Financial Assets
8 Inventories and the Cost of Goods Sold
9 Plant and Intangible Assets
10 Liabilities
11 Stockholders' Equity: Paid-In Capital
12 Income and Changes in Retained Earnings
13 Statement of Cash Flows
14 Financial Statement Analysis
15 Global Business and Accounting
16 Management Accounting: A Business Partner
17 Job Order Cost Systems and Overhead Allocations
18 Process Costing
19 Costing and The Value Chain
20 Cost-Volume-Profit Analysis
21 Incremental Analysis
22 Responsibility Accounting and Transfer Pricing
23 Operational Budgeting
24 Standard Cost Systems
25 Rewarding Business Performance
26 Capital Budgeting