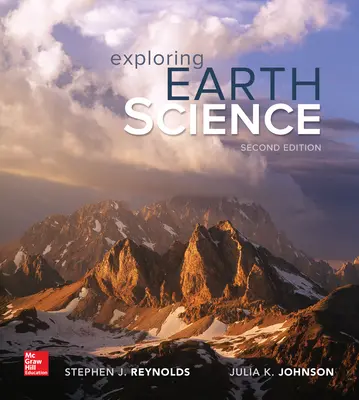 Exploring Earth Science
2nd Edition
By Stephen Reynolds and Julia Johnson
ISBN10: 1259638618
ISBN13: 9781259638619
Copyright: 2019
Product Details

+
• Offers a ground-breaking, visually spectacular book, based on cognitive and educational research on how students learn and study.
• Organizes topics into two-page spreads, each featuring stunning photographs and illustrations, rather than long blocks of text, so students can easily visualize geologic processes and concepts.
• Encourages students to observe, interpret, think critically, and engage in authentic inquiry.
Program Details
Part 1: Earth Materials and Systems
01 The Nature of Earth Science
02 Minerals and Mineral Resources
03 Earth Materials
04 Earth History
Part 2: The Dynamic Earth
05 Plate Tectonics
06 Volcanism and Other Igneous Processes
07 Deformation and Earthquakes
08 Mountains, Basins, and Continental Margins
Part 3: Landscape Processes and Evolution
09 Sculpting Landscapes
10 Soil and Unstable Slopes
11 Glaciers, Shorelines, and Changing Sea Levels
12 Streams, Lakes, and Groundwater
Part 4: Atmosphere and Oceans
13 Energy and Matter in the Atmosphere
14 Atmospheric Motion
15 Atmospheric Moisture
16 Weather and Storms
17 Oceans and Their Interactions with Other Earth Systems
18 Climates Around the World
Part 5: Solar System and Universe
19 Our Solar System
20 Our Universe