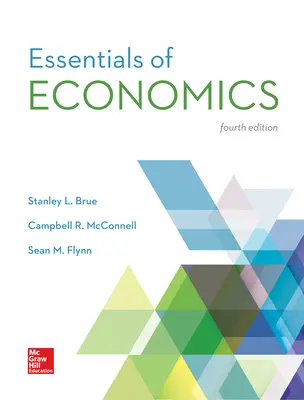 Essentials of Economics
4th Edition
By Stanley Brue and Campbell McConnell and Sean Flynn
ISBN10: 1259234622
ISBN13: 9781259234620
Copyright: 2019
Product Details

+
Essentials of Economics, 4th Edition, provides a fresh alternative to the survey course that is both substantive and appropriate for the introductory economics student. Essentials of Economics provides the best elements of McConnell Economics 21st edition with unique content designed to help students understand the material in one semester.
Program Details
Introduction
1. Limits, Alternatives, and Choices
Chapter One Appendix: Graphs and Their Meaning
2. The Market System and the Circular Flow
Part TWO
Price Quantity, and Efficiency
3.
Demand, Supply, and Market Equilibrium
Chapter Three Appendix: Additional Examples of Supply and Demand
4.
Elasticity of Demand and Supply
5.
Market Failures: Public Goods and Externalities
PART THREE
Product Markets
6.
Businesses and Their Costs
9.
Monopolistic Competition and Oligopoly
PART FOUR
GDP, Growth, and Instability
10.
GDP and Economic Growth
11.
Business Cycles, Unemployment, and Inflation
12.
Aggregate Demand and Aggregate Supply
13.
Fiscal Policy, Deficits, and Debt
PART FIVE
Money, Banking, and Monetary Policy
14.
Money, Banking, and Financial Institutions
15.
Interest Rates and Monetary Policy
PART SIX
International Economics
16.
International Trade and Exchange Rates
PART SEVEN
Resource Markets
18.
Income Inequality and Poverty