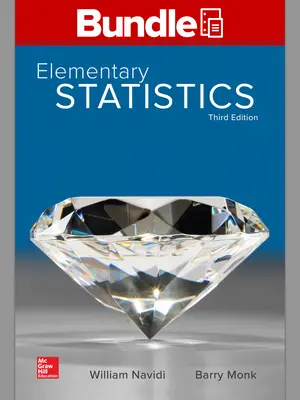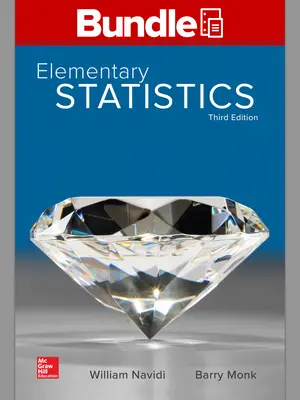 Loose Leaf for Elementary Statistics with ALEKS 360 Access Card (18 weeks)
,
3rd Edition
ISBN10: 1260487547 | ISBN13: 9781260487541
Purchase Options:
* The estimated amount of time this product will be on the market is based on a number of factors, including faculty input to instructional design and the prior revision cycle and updates to academic research-which typically results in a revision cycle ranging from every two to four years for this product. Pricing subject to change at any time.
Instructor Details
Navidi/Monk, Elementary Statistics was developed around three central themes – Clarity, Quality, and Accuracy. These central themes were born out of extensive market research and feedback from statistics instructors across the country. The authors paid close attention to how material is presented to students, ensuring that the content in the text is very clear, concise, and digestible. High quality exercises, examples and integration of technology are important aspects of an Introductory Statistics text. The authors have provided robust exercise sets that range in difficulty. They have also focused keen attention to ensure that examples provide clear instruction to students. Technology is integrated throughout the text, providing students examples of how to use the TI-84 Plus Graphing Calculators, Microsoft Excel and Minitab. The accuracy of Elementary Statistics was a foundational principle always on the minds of the authors. While this certainly pertains to all aspects of the text, the authors also exhausted energy in ensuring the supplements have been developed to fit cohesively with the text.
Table of Contents—Elementary Statistics, Third Edition
Chapter 1: Basic Ideas
1.1 Sampling
1.2 Types of Data
1.3 Design of Experiments
1.4 Bias in Studies
Chapter 1 Summary
Chapter Quiz
Chapter 1 Review Exercises
Case Study
Chapter 2: Graphical Summaries of Data
2.1 Graphical Summaries for Qualitative Data
2.2 Frequency Distributions and Their Graphs
2.3 More Graphs for Quantitative Data
2.4 Graphs Can Be Misleading
Chapter 2 Summary
Chapter Quiz
Chapter 2 Review Exercises
Case Study
Chapter 3: Numerical Summaries of Data
3.1 Measures of Center
3.2 Measures of Spread
3.3 Measures of Position
Chapter 3 Summary
Chapter Quiz
Chapter 3 Review Exercises
Case Study
Chapter 4: Summarizing Bivariate Data
4.1 Correlation
4.2 The Least-Squares Regression Line
4.3 Features and Limitations of the Least-Squares Regression Line
Chapter 4 Summary
Chapter Quiz
Chapter 4 Review Exercises
Case Study
Chapter 5: Probability
5.1 Basic Concepts of Probability
5.2 The Addition Rule and the Rule of Complements
5.3 Conditional Probability and the Multiplication Rule
5.4 Counting
Chapter 5 Summary
Chapter Quiz
Chapter 5 Review Exercises
Case Study
Chapter 6: Discrete Probability Distributions
6.1 Random Variables
6.2 The Binomial Distribution
6.3 The Poisson Distribution
Chapter 6 Summary
Chapter Quiz
Chapter 6 Review Exercises
Case Study
Chapter 7: The Normal Distribution
7.1 The Standard Normal Curve
7.2 Applications of the Normal Distribution
7.3 Sampling Distributions and the Central Limit Theorem
7.4 The Central Limit Theorem for Proportions
7.5 The Normal Approximation to the Binomial Distribution
7.6 Assessing Normality
Chapter 7 Summary
Chapter Quiz
Chapter 7 Review Exercises
Case Study
Chapter 8: Confidence Intervals
8.1 Confidence Intervals for a Population Mean, Standard Deviation Known
8.2 Confidence Intervals for a Population Mean, Standard Deviation Unknown
8.3 Confidence Intervals for a Population Proportion
8.4 Confidence Intervals for a Standard Deviation
8.5 Determining Which Method to Use
Chapter 8 Summary
Chapter Quiz
Chapter 8 Review Exercises
Case Study
Chapter 9: Hypothesis Testing
9.1 Basic Principles of Hypothesis Testing
9.2 Hypothesis Tests for a Population Mean, Standard Deviation Known
9.3 Hypothesis Tests for a Population Mean, Standard Deviation Unknown
9.4 Hypothesis Tests for Proportions
9.5 Hypothesis Tests for a Standard Deviation
9.6 Determining Which Method to Use
9.7 Power
Chapter 9 Summary
Chapter Quiz
Chapter 9 Review Exercises
Case Study
Chapter 10: Two-Sample Confidence Intervals
10.1 Confidence Intervals for the Difference Between Two Means: Independent Samples
10.2 Confidence Intervals for the Difference Between Two Proportions
10.3 Confidence Intervals for the Difference Between Two Means: Paired Samples
Chapter 10 Summary
Chapter Quiz
Chapter 10 Review Exercises
Case Study
Chapter 11: Two-Sample Hypothesis Tests
11.1 Hypothesis Tests for the Difference Between Two Means: Independent Samples
11.2 Hypothesis Tests for the Difference Between Two Proportions
11.3 Hypothesis Tests for the Difference Between Two Means: Paired Samples
11.4 Hypothesis Tests for Two Population Standard Deviations
11.5 The Multiple Testing Problem
Chapter 11 Summary
Chapter Quiz
Chapter 11 Review Exercises
Case Study
Chapter 12: Tests with Qualitative Data
12.1 Testing Goodness of Fit
12.2 Tests for Independence and Homogeneity
Chapter 12 Summary
Chapter Quiz
Chapter 12 Review Exercises
Case Study
Chapter 13: Inference in Linear Models
13.1 Inference on the Slope of the Regression Line
13.2 Inference About the Response
13.3 Multiple Regression
Chapter 13 Summary
Chapter Quiz
Chapter 13 Review Exercises
Case Study
Chapter 14: Analysis of Variance
14.1 One-way Analysis of Variance
14.2 Two-way Analysis of Variance
Chapter 14 Summary
Chapter Quiz
Chapter 14 Review Exercises
Case Study
Chapter 15: Nonparametric Statistics
15.1 The Sign Test
15.2 The Rank-Sum Test
15.3 The Signed-Rank Test
Chapter 15 Summary
Chapter Quiz
Chapter 15 Review Exercises
Case Study
Appendix A: Tables
Appendix B: TI-84 PLUS Stat Wizards