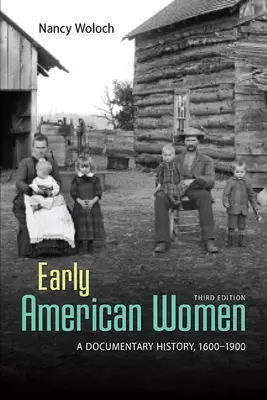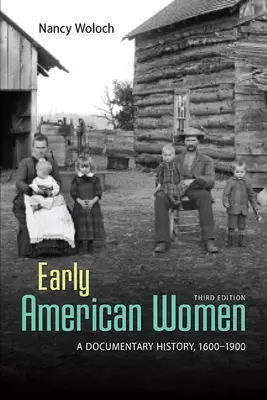 EARLY AMERICAN WOMEN: A DOCUMENTARY HISTORY 1600 - 1900
,
3rd Edition
ISBN10: 0073407089 | ISBN13: 9780073407081
Purchase Options:
* The estimated amount of time this product will be on the market is based on a number of factors, including faculty input to instructional design and the prior revision cycle and updates to academic research-which typically results in a revision cycle ranging from every two to four years for this product. Pricing subject to change at any time.
Instructor Details
Early American Women presents over 100 primary sources in women's history. Throughout, the lives and experiences of American women from a variety of cultures from the colonial era through the nineteenth century are presented in rich detail.
PART 1 A NEW WORLD: THE 17TH AND 18TH CENTURIES 1 1 First Encounters 3 NARRAGANSETT WOMEN, Roger Williams, 1643 5 WOMEN'S LIVES AMONG THE DELAWARE, John Heckewelder, 1819 9 IROQUOIS WOMEN IN GOVERNMENT, Pierre de Charlevoix, 1721 12 A NEW ENGLAND CAPTIVITY, Mary Rowlandson, 1681 14 LIFE AMONG THE SENECA, Mary Jemison, 1824 20 THE FIRST SHIP, A Chinook Tale 22 2 Well-Ordered Families 25 HUSBANDS AND WIVES, Benjamin Wadsworth, 1712 27 EVANGELICAL CHILD-REARING, Susanna Wesley, 1732 29 TO IMPROVE IN EVERY VIRTUE, Eliza Pinckney, 1750s 33 TIED HAND AND FOOT, Esther Burr, 1756–1757 35 AN ABOMINABLE WICKEDNESS, Abigail Bailey, 1815 41 A DECREE ON SEDUCTION, New Spain, 1752 45 3 The Colonial Economy 47 GROWING CORN/GRINDING CORN, Cherokee and Zuni Tales 50 LAWS ON SLAVE DESCENT, Virginia and Maryland, 1662–1692 53 SKILLED SLAVES IN MARYLAND, The Maryland Gazette, 1748–1763 55 AN INDENTURED SERVANT'S COMPLAINT, Elizabeth Sprigs, 1756 57 APPRENTICESHIP IN PENNSYLVANIA, List of Indentures, 1771–1773 59 ADVENTURE SCHOOLS, Advertisements, 1750s–1770s 61 A MAINE MIDWIFE, Martha Ballard, 1785 64 4 Women and the Law 70 AN ANTENUPTIAL CONTRACT, Massachusetts, 1653 72 DIVORCE IN NEW ENGLAND, Connecticut, 1655–1678 74 A SEPARATION DECISION, Maryland, 1680 76 A FEME SOLE TRADER ACT, South Carolina, 1744 78 MALEFACTORS AND COMPLAINANTS, Massachusetts, 1675–1680 79 WIDOWS, WILLS, AND DOWER RIGHTS, Virginia, 1642, and New York, 1721–1759 83 WOMEN'S ESTATES, Massachusetts, 1664, and New York, 1747–1759 87 ACCUSATIONS AGAINST ELIZABETH MORSE, Massachusetts, 1679–1680 90 5 Religious Experiences 97 THE GHOST WIFE, (Pawnee Tale) 99 A SPIRITUAL AUTOBIOGRAPHY, Anne Bradstreet, ca. 1670 101 ANNE HUTCHINSON'S TRIAL, Massachusetts Bay, 1637 105 AN EPISTLE TO QUAKER WOMEN, Lancashire Women's Meeting, 1675 113 NARRATIVE OF OLD ELIZABETH, A Former Slave Recalls Her Religious Conversion of the 1770s 115 "JEWISHNESS IS PUSHED ASIDE HERE", Rebecca Alexander Samuel, 1790s 118 6 The Revolutionary Era 120 AN ADDRESS TO GEORGE III, Phillis Wheatley, 1768 123 A CAROLINA PATRIOT, Eliza Wilkinson, 1782 124 A LOYALIST WIFE, Grace Galloway, 1778–1779 126 DESCRIPTION OF MOLLY BRANT, MOHAWK AND LOYALIST, Hannah Lawrence Schieffelin, c. 1780 129 REMEMBER THE LADIES, Abigail Adams, 1776 130 THOUGHTS UPON FEMALE EDUCATION, Benjamin Rush, 1787 133 EXCELLENCY IN OUR SEX, Judith Sargent Murray, 1790 137 FROM CHARLOTTE TEMPLE, Susanna Haswell Rowson, 1791 140 Suggestions for Further Reading 141 PART 2 THE YOUNG NATION, 1800–1860 145 7 The Middle Class: Domestic Lives 147 MATRIMONIAL RISKS, Emma Willard, 1815 149 THE DEFERENTIAL WIFE, Caroline Gilman, 1838 151 SYSTEM AND ORDER, Catharine Beecher, 1841 153 FIRST TO NONE, Catharine M. Sedgwick, 1828 156 THE WIDOWED STATE, Sarah Connell Ayer, 1832–1833 158 8 The School and the Mill 166 RULES OF THE SCHOOL, Eliza Ann Mulford, 1814 168 A RATIONALE FOR FEMALE EDUCATION, Emma Willard, 1819 170 A CHOCTAW MISSION SCHOOL, Miss Burnham's Report, 1824 173 REPORTS ON WESTERN SCHOOLS, Letters from Teachers, 1847 176 RULES OF THE MILL, Lowell and Lancaster, 1820–1840 180 A LETTER FROM LOWELL, Harriet Farley, 1844 183 A SPIRIT OF PROTEST, The Voice of Industry, 1846 187 9 Western Frontiers 191 A SPANISH MISSION IN CALIFORNIA, Eulalia Perez on the 1820s 193 A NORWEGIAN IMMIGRANT IN WISCONSIN, Jannicke Saehle, 1847 197 A MORMON CONVERT CROSSES THE PLAINS, Jean Rio Baker, 1851 200 A WOMAN'S VIEW OF THE GOLD RUSH, Mary B. Ballou, 1852 205 CHEROKEE WOMEN RESIST REMOVAL, Petitions of the Women's Councils, 1817, 1818 209 LIFE AMONG THE PIUTES, Sarah Winnemucca, 1883 211 A WOMAN KILLS HER DAUGHTER, A Sioux Tale 215 10 Mistress and Slave 219 AN ALABAMA DIARY,Sarah Haynesworth Gayle, 1828, 1833 221 THE CRUEL MISTRESS, Angelina Grimké Weld, 1839 224 MRS. CHESNUT'S COMPLAINT,Mary Boykin Chesnut, 1861 227 A GEORGIA PLANTATION,Fanny Kemble, 1838–1839 230 AN ATMOSPHERE OF LICENTIOUSNESS AND FEAR,Harriet A. Jacobs, 1861 233 ROSE WILLIAMS'S STORY, Federal Writers' Project Interviews, 1941 236 11 The Reform Impulse 240 SEDUCED AND ABANDONED,The Advocate of Moral Reform, 1838 242 THE WATER CURE, Mary S. Gove, 1846 245 O, YE DAUGHTERS OF AFRICA, AWAKE!,Maria W. Stewart, 1831 248 A LETTER TO THE LIBERATOR, Andover Female Antislavery Society, 1836 249 REPLY TO THE MASSACHUSETTS CLERGY, Sarah Grimké, 1837 251 DECLARATION OF SENTIMENTS, Seneca Falls Convention, 1848 253 LUCY STONE'S MARRIAGE PROTEST, Henry B. Blackwell and Lucy Stone, 1855 257 SOJOURNER TRUTH SPEAKS, 1851 259 Suggestions for Further Reading 261 PART 3 THE LATE NINETEENTH CENTURY, 1860–1900 265 12 Civil War and Reconstruction 267 A UNION NURSE, Louisa May Alcott, 1863 269 NORTHERN WOMEN ON FARMS,Mary A. Livermore, 1890 273 A WARTIME MISTRESS, Louticia Jackson, 1863 275 CONFRONTING DEFEAT, Eva B. Jones, 1865 277 MOMENTS OF EMANCIPATION,Accounts of Former Slaves, 1865 and After 281 TEACHING THE FREEDMEN,Sarah Chase and Lucy Chase, 1866–1868 290 VISITS FROM THE KLAN,Harriet Hernandes Testifies, 1871 294 "DEY WENT OUT LAUGHIN' FIT TO KILL",Anna Parkes on the 1870s 296 A FORMER SLAVE REMEMBERS THE WAR Susie King Taylor, 1902 297 13 Urban Wage Earners 300 NEW YORK PROSTITUTES, William Sanger, 1858 302 CONTRACT BETWEEN MEE YUNG AND YUT KUM,San Francisco, 1874 307 OBJECTIONS TO DOMESTIC SERVICE,Lucy Maynard Salmon, 1897 308 BLACK SERVANTS IN PHILADELPHIA, Isabel Eaton, 1899 311 THE OFFICE CLERK, Clara Lanza, 1891 313 A LABOR ORGANIZER, Leonora Barry, 1888 316 14 College Women 319 MISS D. AND MISS E., Edward H. Clarke, 1873 321 SEX IN EDUCATION ATTACKED,Julia Ward Howe et al., 1874 324 A DEBATE OVER COEDUCATION,Olive Anderson, 1878 328 A COLLEGE ROMANCE, M. Carey Thomas, 1877 332 AN AFRICAN AMERICAN EXPERIENCE AT OBERLIN,Mary Church Terrell on the 1880s 335 THE MARRIAGE QUESTION,Milicent Washburn Shinn, 1895 339 15 Clubs, Causes, and Reform 342 A TEMPERANCE TALE, Mary Clement Leavitt, 1888 344 THE WOMAN'S CLUB, Cleveland Sorosis, 1893 346 THE BLACK CLUB MOVEMENT,Fannie Barrier Williams, ca. 1900 348 AN INDIAN TEACHER AMONG INDIANS, Zitkala- S¨ a, 1900 350 EARLY DAYS AT HULL-HOUSE, Jane Addams, 1892 353 SOCIALISM DEFENDED, Florence Kelley, 1887 357 A WHITE WOMAN'S FALSEHOOD, Ida B. Wells, 1894 359 16 Woman Suffrage/Women's Rights 363 THE JOYS OF ACTIVISM, Julia Ward Howe, 1899 365 POLITICAL LESSONS, Elizabeth Cady Stanton and Susan B. Anthony on the 1860s 368 WE ARE ALL BOUND UP TOGETHER,Frances Ellen Harper, 1866 370 SUSAN B. ANTHONY ON TRIAL (1873) 373 WORKING WOMEN DEBATE WOMAN SUFFRAGE,The Shoemakers of Lynn, Massachusetts, 1874 375 LOSING THE WEST, The South Dakota Campaign of 1890 378 AN "ANTI" SPEAKS OUT, Amelia Barr, 1896 380 17 New Women/ New Century 383 THE ILLS OF THE HOME, Charlotte Perkins Gilman, 1903 384 CITY HOUSEKEEPING, Jane Addams, 1906 387 A VOICE FROM THE SOUTH, Anna J. Cooper, 1892 388 "THIS IS THE SOUTH'S IDEA OF JUSTICE",An Alabama Woman, 1902 390 IMMIGRANT WOMEN AND THEIR JOBS,Caroline Manning on the Early 1900s 392 A SWEATSHOP GIRL'S STORY, Sadie Frowne, 1902 394 Suggestions for Further Reading 400