Deanne Spears
Developing Critical Reading Skills
https://www.mheducation.com/cover-images/Jpeg_400-high/0073407321.jpeg
9
May 18, 2012
9780073407326
Although the world has changed a lot since the first edition, the underlying premise of Developing Critical Reading Skills has not. The premise of the text is that good reading and clear thinking go hand in hand. For this reason, it emphasizes practice in sustained, analytical reading. Students first work with high-quality short passages before moving on to more substantive pieces of greater complexity. The readings explore diverse subjects: anthropology, sports, human behavior, politics, social policy, education, ethics, autobiography, personal reminiscence, the minority and immigrant experience, humor, satire, and so forth. The passages also reflect diverse writing styles, thereby giving students the experience of reading high-level prose by its best practitioners. This book succeeds when students become more self-assured about their reading and when they recognize that reading well—with confidence, fluency, and enjoyment—is a significant part of their emotional and academic lives. As the book's epigram by Tobias Wolff says: "A true piece of writing is a dangerous thing. It can change your life." Students will feel genuine excitement when they encounter a writer who shows them a new way of looking at their lives and at the world. It is this feeling—this inspiration—that Deanne Spears imparts.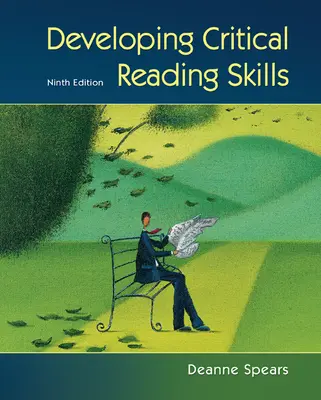 Developing Critical Reading Skills
9th Edition
By Deanne Spears
ISBN10: 0073407321
ISBN13: 9780073407326
Copyright:
2013
---
Instructors: choose ebook for fast access or receive a print copy.
---
With the McGraw-Hill eBook, students can access their digital textbook on the web or go offline via the ReadAnywhere app for phones or tablets.
McGraw-Hill eBook Courses Include:
Offline reading – study anytime, anywhere
One interface for all McGraw-Hill eBooks
Highlighting and note-taking
Syncs across platforms, always up-to-date
Available for Android and iOS
Rent Monthly
Listing page for eBook Subscription Program.
Oops! Your monthly rental cart is already full. Click continue to view and update your selected titles.
Click continue to view and update your selected titles.
Purchase Options
Students, we're committed to providing you with high-value course solutions backed by great service and a team that cares about your success. See tabs below to explore options and pricing. Don't forget, we accept financial aid and scholarship funds in the form of credit or debit cards.
Hardcopy
Receive via shipping:
Bound book containing the complete text
Full color
Hardcover or softcover
---
ISBN10: 0073407321 | ISBN13: 9780073407326
The estimated amount of time this product will be on the market is based on a number of factors, including faculty input to instructional design and the prior revision cycle and updates to academic research-which typically results in a revision cycle ranging from every two to four years for this product. Pricing subject to change at any time.
The estimated amount of time this product will be on the market is based on a number of factors, including faculty input to instructional design and the prior revision cycle and updates to academic research-which typically results in a revision cycle ranging from every two to four years for this product. Pricing subject to change at any time.
Program Details
Preface Preface to the Student An Overview of the Text Sequence of Skills The Characteristics of Good Readers Online Learning Centers Becoming a First-Rate Reader College Reading Assignments How to Read This Textbook (and other Textbooks) Getting the Most out of This Text *Some Thoughts on E-Readers Part I reading for Understanding: Practice in Basic Comprehension Skills Chapter 1 Building a Foundation: Vocabulary, Annotating, Paraphrasing, and Summarizing Improving Your Vocabulary Vocabulary in Perspective Daily Reading and Vocabulary Improvement- A Personal Sidenote Further Suggestions for Vocabulary Improvement Using the Dictionary Using Context Clues Annotating- Reading with a Pencil in Your Hand Writing Paraphrases Chapter Exercises Selection 1: Michele Simon, from Appetite for Profit Selection 2: Steven Shapiro, "Cancer World" Selection 3: Sherry Turkle, Alone Together: Why We Expect More from Technology and Less from Each Other Practice Essay: Laura Hillendbrand, from Seabiscuit: An American Legend Writing Summaries Chapter 2 Reading for the Main Idea and Author's Purpose Main Idea in Paragraphs Main Idea and Controlling Idea Placement of the Main Idea Implied Main Ideas Levels of Support—Major and Minor Supporting Details The Author's Purpose and Modes of Discourse Narration Description Exposition Persuasion Mixed Modes of Discourse Chapter Exercises Selection 1: Eric Schlosser, Fast Food Nation: The Dark Side of the All-American Meal Selection 2: David Orr, "Verbicide" Selection 3: Tim Butcher, from Fast Food Nation: The Dark Side of the All-American Meal Practice Essay: Bill Buford,"Among the Thugs" On the Web On DVD Chapter 3 Reading Between the Lines: Making Accurate Inferences Facts and Inferences Definition of Inferences Inferences in the Real World Problems with Inferences Using Evidence to Make Inferences Making Open-Ended Inferences Making Inferences in Literature Making Inference with Visual Material Cartoons Graphs and Charts Chapter Exercises Selection 1: "Good Idea" Utne Selection 2: Jan Yoors, The Gypsies Selection 3: Diane Ackerman, The Natural History of the Senses Practice Essay: Gregory David Roberts, "The Standing Babas" from Shantaram Practice Short Story: Edward P. Jones, "The First Day" Part 2 Discovering Meaning: The Importance of Form Chapter 4 Methods of Paragraph Development Modes of Discourse and Methods of Development Compared Methods of Paragraph Development—The First Group Facts and Statistics Examples and Illustration Process Comparison and Contrast Contrast in Textbooks Methods of Paragraph Development—The Second Group Cause and Effect Cause and Effect Relationships in Visual Material Analysis and Classification Analysis in Textbooks Definition Definition in Textbooks Analogy Combination of Methods Chapter Exercises Selection 1: Sam Harris, The End of Faith Selection 2: Daniel Duane, Caught Inside: A Surfer's year on the California Coast Selection 3: James E. Rosenbaum, "It's Time to Tell the Kids: If Youd Don't Do Well in High School, You Won't Do Well in College (or on the Job)" Practice Essay: Richard Selzer, "The Pen and the Scalpel" In the Library Chapter 5 Patterns of Paragraph Organization Patterns of Organization Defined Chronological Order Spatial Order Deductive Order Inductive Order Coherence in Paragraphs Achieving Coherence: Transitions Achieving Coherence: Repetition of Key Words and Phrases Achieving Coherence: Pronouns Chapter Exercises Selection 1: Greg Critser, Fat Land: How Americans Became the Fattest People in the World Selection 2: Barry Glassner, from "What Made America Fat?" The Gospel of Food Selection 3: Edward O. Wilson, "The Power of Story" Practice Essay: : Henry Petroski, "Design Rising" On the Web Part 3 Discovering Meaning: The Importance of Language Chapter 6 Language and Its Effects on the Reader Denotation and Connotation Connotation and Synonyms Connotation and Levels of Language Connotation in Reading How Denotation and Connotation Work Together Denotation and Connotation in Nonfiction Prose Connotation in Fiction Figurative Language Metaphors and Similes Figurative Language and the Imagination Figurative Language and Inferences Uses of Metaphors and Similes Personification *Figurative Language and Poetry *Figurative Language and Politics Connotation and Our Perception of the Issues How Word Choice Influences Our Perceptions—The Media Language Misused and Abused Clichés Code Words Jargon Euphemisms Politically-Correct Language Sneer Words Doublespeak Chapter Exercises Selection 1: Mark Spragg, from Where Rivers Change Direction Selection 2: H.G. Bissinger, "Sisters" Friday Night Lights Selection 3: Margaret Atwood, "The View from the Backyard" Practice Essay: Brian Doyle, "Joyas Voladoras" On the Web Practice Short Story: Kate Chopin, "The Story of an Hour" Chapter 7 Tone, Point of View, and Allusions Point of View An Overview of Tone Common Varieties of Tone Tone in Textbooks A Special Case: Sentimentality Tone in Nonfiction Prose Tone and Mood in Fiction Tone Continue: More Difficult Varieties Wit Irony Sarcasm Cynicism Satire Parody Allusion Chapter Exercises Selection 1: Sissela Bok, Secrets: On the Ethics of Concealment and Revelation Selection 2: Gerald Durrell, "The Life and Death of Cholmondeley" Selection 3: Ian Frazier, from On the Rez Practice Essay: Kurt Wiesenfeld, "Making the Grade" *Practice Short Story: Paul Theroux, "Eulogies for Mr. Concannon" Practice Poem: Alexandra Teague, "Adjectives of Order" Part 4 Reading Critically Chapter 8 Elements of Critical Reading- Analyzing Arguments A Definition of Critical Reading The Reader's Responsibilities Developing a Worldview Two World Maps—Two Worldviews Analyzing the Structure of Arguments The Test of a Good Argument Taking Arguments Apart The Question of Authority Identifying Claims Identifying Claims in Editorials Unstated Assumptions The Importance of Definition in Arguments Evaluating Evidence The Refutation Analyzing Visual Images Charts and Graphs Photographs Chapter Exercises: Evaluating Editorials Selection 1: Arthur Levine, "College—More Than Serving Time" Selection 2: Alvaro Huerta, "More Than a Village" Selection 3: Ruben Navarrette, Jr., "Don't Surrender Your Dream" Selection 4: Naomi Schaefer Riley, "Not By Tuition Breaks Alone" Chapter 9 Problems in Critical Reading—Evaluating Arguments Two Types of Reasoning Inductive Reasoning Deductive Reasoning Analyzing the Component Parts of Arguments Analyzing the Component Parts of Arguments Analyzing a Current Issue—The Problem with Plastic Shopping Bags Putting It All Together: Analyzing an Opinion Piece Problems with Arguments Hasty or Unqualified Generalizations and Stereotyping Incorrect Sampling Appeals in Arguments Emotional Appeals Appeal to Authority Appeal to Fear Appeal to Patriotism Appeal to Pity or Sympathy Appeal to Prejudice Appeal to Tradition Other Manipulative Appeals Bandwagon Appeal Flattery Just Plain Folks Name Calling Ridicule Testimonial Transfer Legitimate Appeals in Arguments Logical Fallacies: Part I Ad Hominem Argument Begging the Question Cause-Effect Fallacies Either Or Fallacy Evasion Logical Fallacies: Part 2 False Analogy Oversimplification Rationalization Red Herring Slippery Slope Two Wrongs Make a Right Summary of Emotional Appeals and Logical Fallacies Detecting Bias Bias or Point of View—What's Acceptable and What's Not Identifying Point of View in Two Editorials Paul Krugman, Against Learned Helplessness Kathleen Parker, Eat, Drink and Watch Out Constructing a Worldview of Your Own CHAPTER EXERCISES: EVALUATING EDITORIALS *Selection 1: Bob Herbert, How Many Deaths Are Enough?