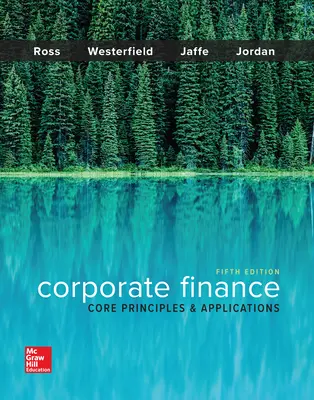 Corporate Finance: Core Principles and Applications
5th Edition
By Stephen Ross and Randolph Westerfield and Jeffrey Jaffe and Bradford Jordan
ISBN10: 1259289907
ISBN13: 9781259289903
Copyright:
2018
Product Details

+
- Connect: A highly reliable, easy-to-use homework and learning management solution that embeds learning science and award-winning adaptive tools to improve student results.
- Core Principles and Applications was written to convey the most important corporate finance concepts and applications at a level that is approachable to the widest possible audience.
- The well-respected author team is known for the clear, accessible presentation of material that makes this text an excellent teaching tool.
Program Details
PART ONE OVERVIEW
1. Introduction to Corporate Finance
2. Financial Statements and Cash Flow
3. Financial Statements Analysis and Financial Models
PART TWO VALUATION AND CAPITAL BUDGETING
4. Discounted Cash Flow Valuation
5. Interest Rates and Bond Valuation
6. Stock Valuation
7. Net Present Value and Other Investment Rules
8. Making Capital Investment Decisions
9. Risk Analysis, Real Options, and Capital Budgeting
PART THREE RISK AND RETURN
10. Risk and Return: Lessons from Market History
11. Return and Risk: The Capital Asset Pricing Model (CAPM)
12. Risk, Cost of Capital, and Valuation
PART FOUR CAPITAL STRUCTURE AND DIVIDEND POLICY
13. Efficient Capital Markets and Behavioral Challenges
14. Capital Structure: Basic Concepts
15. Capital Structure: Limits to the Use of Debt
16. Dividends and Other Payouts
PART FIVE SPECIAL TOPICS
17. Options and Corporate Finance
18. Short-Term Finance and Planning
19. Raising Capital
20. International Corporate Finance
21. Mergers and Acquisitions (web only)
APPENDIX A Mathematical Tables
APPENDIX B Solutions to Selected End-of-Chapter Problems
APPENDIX C Using the HP 10B and TI BA II Plus Financial Calculators