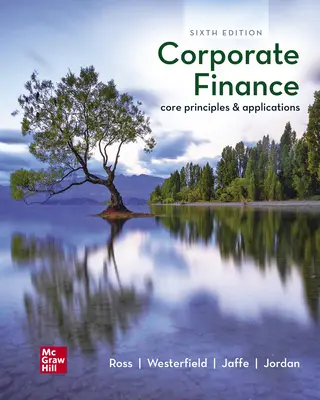 Corporate Finance: Core Principles and Applications
6th Edition
By Stephen Ross and Randolph Westerfield and Jeffrey Jaffe and Bradford Jordan
ISBN10: 1260013898
ISBN13: 9781260013894
Copyright:
2021
Product Details

+
Core was developed for the graduate (MBA) level as a concise, up-to-date, and to-the-point product, the majority of which can be realistically covered in a single term or course.
Includes coverage of the Tax Cuts and Jobs Act of 2017 in the text and Connect.
Connect: A reliable, easy-to-use homework and learning management solution that embeds learning science and adaptive tools to improve student results.
Program Details
PART ONE: Overview
Ch. 1 Introduction to Corporate Finance
Ch. 2 Financial Statements and Cash Flow
Ch. 3 Financial Statements Analysis and Financial Models
PART TWO: Valuation and Capital Budgeting
Ch. 4 Discounted Cash Flow Valuation
Ch. 5 Interest Rates and Bond Valuation
Ch. 6 Stock Valuation
Ch. 7 Net Present Value and Other Investment Rules
Ch. 8 Making Capital Investment Decisions
Ch. 9 Risk Analysis, Real Options, and Capital Budgeting
PART THREE: Risk and Return
Ch. 10 Risk and Return: Lessons from Market History
Ch. 11 Return and Risk: The Capital Asset Pricing Model (CAPM)
Ch. 12 Risk, Cost of Capital, and Valuation
PART FOUR: Capital Structure and Dividend Policy
Ch. 13 Efficient Capital Markets and Behavioral Challenges
Ch. 14 Capital Structure: Basic Concepts
Ch. 15 Capital Structure: Limits to the Use of Debt
Ch. 16 Dividends and Other Payouts
PART FIVE: Special Topics
Ch. 17 Options and Corporate Finance
Ch. 18 Short-Term Finance and Planning
Ch. 19 Raising Capital
Ch. 20 International Corporate Finance
Ch. 21 Mergers and Acquisitions (web only)