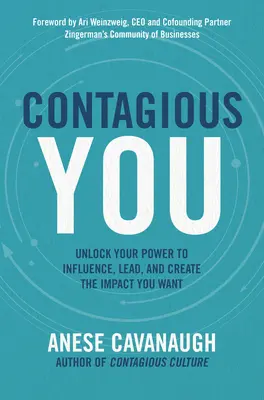 Contagious You: Unlock Your Power to Influence, Lead, and Create the Impact You Want
1st Edition
By Anese Cavanaugh
ISBN10: 126045410X
ISBN13: 9781260454109
Copyright:
2020
---
Instructors: choose ebook for fast access or receive a print copy.
---
Program Details
Foreword by Ari Weinzweig
Introduction
The Cost of Disengagement
PART 1 Contagious You:
Claim Your Power
CHAPTER 1 You Are Contagious. Own It.
CHAPTER 2 Awareness Is Power. Work It.
CHAPTER 3 More Credibility, Success, and Influence
Is Within You. Get It.
CHAPTER 4 Desire, Intention, Impact. Clarify It.
PART 2 Contagious Presence:
Unlock and Nourish Your Superpowers
CHAPTER 5 Design Your Intentional Energetic Presence. Be It.
CHAPTER 6 Strengthen Your Immunity: Self-Care,
Self-Kind, Self-Full. Nourish It.
CHAPTER 7 Your Superpower Toolkit: 21 Practices
to Cultivate. Use It.
CHAPTER 8 The Science of Showing Up. Explore It.
CHAPTER 9 The Seven P's of Personal Burnout and
Transforming "Bad" Things Into "Good." Do It.
PART 3 Contagious Relating:
Build, Heal, and Optimize Your Relationships
CHAPTER 10 But What About "That Guy/Gal"?
Understand Them.
CHAPTER 11 Other People's Problems, Projections,
and Expectations. Rise Above Them.
CHAPTER 12 System Wellness: Navigate Conflict and
Design Life-Giving Relationships. Create Them.
PART 4 Contagious Leadership:
Inspire and Grow Others
CHAPTER 13 Bring People with You. Enroll and Serve Them.
CHAPTER 14 Honor and Accelerate Team Magic.
Elevate and Propel Them.
PART 5 Contagious Impact:
Be a Force for Good in the World
CHAPTER 15 Create a (Positively) Contagious Culture. Live It.
CHAPTER 16 Create Impact and Real Results: Play the Game,
Choose Your Cause. Be It.
Notes
Acknowledgments
Index