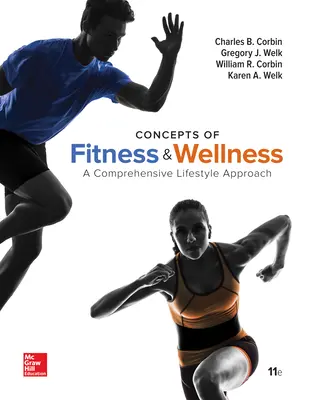 Concepts of Fitness And Wellness: A Comprehensive Lifestyle Approach, Loose Leaf Edition
11th Edition
By Charles Corbin and Gregory Welk and William Corbin and Karen Welk
ISBN10: 0073523488
ISBN13: 9780073523484
Copyright:
2016
Product Details

+
Concepts of Fitness and Wellness provides readers with the self-management skills necessary to adopt a healthy lifestyle. A pioneering text in the field, Concepts of Fitness and Wellness is designed to deliver a comprehensive text and digital program that continues to be at the cutting edge of physical activity and health promotion, empowering students to make positive steps towards developing a lifelong commitment to being active. The fully updated eleventh edition is supported by
---
Instructors: choose ebook for fast access or receive a print copy.
---
Program Details
Section I: Lifestyles for Health, Wellness, and Fitness
Concept 1: Health, Wellness, Fitness, and Healthy Lifestyles: An Introduction
Concept 2: Determinants of Lifelong Health, Wellness, and Fitness
Concept 3: Self-Management and Self-Planning Skills for Health Behavior Change
Section II: An Introduction to Physical Activity
Concept 4: Preparing for Physical Activity
Concept 5: The Health Benefits of Physical Activity
Concept 6: How Much Physical Activity Is Enough?
Section III: The Physical Activity Pyramid
Concept 7: Moderate Physical Activity:A Lifestyle Approach
Concept 8: Cardiovascular Fitness
Concept 9: Vigorous Aerobics, Sports, and Recreational Activities
Concept 10: Muscle Fitness and Resistance Exercise
Concept 11: Flexibility
Section IV: Physical Activity: Special Considerations
Concept 12: Body Mechanics: Posture, Questionable Exercises, and Care of the Back and Neck
Concept 13: Performance Benefits of Physical Activity
Section V: Nutrition and Body Composition
Concept 14: Body Composition
Concept 15: Nutrition
Concept 16: Managing Diet and Activity for Healthy Body Fatness
Section VI: Stress Management
Concept 17: Stress and Health
Concept 18: Stress Management, Relaxation, and Time Management
Section VII: Avoiding Destructive Behaviors
Concept 19: The Use and Abuse of Tobacco
Concept 20: The Use and Abuse of Alcohol
Concept 21: The Use and Abuse of Other Drugs
Concept 22: Preventing Sexually Transmitted Infections
Section VIII: Making Informed Choices
Concept 23: Cancer, Diabetes, and Other Health Threats
Concept 24: Evaluating Fitness and Wellness Products: Becoming an Informed Consumer
Concept 25: Toward Optimal Health and Wellness: Planning for Healthy Lifestyle Change
Appendix A: Metric Conversion Chart
Appendix B: Canada's Food Guide to Healthy Eating
Appendix C: Calorie, Fat, Saturated Fat, Cholesterol, and Sodium Content of Selected Fast-Food Items
Appendix D: Calorie Guide to Common Foods
Appendix E: Calories of Protein, Carbohydrates, and Fats in Foods