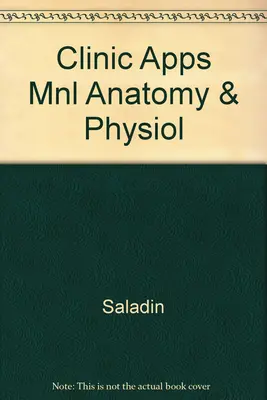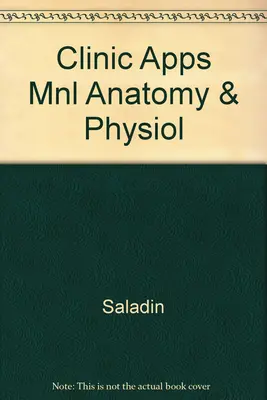 Clinical Applications Manual to accompany Anatomy and Physiology
,
4th Edition
ISBN10: 007285457X | ISBN13: 9780072854572
Purchase Options:
* The estimated amount of time this product will be on the market is based on a number of factors, including faculty input to instructional design and the prior revision cycle and updates to academic research-which typically results in a revision cycle ranging from every two to four years for this product. Pricing subject to change at any time.
Instructor Details
The primary purpose of the Clinical Applications Manual is to help students relate the biology of the human body to medical conditions they will encounter in their intended professions. Students will become acquainted with the dysfunctions and treatments of the organ systems described in the text.
1 Introduction to Clinical Applications Homeostasis and Disease The Study of Disease The Causes of Disease The Signs and Symptoms of Disease Diseases in Time Medical Personnel and Facilities Case Study 1: The Children with Lead Poisoning Selected Clinical Terms 2 Diagnosing a Disease Medical Diagnosis The Chief Complaint Diagnosis as Hypothesis Testing The Process of Diagnosis 1. Medical History 2. Physical Examination 3. Laboratory Tests 4. Tests Performed on the Body Itself Final Diagnosis Terminology of Clinical Conditions, Signs and Symptoms Case Study 2: The Singer with a Sore Throat Selected Clinical Terms 3 Treating a Disease The Aims of Therapy The Therapeutic Partnership Controlling Infections of Clinical Origin Some Treatment Approaches Terminology of Diagnosis and Treatment Basic Facts About Medication Routes of Administration Types of Drugs Pharmaceutical Abbreviations Case Study 3: Drug Development and Scientific Method Selected Clinical Terms 4 Cellular Form and Function Organelles and Disease Mitochondrial Cytopathies Lysosomal Storage Diseases Pathogenic Organisms Viruses Bacteria Protozoa Fungi Multicellular Parasites Case Study 4: The Unsuspecting Honeymooners Selected Clinical Terms 5 Genetics and Cellular Function Cancer Characteristics of Cancer Cells Cancer Detection and Diagnosis Cancer Treatment Hereditary Diseases and Genetic Counseling Interpreting Pedigrees Case Study 5: At Risk for Hemophilia Selected Clinical Terms 6 Histopathology Cellular Injury and Tissue Damage Hypoxia Free Radicals Chemicals Nutritional Imbalances Temperature Extremes Some Signs and Effects of Cellular Injury Methods in Histopathology Case Study 6: Breast Tumors- A Day in the Histopathology Lab Selected Clinical Terms 7 The Integumentary System Diagnosing Skin Disorders Common Skin Disorders Burns and the Rule of Nines Pressure Ulcers Allergic Contact Dermatitis Viral Infections Bacterial Infections Fungal Infections (Tinea) Parasitic Infestations Disorders of the Accessory Organs of the Skin Nails Acne Case Study 7: The Itchy Physical Therapist Selected Clinical Terms 8 Bone Tissue Diagnosing Bone Disorders Common Bone Disorders Osteoporosis Osteomyelitis Osteochondrosis Bone Tumors Case Study 8: The Bike Rider with a Broken Hip Selected Clinical Terms 9 The Skeletal System Diagnosing Skeletal Disorders Developmental Disorders of the Skull Acrania Craniosynostosis Disorders of the Vertebral Column Spina Bifida Vertebral Disorders Causing Low Back Pain Disorders of the Feet Foot Deformities Heel Pain Case Study 9: The Boy Whose Feet Hurt Selected Clinical Terms 10 Joints Diagnosing Joint Disorders Arthritis Osteoarthritis Rheumatoid Arthritis Ankylosing Spondylitis Bursitis Developmental Dysplasia of the Hip Case Study 10: The Woman with Sore Knees Selected Clinical Terms 11 The Muscular System Diagnosing Structual Disorders of the Muscular System Structural Disorders of Skeletal Muscle Rhabdomyolysis Myositis Muscle Tumors Case Study 11: The Pitcher with a Sore Arm Selected Clinical Terms 12 Muscular Tissue Diagnosing Functional Disorders of the Muscular System Muscle Deconditioning and Disuse Atrophy Neuromuscular Disorders Botulism Tetanus Myasthenia Gravis Muscular Dystrophy Fibromyalgia The Clinical Use of Muscle Relaxants Case Study 12: The Professor with Double Vision Selected Clinical Terms 13 Nervous Tissue Diagnosing Nervous System Disorders Demyelinating Diseases Guillain-Barre Syndrome Multiple Sclerosis Gliomas Stroke Case Study 13: The Drummer with Tingling Fingers Selected Clinical Terms 14 The Central Nervous System Poliomyelitis Amyotrophic Lateral Sclerosis Meningitis Encephalitis Traumatic Brain Injury Concussion Contusion Epilepsy Case Study 14: The Student with Meningitis Selected Clinical Terms 15 The Peripheral Nervous System and Reflexes Reflex Testing Deep Reflexes Superficial Reflexes Reflexes of Infants Diseases Affecting the PNS Low Back Pain Rabies (Hydrophobia) Case Study 15: Getting Close to Nature- Too Close Selected Clinical Terms 16 Sense Organs Investigating Disorders of the Senses The General Senses Testing the General Senses Diagnosing and Managing Pain The Special Senses Hearing Vision Case Study 16: No More Loud Music Selected Clinical Terms 17 The Endocrine System Overview of Endocrine Disorders Diagnosing Endocrine Disorders Disorders of the Pituitary Gland Hypopopituitarism Gigantism and Acromegaly Syndrome of Inappropriate ADH Secretion Disorders of the Thyroid Gland Hyperthyroidism Hypothyroidism Disorders of the Adrenal Cortex Cushing Syndrome Addison Disease Case Study 17: The Woman with Weight Gain Selected Clinical Terms 18 The Circulatory System: Blood Evaluation of the Blood and Clotting Systems Collecting Blood Samples Analysis of Blood Properties Coagulation Tests Bone Marrow Analysis Blood Transfusions Artificial Manipulation of the Hematocrit Iron Overload Anemia Leukemia Thrombocytopenia Case Study 18: The Bruised Boy Selected Clinical Terms 19 The Circulatory System: The Heart Diagnosing Cardiovascular Disorders Noninvasive Tests Invasive Tests Blood Analysis Cardiac Arrhythmia Inflammatory Heart Diseases Pericarditis Endocarditis Rheumatic Heart Disease Cardiomyopathies Myocardial Ischemia and Infarction Case Study 19: The Hard-Working Executive Selected Clinical Terms 20 The Circulatory System: Blood Vessels and Circulation Aneurysms Syncope Orthostatic Hypotension Raynaud Phenomenon and Raynaud Disease Patent Ductus Arteriosus Varicose Veins Cerebrovascular Accident (Stroke) Case Study 20: The Boy Who Didn't Grow Selected Clinical Terms 21 The Lymphatic and Immune Systems Diagnosis of Lymphatic and Immune Disorders Disorders of the Lymphatic System Lymph Nodes and Cancer Metastasis