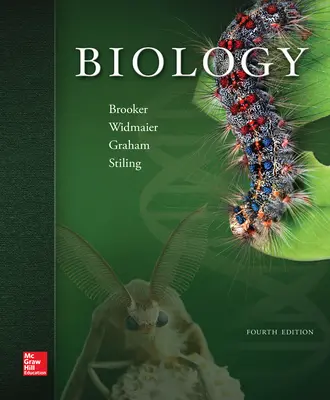 Biology
4th Edition
By Robert Brooker and Eric Widmaier and Linda Graham and Peter Stiling
ISBN10: 1259188124
ISBN13: 9781259188121
Copyright:
2017
Product Details

+
* Connect: A highly reliable, easy-to-use homework and learning management solution that embeds learning science and award-winning adaptive tools to improve student results.
* This program helps prepare students for future lab experiences, and careers in the sciences by focusing on core competencies and strengthening critical thinking skills.
---
Instructors: choose ebook for fast access or receive a print copy.
---
Program Details
1 An Introduction to Biology Unit 1 Chemistry 2 The Chemical Basis of Life I: Atoms, Molecules, and Water 3 The Chemical Basis of Life II: Organic Molecules Unit 2 Cell 4 General Features of Cells 5 Membrane Structure, Synthesis, and Transport 6 An Introduction to Energy, Enzymes, and Metabolism 7 Cellular Respiration, Fermentation, and Secondary Metabolism 8 Photosynthesis 9 Cell Communication 10 Multicellularity Unit 3 Genetics 11 Nucleic Acid Structure, DNA Replication, and Chromosome Structure 12 Gene Expression at the Molecular Level 13 Gene Regulation 14 Mutation, DNA Repair, and Cancer 15 The Eukaryotic Cell Cycle, Mitosis, and Meiosis 16 Simple Patterns of Inheritance 17 Complex Patterns of Inheritance 18 Genetics of Viruses and Bacteria 19 Developmental Genetics 20 Genetic Technology 21 Genomes, Proteomes, and Bioinformatics Unit 4 Evolution 22 The Origin and History of Life 23 An Introduction to Evolution 24 Population Genetics 25 Origin of Species and Macroevolution 26 Taxonomy and Systematics Unit 5 Diversity 27 Bacteria and Archaea 28 Protists 29 Plants and the Conquest of Land 30 The Evolution and Diversity of Modern Gymnosperms and Angiosperms 31 Fungi 32 An Introduction to Animal Diversity 33 The Invertebrates 34 The Vertebrates Unit 6 Plants 35 An Introduction to Flowering Plant Form and Function 36 Flowering Plants: Behavior 37 Flowering Plants: Nutrition 38 Flowering Plants: Transport 39 Flowering Plants: Reproduction Unit 7 Animals 40 Introduction to Animal Form and Function 41 Neuroscience I: Cells of the Nervous System 42 Neuroscience II: Evolution and Function of the Brain and Nervous Systems 43 Neuroscience III: Sensory Systems 44 The Muscular-Skeletal System and Locomotion 45 Nutrition, Digestion, and Absorption 46 Control of Energy Balance, Metabolic Rate, and Body Temperature 47 Circulatory Systems 48 Respiratory Systems 49 Excretory Systems and Salt and Water Balance 50 Endocrine Systems 51 Animal Reproduction 52 Animal Development 53 Immune Systems Unit 8 Ecology 54 An Introduction to Ecology and Biomes 55 Behavioral Ecology 56 Population Ecology 57 Species Interactions 58 Community Ecology 59 Ecosystems Ecology 60 Biodiversity and Conservation Biology