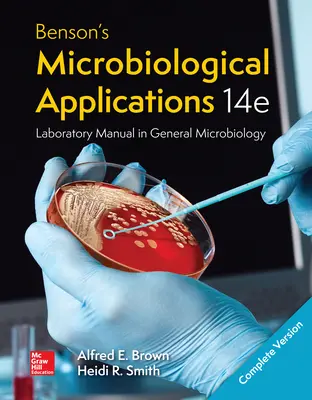 Benson's Microbiological Applications Laboratory Manual--Complete Version
14th Edition
By Alfred Brown and Heidi Smith
ISBN10: 125991979X
ISBN13: 9781259919794
Copyright:
2017
Product Details

+
– Connect: A highly reliable, easy-to-use homework and learning management solution that embeds learning science and award-winning adaptive tools to improve student results.
- Benson's Microbiological Applications has been the "gold standard" of microbiology laboratory manuals for over 35 years.
- This manual features user-friendly diagrams that students can easily follow, clear instructions, and an excellent array of reliable exercises suitable for beginning or advanced microbiology courses.
- In revising the lab manual for the fourteenth edition, the authors worked hard to retain the proven strengths of the manual and while further enhancing it.
---
Instructors: choose ebook for fast access or receive a print copy.
---
Program Details
Part 1 Microscopy
1 Brightfield Microscopy
2 Darkfield Microscopy
3 Phase-Contrast Microscopy
4 Fluorescence Microscopy
5 Microscopic Measurements
Part 2 Survey of Microorganisms
6 Microbiology of Pond Water - Protists, Algae, and Cyanobacteria
7 Ubiquity of Bacteria
8 The Fungi: Molds and Yeasts
Part 3 Manipulation of Microorganisms
9 Aseptic Technique
10 Pure Culture Techniques
Part 4 Staining and Observations of Microorganisms
11 Smear Preparation
12 Simple Staining
13 Negative Staining
14 Capsular Staining
15 Gram Staining
16 Spore Staining: Two Methods
17 Acid-Fast Staining: Kinyoun Method
18 Motility Determination
Part 5 Culture Methods
19 Culture Media Preparation
20 Preparation of Stock Cultures
21 Enumeration of Bacteria: The Standard Plate Count
22 Slide Culture: Fungi
Part 6 Bacterial Viruses
23 Determination of a Bacteriophage Titer
24 A One-Step Bacteriophage Growth Curve
25 Isolation of Phage from Flies
26 Phage Typing
Part 7 Environmental Influences and Control of Microbial Growth
27 Effects of Oxygen on Growth
28 Temperature: Effects on Growth
29 pH and Microbial Growth
30 Water Activity and Osmotic Pressure
31 Ultraviolet Light: Lethal Effects
32 The Effects of Lysozyme on Bacterial Cells
33 Evaluation of Alcohol: Its Effectiveness as an Antiseptic
34 Antimicrobic Sensitivity Testing: The Kirby-Bauer Method
35 Evaluation of Antiseptics: The Filter Paper Disk Method
36 Effectiveness of Hand Scrubbing
Part 8 Identification of Unknown Bacteria
37 Morphological Study of An Unknown Bacterium
38 Cultural Characteristics
39 Physiological Characteristics: Oxidation and Fermentation Stet Reactions
40 Physiological Characteristics: Hydrolytic and Degradative Stet Reactions
41 Physiological Characteristics: Multiple Test Media
42 Use of Bergey's Manual
Part 9 Miniaturized Multitest Systems
43 Enterobacteriaceae Identification: The API 20E System
44 Enterobacteriaceae Identification: Entero-Pluri Test

45 Staphylococcus Identification: The API Staph System
Part 10 Diversity and Environmental Microbiology
46 Isolation of an Antibiotic Producer: The Streptomyces
47 Nitrogen Cycle: Ammonification
48 Symbiotic Nitrogen Fixation: Rhizobium
49 Free-Living Nitrogen Fixation: Azotobacter
50 Denitrification: Paracoccus denitrificans
51 The Winogradsky Column
52 Purple Nonsulfur Photosynthetic Bacteria
53 Sulfate Reducing Bacteria: Desulfovibrio
54 Bacterial Commensalism
55 Bacterial Synergism
56 Microbial Antagonism
Part 11 Applied Microbiology
57 Bacterial Food Counts
58 Bacteriological Examination of Water: Most Probable Number Determination
59 Bacteriological Examination of Water: The Membrane Filter Method
60 Reductase Test
61 Temperature: Lethal Effects
62 Microbial Spoilage of Canned Food
63 Microbiology of Alcohol Fermentation
Part 12 Bacterial Genetics and Biotechnology
64 Understanding Antibiotic Resistance: Replica Plating

65 Polymerase Chain Reaction for Amplifying DNA

66 Bacterial Transformation

Part 13 Medical Microbiology
67 The Staphylococci: Isolation and Identification
68 The Streptococci and Enterococci: Isolation and Identification
69 Gram-Negative Intestinal Pathogens
70 A Synthetic Epidemic
Part 14 Immunology and Serology
71 Slide Agglutination Test: Serological Typing
72 Slide Agglutination Test for S. aureus
73 Slide Agglutination Test for Streptococcus
74 Enzyme-Linked Immunosorbent Assay (ELISA)

75 Blood Grouping
Appendices