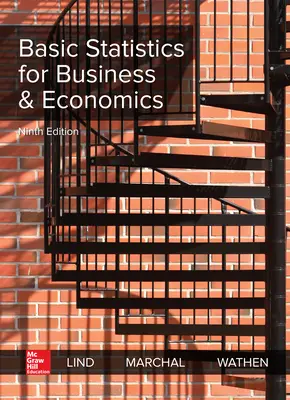 Basic Statistics for Business and Economics
9th Edition
By Douglas Lind and William Marchal and Samuel Wathen
ISBN10: 1260187500
ISBN13: 9781260187502
Copyright:
2019
Product Details

+
Provides an introductory survey of descriptive and inferential statistics.
Uses a step-by-step approach to build student confidence and enhance mastery of concepts.
Develops students' data analysis skills with a Data Analytics problem set at the end of each chapter.
Uses real-world situations to demonstrate how to apply each chapter's content.
Includes numerous software examples using Excel, MegaStat, and Minitab.
Program Details
1 What Is Statistics?2 Describing Data: Frequency Tables, Frequency Distribution, and Graphic Presentation
3 Describing Data: Numerical Measures
4 Describing Data: Displaying and Exploring Data
5 A Survey of Probability Concepts
6 Discrete Probability Distributions
7 Continuous Probability Distributions
8 Sampling Methods and the Central Limit Theorem
9 Estimation and Confidence Levels
10 One-Sample Tests of Hypothesis
11 Two-Sample Tests of Hypothesis
12 Analysis of Variance
13 Correlation and Linear Regression
14 Multiple Regression Analysis
15 Nonparametric Methods: Nominal-Level Hypothesis Tests
Appendixes: Data Sets, Tables, Software Commands, Answers
Glossary
Index