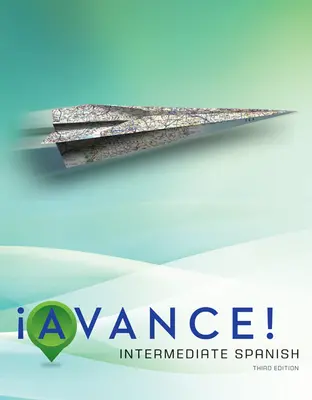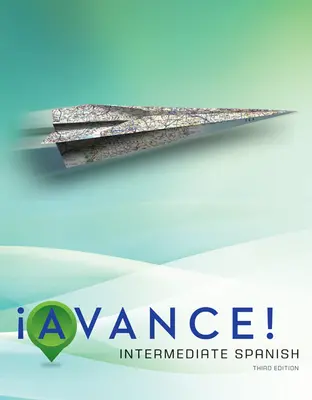 ¡Avance! Student Edition
,
3rd Edition
ISBN10: 0073385395 | ISBN13: 9780073385396
Purchase Options:
* The estimated amount of time this product will be on the market is based on a number of factors, including faculty input to instructional design and the prior revision cycle and updates to academic research-which typically results in a revision cycle ranging from every two to four years for this product. Pricing subject to change at any time.
Instructor Details
As one of the best-selling Intermediate Spanish titles, the third edition of ¡Avance! continues to develop students' functional, communicative language skills through reinforcement, expansion, and synthesis of the concepts learned in the introductory course sequence. ¡Avance! offers contextualized activities that review language and foster skill development, while at the same time, preparing students to continue their Spanish major or minor coursework and for real-life communicative tasks. Recognizing the need for cultural competence simultaneously coupled with the desire to introduce students to literature at the intermediate level, the 3rd edition of ¡Avance! includes cultural and literary texts in every chapter, creating a program that meets instructors' demands that intermediate-level instructional materials be not merely contextualized but also content-rich and interesting, as well as motivating to today's students.

The modern Spanish classroom is changing as are the teaching and learning experiences we all want to provide our students. Professors are offering more hybrid and online courses or, at a minimum, are seeking technology to extend learning outside of the classroom in truly effective ways. As such, professors are searching for more types of homework tools, better reporting features, and cutting-edge functionality to meet the demands of their courses and the needs of their students. Connect Spanish, McGraw-Hill's digital platform which accompanies the third edition of ¡Avance!, offers state-of-the-art resources never before available to intermediate Spanish, to address the varying levels of communication of intermediate Spanish learners with proven outcomes that improve student learning in measurable ways.

The third edition of ¡Avance! is comprised of an array of integrated print and digital offerings, giving you the maximum flexibility to choose the most appropriate format and content for your courses.

*Connect Spanish, including but not limited to the workbook/lab manual, LearnSmart, the video program, and chat tools, is sold separately and does not come automatically with the purchase of the textbook.
Capítulo 1 Tipos y estereotipos
Vocabulario
Descripciones
Gramática
Gender and Number of Nouns

Basic Patterns of Adjective Agreement

Equivalents of To Be: ser, estar

Subject Pronouns and the Present Indicative

Direct Object Pronouns

Un poco de todo

trabajar / funcionar

bajo / corto / breve

mirar / buscar / parecer
Lectura cultural: No somos los únicos que estereotipamos
Capítulo 2 La comunidad hispana
Vocabulario
La herencia y las relaciones
Gramática
Impersonal se and Passive se

Indirect Objects

Sequence of Object Pronouns

The Imperfect Indicative

Reflexive Structures

Un poco de todo

pensar / pensar en / pensar de / pensar que

consistir en / depender de

enamorarse de / casarse con / soñar con
Lectura cultural: La diversidad hispana
Capítulo 3 Costumbres y tradiciones
Vocabulario
Las costumbres y tradiciones
Gramática
Gustar and Similar Verbs

Forms of the Preterite

Hacer in Expressions of Time

Preterite/Imperfect Contrast

Relative Pronouns: que, quien

Un poco de todo

hora / vez / tiempo

el cuento / la cuenta

pagar / prestar atención / hacer caso (de) / hacer (una) visita
Lectura cultural: La cocina es una celebración que merece celebrarse.
Capítulo 4 La familia
Vocabulario
La familia y la crianza

Los parientes
Gramática
Imperatives: Formal Direct Commands

The Subjunctive Mood: Concept; Forms; Use in Noun Clauses

Uses of the Subjunctive: Persuasion

Imperatives: Informal Direct Commands

Un poco de todo

soportar / mantener / apoyar / sostener

cerca / cercano/a / íntimo/a / unido/a

importar / cuidar (se)
Lectura cultural: La función de la familia extendida hispana
Capítulo 5 Geografía, demografía, tecnología
Vocabulario
La demografía y la comunidad

Las computadoras
Gramática
More Relative Pronouns

Positive, Negative, and Indefinite Expressions

Uses of the Subjunctive: Certainty versus Doubt; Emotion

Un poco de todo

volver / regresar / devolver

mudarse / trasladar(se) / mover(se)

sentir / sentirse
Lectura cultural: La variedad geográfica en el mundo hispano
Capítulo 6 El hombre y la mujer en el mundo actual
Vocabulario
Las etapas de vida y la preparación
Gramática
Present Perfect Indicative

Present Perfect Subjunctive

Uses of the Subjunctive: Adjective Clauses

Un poco de todo

tener éxito / lograr / suceder

asistir a / atender / ayudar

ponerse / volverse / llegar a ser / hacerse
Lectura cultural: Las mujeres en el poder en Hispanoamérica
Capítulo 7 El mundo de los negocios
Vocabulario
El trabajo y el mercado

Las transacciones monetarias/bancarias
Gramática
Review of the Preterite

Review of the Uses of the Subjunctive

The Past Subjunctive: Concept; Forms

Use of Subjunctive and Indicative in Adverbial Clauses

Un poco de todo

ya que / como / puesto que / porque / por

cuestión / pregunta

fecha / cita

los/las dos / ambos/as / tanto… como…
Lectura cultural: Las prácticas empresariales entre cultura
Capítulo 8 Creencias e ideologías
Vocabulario
La religión

Creencias y creyentes
Gramática
The Subjunctive in Adverbial Clauses: Interdependence

Por and para

The Process se

Review of the Subjunctive: An Overview

Un poco de todo

dato / hecho

realizar / darse cuenta (de)
Lectura cultural: La medicina alternativa en Hispanoamérica
Capítulo 9 Los hispanos en los Estados Unidos
Vocabulario
La ciudadanía y la inmigración

Las nacionalidades hispanas
Gramática
The Passive Voice

Resultant State or Condition versus Passive Voice

"No-Fault" se Construction

A and en

Un poco de todo

perder / faltar a / echar de menos / extrañar

ahorrar / salvar / guardar

llevar / tomar / hacer un viaje / tardar en
Lectura cultural: El futuro del inglés en los Estados Unidos
Capítulo 10 La vida moderna
Vocabulario
Las adicciones
Gramática
Future and Conditional

If Clauses with Simple Tenses

Comparisons

Un poco de todo

grande / largo

dejar de / impedir / detener(se)

doler / lastimar / hacer daño / ofender
Lectura cultural: La televisión en el mundo hispano
Capítulo 11 La ley y la libertad individual
Vocabulario
Las autoridades

Los delitos y los delincuentes
Gramática
Other Forms of the Perfect Indicative

The Perfect Subjunctive

More on the Sequence of Tenses

Un poco de todo

pero / sino / sino que / no solo

intentar / tratar de / tratar / probar(se)

preguntar (hacer una pregunta) / pedir
Lectura cultural: ¿Cuándo se llega a la edad adulta en el mundo hispano?
Capítulo 12 El trabajo y el ocio
Vocabulario
El descanso y la preparación

Profesiones y oficios
Gramática
Review of Verb Forms

Progressive Forms

Restrictions on the Use of the -ndo Form

Un poco de todo

Repaso
Lectura cultural: El tiempo libre a la hispana
---
Main Features
LMS Integration
Print/Loose-Leaf Book Add-On Availability
Presentation Slides & Instructor Resources
Question & Test Banks
Adaptive Assignments
Student Progress Reporting & Analytics
Essay Prompts
Polling
Prebuilt Courses
Interactive Exercises
eBook Access (ReadAnywhere App)
Remote Proctoring (Proctorio)
Subject-Specific Tools