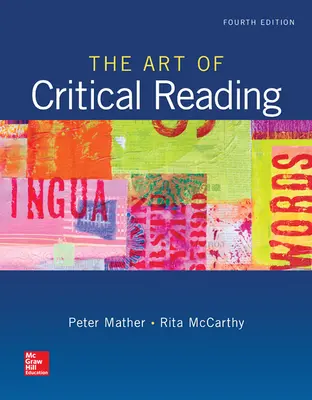 The Art of Critical Reading
4th Edition
By Peter Mather and Rita McCarthy
ISBN10: 0073513598
ISBN13: 9780073513591
Copyright: 2016
Program Details
Mather/McCarthy The Art of Critical Reading 4/e
CONTENTS
Preface
Acknowledgments
Part 1 LIFE IN COLLEGE AND BEYOND
Introduction: Applying Creative and Critical Thinking
Introductory Puzzle
Becoming a Successful Student
Study Technique 1: Scanning
SELECTION: "Creativity," excerpt from Psychology by John Santrock
Brain Teasers
Study Technique 2: Skimming
SELECTION: "Don't Fool Yourself: Avoiding Everyday Problems in Critical Thinking," excerpt from Power Learning by Robert S. Feldman
Study Technique 3: SQ3R Study Method
Computer and Internet Skills
SELECTION: "Analyzing Internet Sites," excerpt from Public Speaking for College and Career by Hamilton Gregory
Brain Teasers
CHAPTER 1 Developing a College-Level Vocabulary
Practice with Vocabulary Words in Context
Practice with Word Structure: Roots, Prefixes, and Suffixes
Practice Using a Thesaurus
SELECTION: Excerpt from Commencement Address by Marian Wright Edelman
SELECTION: "Restoration," excerpt from Living with Art by Mark Getlein
Brain Teasers
Part 2 DISCOVERING MEANING THROUGH STRUCTURE
CHAPTER 2 Topics, Main Ideas, and Details
Identifying Topics, Main Ideas, and Details
SELECTION: "Black Men and Public Space" by Brent Staples
REVIEW TEST: Main Ideas and Details in Textbook Material
Paraphrasing
Formulating Implied Main Ideas
SELECTION: "Colonial Almanacs," excerpt from American History by Alan Brinkley
SELECTION: "Advertising and the Media," excerpt from Think by Judith A. Boss
SELECTION: "Public Art," excerpt from Living with Art by Mark Getlein
Summarizing
Study Technique 4: Summarizing Short Articles
Brain Teasers
CHAPTER 3 Organizing Textbook Information and Interpreting Visual Aids
Doing What Successful Students D
Study Technique 5: Underlining, Highlighting, Annotating
SELECTION: "Stress: The Constant Challenge," excerpt from Core Concepts in Health by Paul M. Insel and Walton T. Roth 105
SELECTION: "Categorizing Stressors," excerpt from Essentials of Understanding Psychology by Robert S. Feldman
Study Technique 6: Outlining
Study Technique 7: Mapping
Study Technique 8: Comparison-Contrast Chart
SELECTION: "At Wit's End," excerpt from Essentials of Understanding Psychology by Robert S. Feldman
Visual Aids: How to Use and Interpret Tables, Diagrams, Charts, and Graphs
Brain Teasers
CHAPTER 4 The Author's Purpose and the Rhetorical Modes
Determining the Author's Purpose
An Introduction to the Rhetorical Modes
Expository Writing with Purpose to Inform
SELECTION: "Sibling Relationships and Birth Order," by John Santroc
Narrative Writing with Purpose to Entertain
SELECTION: "The Country Mouse and the Town Mouse" by Aesop
Persuasive Writing with Purpose to Persuade
SELECTION: "What Can Individuals Do?" by William P. Cunningham
Descriptive Writing with Purpose to Inform
SELECTION: "A Son's Memoir" by John Daniel
REVIEW TEST: Context Clue Practice Using Textbook Material
Identifying Mode and Author's Purpose
SELECTION: "Vincenzo Perugia," excerpt from Gilbert's Living with Art by Mark Getlein
MASTERY TEST: Vincenzo Perugia
Brain Teasers
CHAPTER 5 Transition Words and Patterns of Organization
Transition Words
Some Common Patterns of Organization
Study Technique 9: Time Lines
REVIEW TEST: Identifying Patterns of Organization and Main Ideas in Textbook Material
Additional Transition Words
SELECTION: "School Cheating Scandal Tests a Town's Values" by Jodi Wilgoren
Study Technique 10: Summarizing Longer Articles
SELECTION: "The Milgram Experiment," excerpt from Sociology by Richard T. Schaefer
SELECTION: "Facing One's Own Death," excerpt from Essentials of Life-Span Development by John W. Santrock
Brain Teasers
Part 3 INTERPRETING WHAT WE READ
CHAPTER 6 Inference
Introduction to Inference Skills
Drawing Inferences from Different Kinds of Material
SELECTION: "Barney" by Will Stanton
SELECTION: "The Laughter of Rats," excerpt from Animal Wise by Virginia Morell
SELECTION: "The Life and Death of a Western Gladiator" by Charles Finney
SELECTION: "Deciding Whom to Marry," excerpt from Sociology by Craig Calhoun
Brain Teasers
CHAPTER 7 Figurative Language
Figures of Speech
Imagery
SELECTION: Excerpt from L is for Lawless by Sue Grafton
SELECTION: "When Leaves Turn Color in the Fall," excerpt from A Natural History of the Senses by Diane Ackerman
The Use of Symbols
SELECTION: "Book of Dreams," excerpt from Farmworker's Daughter—Growing Up Mexican in America by Rose Castillo Guilbault
Brain Teasers
CHAPTER 8 Tone
Tone
SELECTION: "A Wake Up Call," excerpt from Lucky Man by Michael J. Fox
Irony and Satire
SELECTION: "Waiting in Life's Long Lines," by Tom Mather
SELECTION: "The Lottery," by Art Buchwald
SELECTION: Excerpt from Dave Barry Is Not Taking This Sitting Down by Dave Barry
SELECTION: "Accident and Aftermath," excerpt from Frida by Hayden Herrera
MASTERY TEST: Frida—Accident and Aftermath
Brain Teasers
Part 4 READING CRITICALLY
CHAPTER 9 Fact and Opinion
Introduction to Fact and Opinion
SELECTION: "Astrology," excerpt from Consumer Health by Stephen Barrett et al.
SELECTION: "Bug Heads, Rat Hairs—Bon Appétit!" by Mary Roach
SELECTION: "The Facts: Nutrition Quackery," by Charles Corbin et al.
REVIEW TEST: Fact and Opinion 332
SELECTION: "Introduction," excerpt from Food Rules by Michael Pollan
SELECTION: "The Nature of Public Opinion," excerpt from American Democracy by Thomas Patterson
Brain Teasers
CHAPTER 10 Point of View
Introduction to Point of View
SELECTION: "Popular Mechanics" by Raymond Carver
SELECTION: "The Lady or the Tiger?" by Frank R. Stockton
Multiple Points of View: The Vietnam War Memorial
SELECTION: "The Vietnam Wall" by Alberto Rios
SELECTION: "Vincent Van Gogh," excerpt from Living with Art by Mark Getlein
SELECTION: "The Cave of Lascaux," excerpt from Images of the Past by T. Douglas Price and Gary M. Feinman
MASTERY TEST: Prehistoric Art
An Introduction to Propaganda Techniques
Brain Teasers
CHAPTER 11 Bias
Introduction to Bias
SELECTION: Excerpt from Somebody's Baby by Barbara Kingsolver
SELECTION: "Adults Only," excerpt from Chevrolet Summers, Dairy Queen Nights by Bob Greene
REVIEW TEST: Vocabulary in Context, Tone, Fact and Opinion, Bias
SELECTION: "Seven Forms of Bias," excerpt from Teachers, Schools, and Society by Myra and David Sadker
SELECTION: "Mirror, Mirror on the Wall," excerpt from Understanding Your Health by Wayne A. Payne et al.
SELECTION: "Media Literacy: Portrayals of Sex, Love, and Romance in the Mass Media" by Dr. Mary-Lou Galician
An Introduction to Logical Fallacies
SELECTION: "Clothing and Fashions in the Revolutionary Times," excerpt from Nation of Nations by James West Davidson
Brain Teasers
CHAPTER 12 Analyzing and Evaluating Arguments
An Introduction to Argument
Analyzing Arguments
Evaluating Arguments
SELECTION: "I Buy, Therefore I'm Happy," by Christine Gross-Loh
SELECTION: "Dreaming of Disconnecting a Respirator" by Elissa Ely
REVIEW TEST: Transition Words
SELECTION: "Whose Grave Is This Anyway?" excerpt from Gilbert's Living with Art by Mark Getlein
MASTERY TEST: Whose Grave Is This Anyway?
Brain Teasers
SELECTION: "Don't Believe Everything You See Or Hear on the News," excerpt from Environmental Science by William P. Cunningham
Introduction to Deductive and Inductive Reasoning
SELECTION: "The Declaration of Independence" by Thomas Jefferson
SELECTION: "The Bill of Rights"
Brain Teasers
Part 5 VOCABULARY UNITS
Vocabulary Unit 1: Homonyms and Other Confusing Words
Vocabulary Unit 2: More Homonyms and Other Confusing Words
Vocabulary Unit 3: Number Prefixes
Brain Teasers
Vocabulary Unit 4: Word Parts Featuring Polar Opposites
Vocabulary Unit 5: Word Parts Featuring Direction and Motion
Vocabulary Unit 6: Word Parts Featuring "Blood" Relations
Vocabulary Unit 7: Word Parts Featuring Politics and Religion
Vocabulary Unit 8: Word Parts Featuring Study, Feeling, and Faith
Vocabulary Unit 9: Word Parts Featuring War, and Good and Bad
Vocabulary Unit 10: Word Parts Featuring Water, Air, and Life
Vocabulary Word Parts
Brain Teasers
APPENDIX
TEST-TAKING TIPS
SAMPLE SUMMARY
Credits
Index
Index of Artists and Art Works