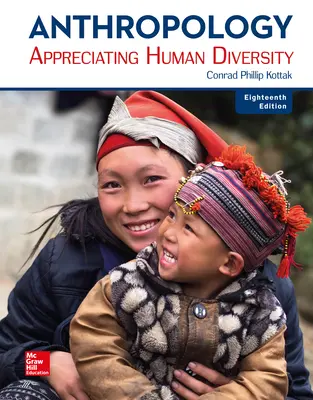 Anthropology: Appreciating Human Diversity
18th Edition
By Conrad Kottak
ISBN10: 1260052400
ISBN13: 9781260052404
Copyright:
2019
Product Details

+
Anthropology: Appreciating Human Diversity offers an up-to-date holistic introduction to general anthropology from the four-field perspective. Key themes of appreciating the experiences students bring to the classroom, appreciating human diversity, and appreciating the field of anthropology are showcased throughout the text. The program presents anthropology's core concepts and also demonstrates anthropology's relevance to the 21st-century world we inhabit.
Program Details
PART 1: Introduction to Anthropology
1: What is Anthropology?
2: Culture
3: Applying Anthropology
PART 2: Biological Anthropology and Archaeology
4: Doing Archaeology and Biological Anthropology
5: Evolution and Genetics
6: Human Variation and Adaptation
7: The Primates
8: Early Hominins
9: The Genus Homo
10: The Origin and Spread of Modern Humans
11: The First Farmers
12: The First Cities and States
PART 3: Appreciating Cultural Diversity
13: Method and Theory in Cultural Anthropology
14: Language and Communication
15: Ethnicity and Race
16: Making a Living
17: Political Systems
18: Gender
19: Families, Kinship, and Descent
20: Marriage
21: Religion
22: Arts, Media, and Sports
PART 4: The Changing World
23: The World System, Colonialism, and Inequality
24: Anthropology's Role In a Globalizing World
Glossary
Bibliography
Index