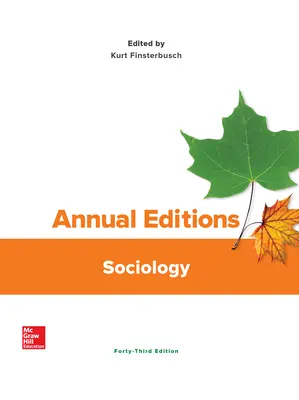 Annual Editions: Sociology, 43/e
43rd Edition
By Kurt Finsterbusch
ISBN10: 1260180301
ISBN13: 9781260180305
Copyright:
2019
---
Instructors: choose ebook for fast access or receive a print copy.
---
Program Details
Unit 1: Culture
How to Buy Happiness: What the Social Science Says, Isabella Kwai, The Atlantic, 2017
The point of this article is that money buys happiness if it is used in the right way. It increases our happiness more if it is spent on experiences rather than on things and if the purchase is shared rather than if used by the purchaser alone.
Pluribus et Unum: The History of American Politics as a Tug-of-War between Our Individualist and Collectivist Identities, Jennifer Miller, Washington Monthly, 2016
The title means that out of many, we are one. Thus, though we have many individualist identities nevertheless, we are one united country. Both gay rights' advocates and gun enthusiasts argue for the individual's right to self-determine. On the flip side, proponents of both "traditional" marriage and gun control believe their positions strengthen the collective.
The Myth of the "Culture of Poverty", Paul Gorski, Educational Leadership, 2008
The culture of poverty myth accuses the poor of having beliefs, values, and behaviors that prevent them from achieving. Thus their failure is their fault. This myth must be challenged. Most poor people do have the work ethic, value education, and possess other characteristics that contradict the culture of poverty myth. Opportunity structures play a big role in poverty.
American Muslims in the United States, Interfaith Alliance & Religious Freedom Education Project/First Amendment Center, www.interfaithalliance.org, 2017
This article provides a description of Muslims in America, which contradicts many of the negative stereotypes commonly believed. American Muslims take part in all aspects of American civic life. Many American Muslim leaders and organizations have repeatedly denounced extremist violence in the strongest possible terms. Most American Muslims, like most other Americans, are deeply concerned about the problem of extremist violence committed in the name of Islam.
The Common Good, Manuel Velasquez et al., Markkula Center for Applied Ethics, 2014
The common good is a good to which all members of society have access and from whose enjoyment no one can be easily excluded. All persons, for example, enjoy the benefits of clean air or an unpolluted environment. This article advocated efforts to advance the common good against the groups that promote special interests and oppose benefits for disadvantaged groups.
What Do We Deserve? Namit Arora, The Humanist, 2011
A major key to political, economic, and cultural issues is the question "What is just or right?" Namit Arora uses Michael Sandel's book, Justice, to explore this question. People should be rewarded for their skill and effort, but since chance and innate advantages play such a large role in outcomes, some adjustments are required for outcomes to be considered fair. How these adjustments are made shapes political philosophies and differentiates societies.
Unit 2: Socialization and Social Control
Sex Slavery/Trafficking, Soroptimist, 2012
Soroptimist is an organization that fights human trafficking for slavery and sex trafficking. This article is a full description of these practices. Human trafficking is a $32 billion annual industry. Sex trafficking or slavery is the exploitation of women and children, within national or across international borders, for the purposes of forced sex work. Unaware of the extent of force and exploitation, many countries largely tolerate the practice.
Getting Tough on Devastating Corporate Crime, Ralph Nader, Huffington Post, 2013
A corporate crime wave has long swept our nation, draining people's hard-earned savings and severely harming the health and safety of millions more. Corporate criminals, far more often than not, are getting away scot-free largely because of their campaign contributions to many politicians.
Wrongful Convictions, Radley Balko, Reason Magazine, 2011
How many people are convicted of crimes that they did not commit? Radley Balko scans the research on this difficult topic and estimates that 3–5 percent of convictions convict innocent people. DNA has exonerated 268 convicted murderers over two decades, but only a small number of cases are reviewed via DNA testing. The painful story of the suffering endured by the wrongfully convicted is told through the case of Paul House.
Cruel and Unusual: The True Costs of Our Prison System, Robert DeFina and Lance Hannon, Commonweal, 2011
One of America's black eyes is its prison system and the laws that send so many people to jail for long terms. America leads the world by far in incarceration rates due largely to the politically popular tough on crime policy involving mandatory sentencing and the three-strikes-and-you're-out rule. Research indicates, however, that high incarceration rates contribute very little to lowering crime rates.
Estimates of Cost of Crime: History, Methodologies, and Implications, Jacek Czabański, Springer, 2008
Jacek Czabański has tried hard to calculate the total cost of crime, which includes the material and health costs to the victims, the costs to society for dealing with crime, and the costs for trying to prevent crime. The total costs are enormous and may exceed two trillion dollars a year. Crime is worse that we think.
Unit 3: Groups and Roles in Transition
The Gay Guide to Wedded Bliss, Liza Mundy, The Atlantic, 2013
Research shows that same-sex marriages are doing better than heterosexual marriages in terms of more happiness, less conflict, more intimacy, and more equality in child-rearing and chores. Same-sex couples enjoy each other more than heterosexual couples do and that is the lesson Mundy wants heterosexual couples to learn.
US Women Make Strides Toward Equality, But Work Remains, Mia Bush, Voice of America (VOA), 2016
Discrimination against women and girls continues worldwide in the form of gender-based violence and discrimination. The United States has made huge strides over the past century. Women won the right to vote, they make up about half of the workforce, and they now earn a higher percentage of college degrees than men, among other things. However, the United States rates 28th of the 145 countries in an annual world ranking of equality for women-based equality rankings on economic, educational, health-based, and political indicators. For example, women hold just 26.1 percent of high government positions.
Houston Rising: Why the Next Great American Cities Aren't What You Think, Joel Kotkin, The Daily Beast, 2013
Cities in the United States are dynamic but get little media attention. Joel Kotkin brings us up to date. His main message is that the cities with the best record of achievements are not the big and famous cities like New York, Chicago, and San Francisco but second-tier cities like Houston, Dallas-Ft. Worth, Raleigh, Phoenix, and Charlotte. These have faster economic and job growth. They have small central cores and sprawling suburbs. Their advantage is much lower costs, especially in housing.
Have Smartphones Destroyed a Generation? Jean M. Twenge, The Atlantic, 2017
Postmillennials are safer, physically, then adolescents have ever been. But they are on the brink of a mental-health crisis. For example, one told the author that she "spent most of the summer hanging out alone in her room with her phone. That's just the way her generation is, she said. "We didn't have a choice to know any life without iPads or iPhones. I think we like our phones more than we like actual people."
Unit 4: Stratification and Social Inequalities
Why Are Men Dropping Out of Work? Michael Hout, The American Prospect, 2017
This article is a review of Men Without Work: America's Invisible Crisis by Nicholas Eberstadt. According to Eberstadt, America's working man has taken a pounding over the course of the past half-century. According to the most recent data available, 15 percent of men in their prime working years (between 25 and 54) had no job—5 percent were unemployed and 10 percent were neither working nor looking for work. Fifty years earlier, only 5 percent of men in that age range had no job. Two trends contribute to this situation according to Eberstadt: "men are fleeing work" and the high imprisonment rate.
The State of Poverty in America, Peter Edelman, The American Prospect, 2012
Peter Edelman says that poverty in America is a big problem because it rests on the shortage of work and the prevalence of low-wage work. These problems are likely to get worse not better. The poor number 103 million and most of them are trying to work as much as they can. The poor have been helped by many policies, but changes in the labor market will continue and will keep the poor numerous for many years.
The End of Welfare as I Knew It: How Temporary Assistance for Needy Families Failed the Test of the Great Recession, Diana Spatz, The Nation, 2012
The new welfare law in 1996 was praised for lowering welfare rolls and pushing many into the job market. It also had its negative side, which Diana Spitz presents. In many places, it was administered badly and unjustly. Some of the people who were dropped should not have been.
Emmett and Trayvon: How Racial Prejudice in America Has Changed in the Last Sixty Years, Elijah Anderson, Washington Monthly, 2013
Elijah Anderson compares the stories of Emmett Till and Trayvon Martin to discuss the great progress that blacks have made in America and the changes that are still needed. Emmett's murder "was embedded in a virulent ideology of white racial superiority" and black inferiority justifying black subjugation. That ideology has been largely overcome, and there has been large-scale racial incorporation leading to a large black middle class. Today's attitudinal subordination of blacks is largely focused on the black ghetto and contributed to Trayvon's death.
Free and Equal in Dignity and LGBT Rights, Hillary Rodham Clinton, 2011
Hillary Clinton bases her strong endorsement of LGBT rights on the Universal Declaration of Human Rights that 48 nations endorsed in 1948, which proclaimed that "All human beings are born free and equal in dignity and rights." These rights are birthrights, regardless of whether supported by governments. She reviews the subsequent history of the successful removal of barriers to these rights for many groups in many countries including the recent progress of LGBT peoples.
Unit 5: Social Institutions: Issues, Crises, and Changes
A Fitful Union: What the Founders Wrought? James T. Kloppenberg, Commonweal, 2017
Kloppenberg reviews Gary Gerstle's book, A Fitful Union. The United States incorporates a strong view of liberty and freedom on the one hand and reliance on coercion, on the other, "bound together from the earliest days of the republic," have coexisted uneasily ever since. So today, some want freedom and small government and others want state coercion and law and order.
Is Capitalism in Crisis? Latest Trends of a System Run Amok, C. J. Polychroniou, Truthout, 2017
Obviously, Polychroniou and Chomsky have a critical opinion of capitalism and they have a lot of ammunition. The corporations are now savoring a new era of wealth, even as the rest of the population continues to struggle with income stagnation, job insecurity, and unemployment. For example, the banks were irresponsible and required a government bailout of over $16 trillion. A critical history of capitalism is presented including the periods of neoliberal capitalism and financialization capitalism.
The Boom Was a Blip: Getting Used to Slow Growth, Ruchir Sharma, Foreign Affairs, 2017
The global recovery from the Great Recession of 2009 has just entered its eighth year and shows few signs of fading, but it is slow—a record low when compared with economic rebounds that took place in the decades after World War II. Sharma tries to explain why the growth has been slow and blames it on depopulation, deleveraging, and deglobalization. Between the end of World War II and the financial crisis of 2008, the global economy was supercharged by explosive population growth, a debt boom that fueled investment and boosted productivity, and an astonishing increase in cross-border flows of goods, money, and people. Today, all three trends have begun to sharply decelerate.
The Return of Monopoly, Matt Stoller, New Republic, 2017
Over the past three decades, the U.S. government has permitted corporate giants to take over an ever-increasing share of the economy. Monopoly—the ultimate enemy of free-market competition—now pervades every corner of American life: every transaction we make, every product we consume, every news story we read, and every piece of data we download. As a result, they have been able to fix the price of almost everything in the economy.
Hard at Work in the Jobless Future, James H. Lee, The Futurist, 2012
James H. Lee is also pessimistic about America's economic future. Automation and new technologies will make many workers redundant including white-collar and professional workers. The jobless future in his title is exaggerated, but a severe shortage of jobs is to be expected. The ramifications are worrisome.
The Case for Less, Tim Wu, The New Republic, 2013
Tim Wu presents the case for less against the dominant ideology that ever-increasing abundance is the main national and personal objective. Obviously, poverty, hunger, and miserable conditions should be overcome by economic advancement and widespread abundance, but Wu argues against excessive abundance, which has contributed to widespread obesity, information overload, high indebtedness, growing inequality, and lessening of self-control.
Why For-Profit Education Fails: Moguls' Good Intentions Too Often Betray Them, Jonathan A. Knee, The Atlantic, 2016
Many corporations have tried to have a successful for-profit educational system that would be superior to public education and therefore have thousands of contracts to replace public school systems. Many of those companies have gone out of business since their results were not that good. This article presents the pros and cons of for-profit educational systems citing more cons than pros.
Noam Chomsky on How the United States Developed Such a Scandalous Health System, C. J. Polychroniou, Truthout, 2017
America is exceptional among developed countries in not believing that health care is a right. Each person is responsible to provide his own health care. As a result, 30 million have no health-care insurance. Other factors are the brutal fight of corporations against workers and the lack of public demand for adequate coverage. Drugs are also about twice as high in America than in Europe.
A Thousand Years Young, Aubrey de Grey, The Futurist, 2012
How would you like to live a 1,000 years? Aubrey de Gray says that advances in medical and biochemical treatments can overcome the aging process and keep us young for many centuries.
American Religion Has Never Looked Quite Like It Does Today, Antonia Blumberg, Huffington Post, 2016
Bloomberg presents the major changes in religion in America over the past century. They include a drop of 12 percent in belief in God, an 8 percent decline in those who identify as Christian, More and more Americans identify as spiritual but not religious, less church attendance, more women entering the ministry, increase in non-Christian faiths, the spirituality marketplace exploded, and so on.
Unit 6: Social Change and the Future
Full Planet, Empty Plates, Lester R. Brown, Population Press, 2012
According to Lester R. Brown, the world is in a long-term worsening food crisis that will have troubling economic, social, and political impacts. Population growth, billions moving up the food chain, and the use of grains for fuel increase the demand for food while supply problems are increasing due to soil loss, increasing water scarcity, expansion of deserts, adverse weather changes, and the leveling off of acreage productivity in developed countries. Brown suggests what needs to be done.
Synthesis of Papers by Blue Planet Laureates, Gro Harlem Brundtland et al., MAHB (Millennium Alliance for Humanity and Biosphere), 2012
This article is the introductory chapter for a book that presents the messages of leading environmentalists that the world is on an unsustainable course. Global warming, resource consumption, extinctions, agricultural problems, deforestation, overfishing the oceans, water shortages, ozone depletion, pollution, and exposure to dangerous chemicals are some of the problems. Unsustainable growth is promoted by environmentally damaging subsidies in areas such as energy, transportation, and agriculture and should be eliminated; external environmental and social costs should be internalized; and the market and nonmarket values of ecosystem goods and services should be taken into account in decision-making.
How to Maintain America's Edge, L. Rafael Reif, Foreign Affairs, 2017
Basic scientific research is what gives America the edge over other countries However, despite the remarkable success of the U.S. innovation economy, many players in both government and industry have been pulling back from the types of bold long-term investments in fundamental science that could seed the great companies of the future. The entire innovation ecosystem is becoming more shortsighted and cautious. And by failing to invest sufficiently in basic research today, Washington risks creating an innovation deficit that may hobble the U.S. economy for decades to come. Current leaders are considering crippling cuts to science funding.
The Axis of Climate Evil, Paul Krugman, The New York Times, 2017
Krugman blasts the climate deniers for rejecting the facts and telling lies to suit the economic interests of those who pay them. Hardly, any climate skeptics are in fact trying to get at the truth. They are obviously arguing in bad faith. He tries to interpret their motives for trying to sell lies. Take, for example, all the people who seized on the fact that 1998 was an unusually warm year to claim that global warming stopped 20 years ago.
Can a Collapse of Global Civilization Be Avoided? Paul R. Ehrlich and Anne H. Ehrlich, Proceedings of the Royal Society, 2013
The Ehrlich's point out that every past civilization has collapsed and overusing the environment has caused many of these collapses. Currently, overpopulation, overconsumption of natural resources, and environmentally damaging technologies are leading us to global civilization collapse. The authors provide a long list of actions that are required to avoid this collapse.
How Innovation Could Save the Planet, Ramez Naam, The Futurist, 2013
Ramez Naam describes the many wonderful improvements in human life that progress brings about, but also the many serious problems we face that are endangering the planet. He believes that the planet needs to be saved and describes many technological innovations and new ideas that could do it.
Is America Still Safe for Democracy? Why the United States Is in Danger of Backsliding, Robert Mickey, Steven Levitsky, and Lucan Ahmad Way, Foreign Affairs, 2017
Trump has praised dictators, encouraged violence among supporters, threatened to jail his rival, and labeled the mainstream media as "the enemy"—has raised fears that the United States may be heading toward authoritarianism. But the challenges facing American democracy have been emerging for decades, long before Trump arrived on the scene. Since the 1980s, deepening polarization and the radicalization of the Republican Party have weakened the institutional foundations that have long safeguarded U.S. democracy—making a Trump presidency considerably more dangerous today than it would have been in previous decades.
The New Era of Monopoly Is Here, Joseph Stiglitz, The Guardian, 2016
For 200 years, there have been two schools of thought about what determines the distribution of income—and how the economy functions. One focuses on competitive markets. The other takes as its starting point unfettered markets' tendency toward monopoly. Our views about government policies and existing inequalities are shaped by which of the two schools of thought one believes provides a better description of reality.
The Greatest Story Too Rarely Told: America Is an Oligarchy, John Atcheson, Common Dreams, 2017
We live in a nation controlled by corporate power and the individually wealthy. And the major press, of course, is in on the con. The Republican Party has complete disdain for facts, reality, or the scientific method. To deny the existence of climate change in the face of the data is irrational. The same is true of their position on health care, national budgets, state budgets, and tax policy. In all cases, their policies are counterfactual and counterproductive. Consider the collapse of the economy in Kansas after they adopted supply-side and trickle-down-economics. Or the fact that the three biggest economic collapses in US history followed periods when the Republicans were in control and they'd implemented their destructive laissez-faire economic policies. Or watch as they fumble with health care, literally threatening death to hundreds of thousands in the process, and leaving 22 million more Americans uninsured. But the press still covers all this in a way that is "balanced," rather than accurate. This is clearly one sided but worthy of discussion.
Understanding Populist Challenges to the Liberal Order, Pranab Bardhan, Boston Review, 2017
Bardhan identifies the growth of populism throughout the world. Trump in the United States, Modi in India, Britain's Brexit, France's Marine Le Pen, Russia's Vladimir Putin, Hungary's Viktor Orbán, Poland's Jarosław Kaczyński, Turkey's Recep Tayyip Erdoğan, and the Philippines's Rodrigo Duterte are current examples. This is not explained by increasing inequality because these developments are allied to crony capitalism. Rather it is allied to anti globalism, loss of jobs, antigovernment, and cultural values.