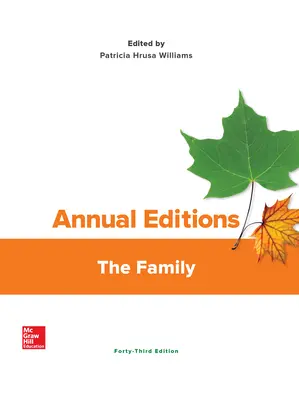 Annual Editions: The Family
43rd Edition
By Patricia Williams
ISBN10: 1259910733
ISBN13: 9781259910739
Copyright:
2018
---
Instructors: choose ebook for fast access or receive a print copy.
---
Program Details
Unit 1: Evolving Perspectives on the Family
Five Reasons We Can't Handle Marriage Anymore, Anthony D'Ambrosio, Asbury Park Press, N.J., 2015
In the last 50 years social norms, conventions, economic circumstances, and the way we communicate with marital partners have dramatically changed. Our ideas and realities surrounding sex, finances, connection, love, and privacy are different than past generations. Given these changes, does marriage just not work for modern adults? Are we not equipped to manage the challenges and commitment it requires?
Family Matters, W. Bradford Wilcox, Slate, 2014
America is the land of opportunity - or is it? Research data from a new Harvard study suggests that children from single parent families are less likely to experience upward mobility. What accounts for this, how does marriage influence children's outcomes, and how can we help children and families achieve the American dream?
The New Nuclear Family, Suzy Kimm, New Republic, 2015
What does it mean to be a nuclear family in today's society? Is same-sex marriage creating a new take on the married two-parent family paradigm? This article considers the evolving and changing structure of the American family as same-sex marriage has become legal in the United States.
Bridging Cultural Divides: The Role and Impact of Binational Families, Samantha N.N. Cross and Mary C. Gilly, Journal of Public Policy & Marketing, 2013
U.S. families are increasingly binational, merging partners who are immigrants from different countries. What do we really know about families who mix and merge different cultures through intermarriage? Using data from a variety of sources, this article considers how changes in the composition of households affect family decision making and resource management.
Migration and Families Left Behind, Sylvie Démurger, IZA World of Labor, 2015
The UN Estimates over 200 million adults work outside of their home country, often leaving their family behind. Using findings from recent research this article considers the pros and cons of this arrangement on the education, health, employment, and resource allocation of those family members who stay behind.
American's Think Their Own Families Are Great But Like Judging Other People's, Amanda Marcotte, Salon.com, 2016
This article discusses the latest findings from the American Family Survey, an annual nationwide poll examining views of adults about family life and relationships. While data suggests we have more favorable views about our own family we also have more pessimistic views about others' lives, marriages, and parenting. This, and other findings, are considered in the context of modern society.
Why We Need to Separate Kids From Tech—Now, Martha Ross, Mercury News, 2015
There has been an explosion of children using technology in the form of recreational media. What are potential benefits and emerging concerns to children's development and family life?
Unit 2: Exploring and Establishing Relationships
What Schools Should Teach Kids About Sex, Jessica Lahey, The Atlantic, 2015
What do kids want to know about sex? How do schools in the U.S. provide sex education to students? The strategies used, the effectiveness of approaches utilized, and innovative solutions are considered.
Sex and the Class of 2020: How Will Hookups Change? Conor Friedersdorf, The Atlantic, 2015
California, like many states, is enacting a law which mandates "affirmative consent" in sexual encounters. No longer is it enough to assume your partner gives consent to sex through their behavior; now consent needs to be explicitly and enthusiastically given. How will this change in the law influence the sexual behavior and experiences of young adults?
There's No Such Thing as Everlasting Love (According to Science), Emily EsfahaniSmith, The Atlantic, 2013
What is love? Is it romance and commitment or something less substantial, like "micro-moments" of positive feelings we experience with others during the day? Smith discusses the nature and experience of love using insights from scientific research.
Dating As If It Were Driver's Ed, Lisa Jander, USA Today, 2014
Important milestones for teenagers are getting their driver's license and starting to date. How come nationwide we require driver education programs to prepare them to be safe in a car but fewer than half of all states require sex education classes or programs for teens? How can we help adolescents stay healthy and safe when navigating the world of sex, relationships, peer pressure, and stress which can be just as dangerous to them as driving?
Sliding versus Deciding: How Cohabitation Changes Marriage, Galena Rhodes, The Family in America, 2016
Galena Rhodes discusses some of the findings of her study with Scott Stanley entitled "Before 'I Do'". The study examines how premarital experiences, such as sexual experiences, premarital education, childbearing, and cohabitation, influence later marital satisfaction.
Is There a Shortage of Marriageable Men? Isabel Sawhill and Joanna Venator, Center for Children and Families at Brookings Brief, 2015
What does it mean to be marriageable? This piece explores declining rates of marriage and how education, economics, and out-of-wedlock childbirth undermine marriage.
Not Wanting Kids is Entirely Normal, Jessica Valenti, The Atlantic, 2012
Becoming an adult is almost synonymous with getting married and having kids. However, if parents had to do it over again, would they? Is parenthood for everyone?
Teen Moms Need Support, Not Shame, Alex Ronan, New York Magazine, 2015
Teens who become pregnant are often victims of stigmatization and are at risk for further economic and social disadvantage. Two teen moms discuss the challenges they faced and what's needed to more effectively support adolescent mothers.
What Happens to a Woman's Brain When She Becomes a Mother, Adrienne LaFrance, The Atlantic, 2015
Having a child changes many aspects of a woman's life but does it actually change her brain? Using the latest developments in neuroscience, this article considers how pregnancy, caregiving, and parenthood changes our thinking, emotions, behavior, and physiology.
Sperm Donor, Life Partner, Alana Semuels, The Atlantic, 2014
Reproductive technology and the internet have changed the ways families are formed. Is it possible to connect with a potential co-parent online? Do you need to be in love and romantically-linked to decide to have a baby and parent together? This article examines the trend to platonic parenting.
International Adoption: Home Alone, Staff, The Economist, 2016
After unprecedented growth, fewer families are able to adopt children internationally. What's behind this decline? How and why have adoption laws and practices changed? This article discusses the changes and challenges in overseas adoptions.
Unit 3: Family Relationships
Can Attachment Theory Explain All Our Relationships? Bethany Saltman, New York Magazine, 2016
What is attachment theory? How is attachment assessed in children and adults? And, what if any difference do our patterns of attachment have on our ability to relate to our own children and potential romantic partners? All of these questions are explored by examining the research and interviewing experts in the field of attachment.
The Marriage Mindset, Annemarie Scobey, US Catholic, 2016
What keeps a marriage together; is it the special events or the everyday actions and courtesies we afford our partner? Scobey examines the attitudes and practices of couples with successful marriages to better understand what's important to a "marriage mindset".
Masters of Love, Emily Esfahani Smith, The Atlantic, 2014
John Gottman's work has focused on trying to understand what makes marriages work. This article reviews his work and that of others on communication patterns in couples. The goal is to use their research to illustrate how successful, healthy, loving marriages work.
The Divorce Lawyer's Guide to Staying Married Forever, Janet Clegg & Hillary Browne Wilkinson, Daily Mail, 2016
This article discusses insights from Clegg and Wilkinson's book An Essential Guide for Successful Relationships, published in the UK in 2016.
The Gay Guide to Wedded Bliss, Liza Mundy, The Atlantic, 2013
While the debate over gay marriage continues, decades of research on same-sex relationships, families, and parenting exists. Research finds that those in same sex relationships are often happier than those in heterosexual relationships. What can we learn from gay and lesbian couples on the keys to fulfilling relationships?
Parenting Wars, Jane Shilling, New Statesman, 2013
Parents are flooded with conflicting media messages about how to raise healthy, happy, successful children. Is there one right way to raise a child? Shilling discusses familial, societal, cultural, historical, and media influences on parenting, highlighting the role of love, character, and identity development.
Raising a Moral Child, Adam Grant, The New York Times, 2014
How do you raise a child who is generous, empathetic, and good to others? This article examines the role of temperament, parental praise, emotional socialization, and discipline strategies in children's moral and character development.
The Collapse of Parenting: Why It's Time for Parents to Grow Up, Cathy Gulli, Maclean's, 2016
Dr. Leonard Sax suggests modern parents defer to their children too often, accounting for a generation of children who are "overweight, overmedicated, anxious, and disrespectful". What's behind this trend and what can we do about it?
The Science of Siblings, Francine Russo, Parade Magazine, 2013
Recent theoretical work suggests siblings are more important in shaping who you are than even your genes, parents, or peers. Using research data this article considers how birth order, sibling squabbles, parental favoritism, and parental loss influence our personality and life course.
How to Make Peace With Your Sibling, Evan Imber-Black, The Washington Post, 2015
Even though you've grown up why do the same tensions and issues still seem to crop-up interacting with your siblings? Using a family systems perspective this article considers family dynamics and practical strategies for changing the patterns in sibling relationships.
The Sandwich Generation Juggling Act, Sherri Snelling, nextavenue.com/Twin Cities Public Television, 2015
The Sandwich Generation is comprised of 24 million American adults who are trying to manage being a parent, working, and taking care of their own parents. How can they successfully manage this juggling act? This article discusses self-care strategies for the Sandwich generation.
More Grandparents Become Caregivers for Grandkids. Is That Good? Jessica Mendoza, The Christian Science Monitor, 2016
Grandparents are increasing being called on to provide child care or take custody of their grandchildren. What's behind the trend and is it beneficial to either grandparents or their grandchildren?
Unit 4: Challenges and Opportunities
Anguish of the Abandoned Child, Charles A. Nelson III, Nathan A. Fox, and Charles H. Zeanah Jr., Scientific American, 2013
How do early experiences of neglect, trauma, and deprivation affect a child? Using data from a study of orphans in Romania this article explores differences in the outcomes of children reared with families, foster care, and state-run institutions.
An Epidemic of Children Dying in Hot Cars, David Diamond, The Conversation, 2016
There has been a startling increase in the number of children who have been killed or injured after caregivers left them in a hot car. Why do caregivers sometimes make this deadly mistake? Should they be held criminally negligent?
Gluten-free Baby: When Parents Ignore Science, Aaron Hutchins, Maclean's, 2017
Parents are increasingly utilizing unconventional medical approaches and diets in caring for and raising their children. The efficacy and safety of many treatments are sometimes unproven and can have detrimental effects on children's health. The article asks "when does out of the box parenting end up going too far"?
Family Privilege, John R. Seita, Reclaiming Children and Youth, 2014
Family privilege is defined as "strengths and supports gained through primary caring relationships." Children reared in foster care often lack access to the privileges afforded by families. To promote resilience in the face of adversity the author highlights the role of kin and communities in helping children build trust, find their talents, foster independence, and find purpose.
Terrorism in the Home, Victor M. Parachin, The Priest, 2013
What is domestic violence? The article discusses 11 common myths about domestic violence. Topics addressed include the signs of domestic violence, causes, and the challenges involved in assisting victims.
When Your Parents are Heroin Addicts, Tracey Helton, The Daily Beast, 2016
Opiod addiction has become an epidemic in the United States. The National Survey on Drug Use and Health estimates 2.2 million children have parents who use illegal drugs. This article tells of the story of some of these families.
"We Never Talked About It": As Opiod Deaths Rise, Families of Color Stay Silent, Leah Samuel, Stat News, 2017
There is a stigma to addiction and overdose deaths are often hidden by families who fear it reflects poorly on them. This article discusses why families of color and immigrant families often hide deaths due to overdose.
Growing Pains: Are Perfect Families a Recipe for Stress? Vanessa Thorpe, The Guardian, 2016
This article reports on the findings of a recent British study which finds almost one-third of modern families report feeling burned out from balancing work, children's activities, and domestic duties.
Your Kid Goes to Jail, You Get the Bill, Eli Hager, The Marshall Project, 2017
Most people don't realize that parents in 28 states can be billed for their children's incarceration or detention, even if later proven innocent. This article discusses the policy and the complexities of the juvenile justice system for families.
Separation Anxiety: How Deportation Divides Families, Hank Kalet, NJ Spotlight, 2016
Immigration and border security are contentious issues in the U.S. How does the fear of deportation and detention practices when families cross the border illegally affect parents and their children? U.S. policies, research findings, and the experiences of families are utilized to illustrate the challenges.
Myths About Military Families, Jennifer Woodworth, Exceptional Parent Magazine, 2016
This article works to dispel stereotypes held about military families including the idea that they have fewer economic worries than non-military families, are only separated during deployment, and that all veterans experience PTSD.
Your Affair Might Be Illegal, Deborah L. Rhode, Salon, 2016
Did you know that adultery is against the law in 21 states and could even result in demotion at work? This article explores public attitudes and legal perspectives regarding criminal prosecution for having and extramarital affair.
A Whole-Family Approach to Workforce Engagement, Kerry Desjardins, Policy & Practice, 2016
What is a whole-family approach? How might it benefit low-income working families to promote economic self-sufficiency and upward mobility?
Working Hard, Hardly Working, Chris Sorenson, Maclean's, 2015
This article discusses the workaholic culture prevalent in North America. Does working all the time make us more or less productive? What are the ramifications for our well-being and family life?
In Whose Best Interests? A Case Study of a Family Affected by Dementia, Rachael Webb & Karen Harrison Dening, British Journal of Community Nursing, 2016
This UK case study examines the challenges and decisions families and individuals are faced with when a parent is diagnosed with dementia.
Supporting the Supporters: What Family Caregivers Need to Care for a Loved One with Cancer, Leonard L. Berry, et al., Journal of Oncology Practice, 2017
In the U.S. over 4.5 million people are caring for family members or loved ones with a cancer diagnosis at home. This article describes a four-part framework for supporting family caregivers as they take on this important challenge.
The Challenges of Change: How Can We Meet the Care Needs of the Ever-Evolving LGBT Family? Nancy A. Orel and David W. Coon, Generations: Journal of the American Society on Aging, 2016
This article discusses lesbian, gay, bisexual, and transgender (LGBT) families and their social support and caregiving needs.
Why Do Marriages Fail? Joseph N. Ducanto, American Journal of Family Law, 2013
A divorce lawyer in practice for 56 years discusses the reasons he believes marriages end and partners decide to formally and legally divorce. What can be done to encourage partners to recommit and reconnect in their marriages? Or, is marriage dead, as the author suggests?
Breaking Up is Hard to Do in Arkansas: Why Divorce Laws are Getting Stricter, Tracey Harrington McCoy, Newsweek, May 17, 2015
Is it too easy or perhaps not easy enough to get a divorce in the United States? This article examines both sides of the issue, highlighting states' and politicians' efforts alter the legal process to potentially benefit couples, children, and families.
Children of Divorce: 82% Rather Separate Than 'Stay for the Kids', Owen Bowcott, The Guardian, 2015
Should parents stay together for the sake of the kids? A recent UK study suggests that children would rather their parents' divorce if they are unhappy. What they do want is more say in the decision-making process in terms of what it means for them.
Helping Children Endure Divorce, Marlene Eskind Moses, Tennessee Bar Journal, 2013
A legal professional considers how divorce influences children. She includes guidelines for parents to help children adjust and adapt when parents decide to legally end their unions.
The Effects of Co-Parenting Relationships with Ex-Spouses on Couples in Step-Families, Claire Cartwright and Kerry Gibson, Family Matters, 2013
What are issues for families when parents re-marry and create step-families? This study looks at the process of family development and co-parenting in families with children where spouses have remarried.
Unit 5: Families, Now and into the Future
The Changing American Family, Natalie Angier, The New York Times, 2013
Families in the U.S. are becoming more varied in form, structure, and how they function. What does the modern family look like and how is our definition of what a family is changing and evolving as society changes?
What Will the Family of the Future Look Like? Ann Berrington & Agnese Vitali, World Economic Forum, 2016
How will factors such as a rise in non-martial childbearing, economic trends, and changes in gender roles influence the form in which families may take in the future? Using demographic data Berrington and Vitali look at worldwide trends.
Why are Fewer People Getting Married? Jay L. Zagorsky, The Conversation, 2016
Globally fewer adults are entering into marriage. Zagorsky explores how factors such as changes in gender roles, governmental policies, cohabitation, and economics may play a role.
Relationships in a Melting Pot, Tina Livingstone, Healthcare Counseling and Psychotherapy Journal, 2015
This article considers issues faced when a partner in a relationship discloses their identity as a trans-identified person. Topics explored include exposure and disclosure, distress, loss, and challenges in re-framing the couple's relationship.
Family Diversity Is the New Normal for America's Children, Philip Cohen, Council on Contemporary Families, 2014
We know the families in which children live have changed since the 1950s. However are families just different or instead so diverse that one model, pattern, or structure no longer predominates? Using demographic data, changes in family structure, living arrangements, and parental employment patterns are explored.
Family Strengths and Resilience: Insights from a National Study, Eugene C. Roehlkepartain and Amy K. Syvertsen, Reclaiming Children and Youth, 2014
Using research data from a nationally representative sample of parents and their teens, the authors examine family assets with goal of identifying family characteristics and strategies which help promote resilience.
Strengthening Ties: The Case for Building a Social Policy Centered on Families, Phillip Longman et al., New America, 2015
As families have changed and evolved have family and social policies kept pace? This article explores trends in modern families including their economic prospects, changes in family structure, and how technology is changing family life. Suggestions are then made as to how these trends can incorporated in developing programs and policies to strengthen and support families.