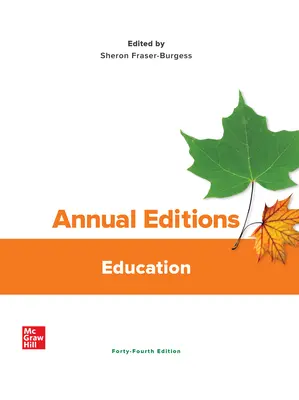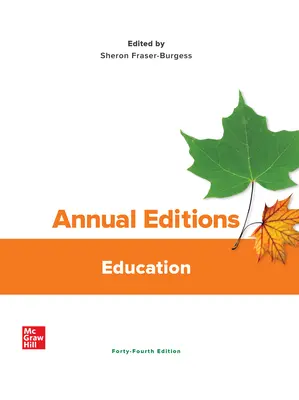 Annual Editions: Education
,
44th Edition
ISBN10: 1259922839 | ISBN13: 9781259922831
Purchase Options:
* The estimated amount of time this product will be on the market is based on a number of factors, including faculty input to instructional design and the prior revision cycle and updates to academic research-which typically results in a revision cycle ranging from every two to four years for this product. Pricing subject to change at any time.
Instructor Details
The Annual Editions series is designed to provide convenient inexpensive access to a wide range of current articles from some of the most respected magazines, newspapers and journals published today. Annual Editions are updated on a regular basis through a continuous monitoring of over 300 periodical sources. The articles selected are authored by prominent scholars, researchers, and commentators writing for a general audience. Each Annual Editions volume has a number of features designed to make them especially valuable for classroom use; including a brief overview for each unit, as well as Learning Outcomes, Critical Thinking questions, and Internet References to accompany each article. Go to the McGraw-Hill Create® Annual Editions Article Collection at http://www.mcgrawhillcreate.com/annualeditions to browse the entire collection. Select individual Annual Editions articles to enhance your course, or access and select the entire Fraser-Burgess: Annual Editions: Education, 44/e book here http://create.mheducation.com/createonline/index.html#qlink=search%2Ftext%3Disbn:1259922839 for an easy, pre-built teaching resource. Visit http://create.mheducation.com for more information on other McGraw-Hill titles and special collections.

UNIT: School Reform in the Twenty-First Century

Is Test-Based Accountability Dead? Morgan S. Polikoff, Jay P. Greene, and Kevin Huffman, Education Next, 2017
Experts weigh in the prospects for standards-based education under a regime of high-stakes testing.

Holding Teachers Accountable Without Adequate Teacher Prep Programs Is a Set-Up, Zachary Wright, Education Post, 2019
A proponent of value-added student growth metrics, Zachary Wright argues that holding teachers accountable on this basis is a reasonable expectation. He argues that teacher preparation should be modified to include one-on-one video-based coaching that equips teacher candidates with the requisite skills.

Charter School Reform: Doublethink and the Assault on the Vulnerable, Morgan Anderson, Journal of Thought, 2016
Anderson discusses the relationship between the erosion of public schools and the genealogy of charter schools. Their proliferation poses the greatest threat to the children of families who are already on the societal margins.

The Paradox of Success at a No-Excuses School, Joanne W. Golann, Sociology of Education, 2015
Using ethnography and fieldwork, Golan studied an urban school reform model that has gained a great deal of prominence for closing the achievement gap between minoritized students and members of the dominant population. Her findings suggest that these setting reproduce a "worker-learner" that is loath to challenge authority.

Pedagogy against the Dead Zones of the Imagination, Henry A. Giroux, Transformations, 2016
Giroux proposes that the ultimate aim of neo-liberal school reform is to eradicate public schools as a democratic institution. In so doing, a primary source of developing basic civic virtues in our children will have been silenced.

The Myth of Accountability: How Data (Mis)Use Is Reinforcing the Problems of Public Education, Claire Fontaine, Data & Society, 2016
The history of standardized testing and data collection in American education has placed disproportionate emphasis on quantification and statistical analysis to measure learning. Accountability fails to address the sources of the achievement gap that has a basis in the different kinds of education available according to socioeconomic status.

A Nation at Risk: The Imperative for Educational Reform, The National Commission on Excellence in Education, 1983
This report provided an argument for the view that American education was in crisis. Ponting to diminishing American global influence and superiority, the authors of the report advocated radical reform in education in order to hold schools accountable for student performance on the academic areas that provided basic skills.

UNIT: Educational Equity

The Radical Middle: The Limits and Advantages of Teaching Grit in Schools, Vicka Bell-Robinson, The Journal of School & Society, 2016
Bell-Robinson highlights the benefits of the growth mindset for students facing academic challenges but offers cautions about the unconditional embrace of grit as its motivation. Where there is systemic inequality, school reforms ought to support the individual student in breaking down these barriers.

…And a Child Shall Lead Them…, Eurydice Stanley, Journal of Language and Literacy, 2018
Stanley urges her audience to revisit the contentious school desegregation issue after the Brown vs. Board of Education of Topeka (1954) ruling. Together, with Elizabeth Stanley, who was one of the Little Rock Nine, she underscores that qualities of respect and tenacity that were essential then are also necessary in the present day.

Strong Teams, Strong Results: Formative Assessment Helps Teacher Teams Strengthen Equity, Nancy Love and Michelle Crowell, The Learning Professional, 2018
Actions involved in formative assessment can be pivotal in advancing educational equity. The data provided is a sound basis for ongoing monitoring of whether instructional strategies are effective in building on students' prior knowledge.

Overcoming the Challenges of Poverty, Julie Landsman, Educational Leadership, 2014
Landsman states that we may have forgotten our duty to provide basic needs and an education for all children in the United States. She reminds us of the conditions with which many children live on a daily basis and provides a list of ways we can cultivate a more nurturing classroom environment for all students.

Creating a Climate for Achievement, Deborah D. Brennan, Educational Leadership, 2015
In an effort to turn around a failing school population, the teachers in one school decided to create a climate for achievement. They began by strengthening their academics with goal setting and sharing, tracking learning, and intervening early. They also strengthen social-emotional learning by building relationships, grading for hope, and using proactive discipline.

Brown v. Board of Education of Topeka, Kansas, U.S. Supreme Court, 1954
This landmark decision ended school desegregation across the nation. The plaintiff argued that education was a property right that was being denied to black students who were forced to attend subpar schools farther away than the white schools that were closer. The plaintiffs argued that school segregation failed to extend to minority children equal protection under the law that the Fourteenth Amendment guaranteed. The ruling, which was unanimous, made school segregation unconstitutional.

UNIT: Literacy Is the Cornerstone of Participatory Democracy

Making the Case for More Civics in the Classroom, Tom Chorneau, Education Digest, 2017
The Every Student Succeeds Act (ESSA) has funding provisions for civic education in its Title IV. Although the most recently elected Presidential administration did not fund the law, there are promising signs from the legislative branch. There is an urgency in light of polls showing that a significant percent of high school students are uniformed about the basic structure of American government.

The Challenges of Gaming for Democratic Education: The Case of iCivics, Jeremy Stoddard et al., Democracy and Education, 2016
The authors evaluate a game platform delivery format for civics education.

The Common Core and Democratic Education: Examining Potential Costs and Benefits to Public and Private Autonomy, Benjamin J. Bindewald, Rory P. Tannebaum, Patrick Womac, Democracy and Education, 2016
The Common Core is national curriculum that claims to represent all of the approved knowledge that is required for literacy. The authors argue that imposing these standards hampers the autonomy of local schools.

Digital Literacy: The Quest of an Inclusive Definition, James K. Njenga, Reading & Writing, 2018
This article evaluates the universal and transcultural meaning of digital learning. The paper proposes an alternate conception that accommodates the economic realities of developing countries.

UNIT: Teaching English Language Learners

Becoming Sociocultural Mediators: What All Educators Can Learn from Bilingual and ESL Teachers, Sonia Nieto, Issues in Teacher Education, 2017
The best ESL teachers serve as bridges between the child's home culture and that of the school. Non-specialists can learn from the solidarity that this instruction involves.

ESL and Classroom Teachers Team Up to Teach Common Core, Lesli A. Maxwell, Education Week, 2013
Diversity in an inclusive school presents challenges. In this article, two teachers explain what led them to become co-teachers to meet the needs of English language learners. Other teachers explain their strategies for meeting the needs of students, professional learning communities, and the "push-in" model.

The Path to Excelencia: In Los Angeles, One School Leader's Mission to Motivate English Language Learners to Succeed, Esmeralda Fabián Romero, The 74million.org, 2018
The author shares the reasons that he was motivated to lead a charter school in the same area from which he left to graduate from ivy league schools. His commitment to the children's well-being inspires him to persist in the face of resistance from the local public schools.

A Better Chance to Learn: Bilingual Bicultural Education, United States Commission on Civil Rights, 1975
According to the 1964 Civil Rights Act Title VI, schools should accommodate English Language Learners. This report discusses permutations of various pedagogical arrangements to advance this goal. These include a discussion of students' rights to learn in their first language and the effectiveness of bicultural-bilingual education where students are pulled out of regular classrooms for instruction.

UNIT: Twenty-First Century Learning Technology and Integration

Continuing Mister Rogers' Neighborhood: Returning Compassion, Connection, and Social Presence to Teaching and Learning, Aimee L. Whiteside, EduCause Review, 2018
Social presence, or connectedness among instructors and learners, offers a pathway for cultivating meaningful learning experiences. Educators can honor Mister Rogers's legacy by challenging themselves to integrate social presence into their practice—leading with compassion, celebrating diversity and creativity, and simultaneously modeling the importance of inquiry, problem-solving, and critical thinking.

Standards-based Technology Integration for Emergent Bilinguals, Briana Ronan, Multicultural Education, 2018
In a standards-driven K-12 environment, teachers of emergent bilinguals face the ongoing challenge of complying with standards in multiple domains. Using the Technological, Pedagogical, and Content Knowledge (TPACK) model, the article discusses ways in which bilingual curriculum can advance literacy through technology integration.

Utilizing Technology in Physical Education: Addressing the Obstacles of Integration, Beth Pyle and Keri Esslinger, Delta Kappa Gamma Bulletin, 2014
Perhaps you have wondered why teachers in physical education, the arts, and other activity-centered classes need to be concerned with technology standards? This article explains why technology is important in physical education and obstacle to technology integration.

Implications of Shifting Technology in Education, Janet Holland and John Holland, TechTrends, 2014
Recently many of us feel that every day brings newer, bigger, and better technology devices. This explosion of technology choices comes with increased quality of the tools and more research to practice articles for integrating technology. How are teachers to implement meaningful integration of new technologies while aligning research to practice?

Assistive Tech for Everyone? Michelle R. Davis, Education Week, 2014
What were once technology tools designed for and used by persons with disabilities are moving into the mainstream and being used by students who do not have an identified disability. A primary reason is the adoption of Universal Design for Learning methods and materials for all students.

UNIT: Special & Exceptional Education

Inclusive Education: Lessons from History, Barbara. Boroson, Educational Leadership, 2017
Boroson aligns advocacy for inclusive placements for students with disabilities with the advocacy of persons from previous civil rights efforts that were anti-desegregation.

Text-to-Speech: Not Just for Special Education Students! Kristine Napper, McGraw-Hill, 2019
The benefits of text-to-speech for students who are blind or vision-impaired are well known. However, all students can benefit from the independence and confidences that it fosters.

Mobile Apps the Educational Solution for Autistic Students in Secondary Education, Agathi Stathopoulou, et al., International Journal of Interactive Mobile Technologies, 2019
This article explores the extent to which autistic children can be served by mobile apps that compensate for their gap and comfort level with social skills. These apps allow for self-guided instruction and have a structured approach that is compatible with the way that autistic students learn.

5 Strategies for Inclusivity in Special Education, Karen Achtman, McGraw-Hill, 2018
Instructional strategies to promote inclusivity offer a broad pedagogical umbrella that increases the likelihood that every child in the classroom overcomes hurdles to learning. Fostering an inclusive classroom environment requires the teacher to have a high level of awareness of the needs of all children in her classroom.

Education of All Handicapped Children Act, U.S. Congress, Public Law 94-142, 1975
This legislation established the nomenclature and policy basis for extending equal rights to children with disabilities in their education. It mandated that individualized education plans (IEP) be standard for all identified special education students as part of a comprehensive plan that was designed to meet their educational needs.

UNIT: Ethics & Community Engagement

The Next "Evolution" of Civic Learning, Tania D. Mitchell, Peer Review: Emerging Trends and Key Debates in Undergraduate Education, 2017
Community-engaged learning is a new buzz term in higher education; Mitchell reflects on whether there is true reciprocity of commitment between university and the community and whether sufficient efforts are being made to foster community leadership.

Using Appreciative Inquiry to Foster Intergenerational Collaboration for Positive Change in a Struggling School System, Megan Tschannen-Moran et al., Center for School Transformation, 2015
Using a case study method, the authors describe what happened in a community that adopted Appreciative Inquiry (AI) to build a climate of positive change through intergenerational collaboration. Their story includes the steps they took to build trust and a sense of community.

Democracy in Education, John Dewey, The Elementary School Teacher, 1903
This excerpt from John Dewey's tome still stands as the most in-depth and thorough theorization of democracy and the role of schools within it. The work centers the consistently of democratic ends with groups who are seeking to be stable and sustainable.

UNIT: Identity & Intersectionality in Education

Building LGBTQ Awareness and Allies in Our Teacher Education Community and Beyond, Laura-Lee Kearns, Jennifer Mitton Kukner, and Joanne Tompkins, Collected Essays on Learning and Teaching, 2014
The authors discuss how they work to build awareness and allies within the higher-education context. They developed a curriculum to use in their pre-service teacher education program with the purpose of creating a pedagogy that embraces, celebrates, and honors all learners.

Here's What I Wish White Teachers Knew When Teaching My Black Children, Afrika Afeni Mills, Education Post, 2019
Afrika Afeni Mills challenges predominantly white teachers in K-12 schools to broaden their cultural competence of America history in the context of the experience of minoritized persons. Only by disrupting their predominant cultural lens can they be effective teachers of all students.

UNIT: STEM

Elements of Making: A Framework to Support Making in the Science Classroom, Shelly Rodriguez et al., Science Teacher, 2018
Making is a curricular innovation that fosters a do-it-yourself mindset in problem-solving from design to production. The authors offer a matrix for lesson develop and implementation.

Don't Ask Me Why: Preschool Teachers' Knowledge in Technology as a Determinant of Leadership Behavior, Anna Öqvist and Per Högström, Journal of Technology Education, 2018
This research study examines the correlation between the attitudes that preschool teachers have toward the underlying elements of implementing technology in the classroom and their confidence in guiding their students' learning.

The U.S. Is Falling Way Behind in STEM But Kentucky's Powering the Comeback, Garris Landon Stroud, Education Post, 2018
Reliable strategies for expansion of rigorous STEM education are well documented but not broadly implemented in the United States. Through making schools accountable for science education, providing cutting edge computer science classes and partnering with community and business stakeholders, Kentucky K-12 schools are bucking the downward national trend.