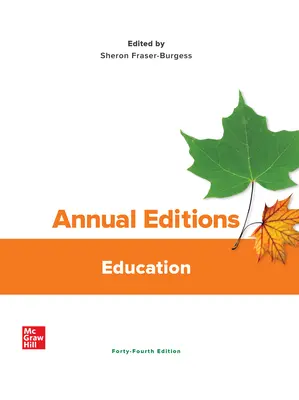 Annual Editions: Education
44th Edition
By Sheron Fraser-Burgess
ISBN10: 1259922839
ISBN13: 9781259922831
Copyright: 2020
---
Instructors: choose ebook for fast access or receive a print copy.
---
Program Details
This Table of Contents is Preliminary. Selections may change or be removed pending permission clearance or other editorial factors.
UNIT 1: School Reform in the Twenty-First Century
Is Test-Based Accountability Dead? Morgan S. Polikoff, Jay P. Greene, and Kevin Huffman, Education Next, 2017
Experts weigh in the prospects for standards-based education under a regime of high-stakes testing.
Charter School Reform: Doublethink and the Assault on the Vulnerable, Morgan Anderson, Journal of Thought, 2016
Anderson discusses the relationship between the erosion of public schools and the genealogy of charter schools. Their proliferation poses the greatest threat to the children of families who are already on the societal margins.
The Common Core "State" Standards: The Arts and Education Reform, Alice Wexler, Studies in Art Education, 2014
Some within the visual and performing arts community are concerned that the Common Core marginalizes the arts and increases the inequities of students in poverty and with disabilities. One primary concern is the missed opportunity for children to engage in and with works of art that express their cultural, personal, and affective selves.
The Paradox of Success at a No-Excuses School, JoAnn W. Golann, Sociology of Education, 2015
Using ethnography and fieldwork, Golan studied an urban school reform model that has gained a great deal of prominence for closing the achievement gap between minoritized students and members of the dominant population. Her findings suggest that these setting reproduce a "worker-learner" that is loath to challenge authority.
Pedagogy against the Dead Zones of the Imagination, Henri Giroux, Transformations, 2016
Giroux proposes that the ultimate aim of neo-liberal school reform is to eradicate public schools as a democratic institution. In so doing, a primary source of developing basic civic virtues in our children will have been silenced.
UNIT 2: Educational Equity
The Radical Middle: The Limits and Advantages of Teaching Grit in Schools, Vicka Bell-Robinson, The Journal of School & Society, 2016
Bell-Robinson highlights the benefits of the growth mindset for students facing academic challenges but offers cautions about the unconditional embrace of grit as its motivation. Where there is systemic inequality, school reforms ought to support the individual student in breaking down these barriers.
…And a Child Shall Lead Them…, Eurydice Stanley, Journal of Language and Literacy, 2018
Stanley urges her audience to revisit the contentious school desegregation issue after the Brown vs. Board of Education of Topeka (1954) ruling. Together, with Elizabeth Stanley, who was one of the Little Rock Nine, she underscores that qualities of respect and tenacity that were essential then are also necessary in the present day.
Strong Teams, Strong Results: Formative Assessment Helps Teacher Teams Strengthen Equity, Nancy Love and Michelle Crowell, Learning Professional, 2018
Actions involved in formative assessment can be pivotal in advancing educational equity. The data provided is a sound basis for ongoing monitoring of whether instructional strategies are effective in building on students' prior knowledge.
Overcoming the Challenges of Poverty, Julie Landsman, Educational Leadership, 2014
Landsman states that we may have forgotten our duty to provide basic needs and an education for all children in the United States. She reminds us of the conditions with which many children live on a daily basis and provides a list of ways we can cultivate a more nurturing classroom environment for all students.
Advocacy for Child Wellness in High-Poverty Environments, Carol A. Mullen, Kappa Delta Pi Record, 2014
Teachers who are advocates for themselves and the students they teach can teach and foster advocacy skills in their students. This can enrich the curriculum and help students overcome the negative effects of living in poverty and attending low-performing schools.
Creating a Climate for Achievement, Deborah D. Brennan, Educational Leadership, 2015
In an effort to turn around a failing school population, the teachers in one school decided to create a climate for achievement. They began by strengthening their academics with goal setting and sharing; tracking learning; and intervening early. They also strengthen social-emotional learning by building relationships, grading for hope, and using proactive discipline.
The Failure of Zero Tolerance, Russell J. Skiba, Reclaiming Children and Youth, 2014
Zero tolerance has created a pipeline from school to prison. Author of this article presents research on school practices and suggests a prevention to insure school safety and keep students out of prison.
UNIT 3: Literacy is the Cornerstone of Democracy
Making the Case for More Civics in the Classroom, Tom Chorneau, Education Digest, 2017
The Every Student Succeeds Act (ESSA) has funding provisions for civic education in its Title IV. Although the most recently elected Presidential administration did not fund the law, there are promising signs from the legislative branch. There is an urgency in light of polls showing that a significant percent of high school students are uniformed about the basic structure of American government.
Critical Literacy and Social Justice, Barbara Comber, Journal of Adolescent & Adult Literacy, 2015
Comber relates critical literacy pedagogies to the work of Paulo Freire and his advocacy for the poor and marginalized members of society. Comber argues that this kind of pedagogy is a moral imperative underwritten by social justice and proposes international, national and local activism as a moral implication of this commitment.
The Challenges of Gaming for Democratic Education: The Case of iCivics, Jeremy Stoddard et al., Democracy and Education, 2016
The authors evaluate a game platform delivery format for civics education.
The Common Core and Democratic Education: Examining Potential Costs and Benefits to Public and Private Autonomy, Benjamin J. Bindewald, Rory P. Tannebaum, Patrick Womac, Democracy and Education, 2016
The Common Core is national curriculum that claims to represent all of the approved knowledge that is required for literacy. The authors argue that imposing these standard hampers the autonomy of local schools.
Digital Literacy: The Quest of an Inclusive Definition, James Kariuki Njenga, Reading & Writing, 2018
This article evaluates the universal and transcultural meaning of digital learning. The paper proposes an alternate conception that accommodates the economic realities of developing countries.
UNIT 4: Teaching English Language Learners
Teachers' Beliefs About Rigor of Curriculum for English Language Learners, Audrey Figueroa Murphy and Bruce Torff, The Educational Forum, 2018
While English language learners (ELL) develop their English competency, their teachers should attend also to the educational rigor of the curriculum in order to minimize achievements gaps with general education students (GE). This research hypothesizes that such laxity is present in ELL instruction.
Becoming Sociocultural Mediators: What All Educators Can Learn from Bilingual and ESL Teachers, Sonia Nieto, Issues in Teacher Education, 2017
The best ESL teachers serve as bridges between the child's home culture and that of the school. Non-specialists can learn from the solidarity that this instruction involves.
ESL and Classroom Teachers Team Up to Teach Common Core, Lesli A. Maxwell, Education Digest, 2014
Diversity in an inclusive school presents challenges. In this article, two teachers explain what led them to become co-teachers to meet the needs of English language learners. Other teachers explain their strategies for meeting the needs of students, professional learning communities, and the "push-in" model.
UNIT 5: Twenty-First Century Learning Technology and Integration
Continuing Mister Rogers' Neighborhood: Returning Compassion, Connection, and Social Presence to Teaching and Learning, Aimee Whiteside, EduCause Review, 2018
Social presence, or connectedness among instructors and learners, offers a pathway for cultivating meaningful learning experiences. Educators can honor Mister Rogers's legacy by challenging themselves to integrate social presence into their practice—leading with compassion, celebrating diversity and creativity, and simultaneously modeling the importance of inquiry, problem-solving, and critical thinking.
Standards-Based Technology Integration for Emergent Bilinguals, Briana Ronan, Multicultural Education, 2018
In a standards-driven K-12 environment, teachers of emergent bilinguals face the ongoing challenge of complying with standards in multiple domains. Using the Technological, Pedagogical, and Content Knowledge (TPACK) model, the article discusses ways in which bilingual curriculum can advance literacy through technology integration.
Utilizing Technology in Physical Education: Addressing the Obstacles of Integration, Beth Pyle and Keri Esslinger, Delta Kappa Gamma Bulletin, 2014
Perhaps you have wondered why teachers in physical education, the arts, and other activity centered classes need to be concerned with technology standards? This article explains why technology is important in physical education and obstacle to technology integration.
Implications of Shifting Technology in Education, Janet Holland and John Holland, TechTrends, 2014
Recently many of us feel that every day brings newer, bigger, and better technology devices. This explosion of technology choices comes with increased quality of the tools and more research to practice articles for integrating technology. How are teachers to implement meaningful integration of new technologies while aligning research to practice?
Assistive Tech for Everyone? Michelle R. Davis, Education Week, 2014
What were once technology tools designed for and used by persons with disabilities are moving into the mainstream and being used by students who do not have an identified disability. A primary reason is the adoption of Universal Design for Learning methods and materials for all students.
UNIT 6: Special Education
Inclusive Education: Lessons from History, Barbara Boroson, Educational Leadership, 2017
Boroson aligns advocacy for inclusive placements for students with disabilities with the advocacy of persons from previous civil rights efforts that were anti-desegregation.
Collaborative Research: A New Paradigm for Systemic Change in Inclusive Education for Students with Disabilities, Andrea L. Ruppar et al., International Journal of Special Education, 2018
The authors argue that collaborative research that is interdisciplinary and involves various stakeholders is the most productive for students with disabilities.
UNIT 7: Ethics and Community Engagement
The Next "Evolution" of Civic Learning, Tania D. Mitchell, Peer Review: Emerging Trends and Key Debates in Undergraduate Education, 2017
Community-engaged learning is a new buzz term in higher education; Mitchell reflects on whether there is true reciprocity of commitment between university and the community and whether sufficient efforts are being made to foster community leadership.
Using Appreciative Inquiry to Foster Intergenerational Collaboration for Positive Change in a Struggling School System, Megan Tschannen-Moran, Bob Tschannen-Moran, and Cynthia A. Lemmerman, Center for School Transformation, 2015
Using a case study method, the authors describe what happened in a community that adopted Appreciative Inquiry (AI) to build a climate of positive change through intergenerational collaboration. Their story includes the steps they took to build trust and a sense of community.
UNIT 8: Identity & Intersectionality in Education
Building LGBTQ Awareness and Allies in Our Teacher Education Community and Beyond, Laura-Lee Kearns, Jennifer Mitton Kukner, and Joanne Tompkins, Collected Essays on Learning and Teaching, 2014
The authors discuss how they work to build awareness and allies within the higher-education context. They developed a curriculum to use in their pre-service teacher education program with the purpose of creating a pedagogy that embraces, celebrates, and honors all learners.
"They Give Teachers a Hard Time": Symbolic Violence and Intersections of Race and Class in Interpretations of Teacher-student Relations, Melanie Jones Gast, Sociological Perspectives, 2018
Gast's interviews of honors black students of working class and middle-class backgrounds and their teachers uncovered a shared deficit view of black students of the urban poor. Appealing to Bordieu's concept of symbolic violence, it is posited that the shared language to set apart urban identity contributes to the reification of black race-class stereotypes.
UNIT 9: STEM
Integrating STEM into Preschool Education: Designing a Professional Development Model in Diverse Settings, Kimberly Brenneman, Alissa Lange, and Irena Nayfeld, Early Childhood Education Journal, 2018
Research on science, technology, engineering, and mathematics (STEM) identifies the domain as a key lever for high quality learning. Researchers developed a model of professional development for early childhood educational professionals that was culturally appropriate for a diverse setting.
Elements of Making, Shelly Rodriguez et al., Science Teacher, 2018
Making is a curricular innovation that fosters a do-it-yourself mindset in problem-solving from design to production. The authors offer a matrix for lesson develop and implementation.