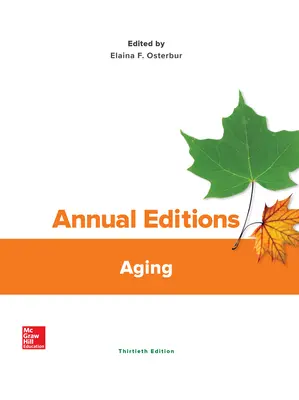 Annual Editions: Aging
30th Edition
By Elaina Osterbur
ISBN10: 1260488349
ISBN13: 9781260488340
Copyright:
2020
---
Instructors: choose ebook for fast access or receive a print copy.
---
Program Details
Unit 1: The Phenomenon of Aging
Demography Is Not Destiny: The Challenges and Opportunities of Global Population Aging, Peter Uhlenberg, Generations, 2013
This article offers a brief explanation of why populations around the world are growing older, compares patterns of population aging in three countries to illustrate the diversity that exists, and provides a foundation for thinking about a future where older people are more numerous than children.
Supporting the Entry of Older Adult Students into College Classrooms, Quintana Clark and Levon T. Esters, Diverse Issues in Higher Education, 2018
This article suggests that the growth of adults over age 50 years are attending and graduating college. The authors explore the motivation, advantages and challenges to older adults who return to college classrooms.
The First Person to Live to 150 Has Already Been Born—Revisited! John Nosta, Forbes, 2013
The author interviews Aubry de Grey, a biomedical gerontologist, to find an answer to the impact of technology on health and digital health. The author provides a review of de Grey's thoughts on longevity including the "The Seven Deadly Things." The author further explores de Grey's thoughts on biotechnology, role of free radicals and whether the use of digital technology that tracks self-movement will move us forward in the quest for longevity.
Living Long: 100 Years Is a Real Possibility, Mark Hager, AgeInPlace.org, 2016
This article suggests that in the past, living for 100 years was a rare occurrence. World statistics, however, suggest that it's not only possible to live to 100 many people across the globe are living to 100 years and beyond. Living to 100 could be the result of healthy lifestyles, as well as close relationships.
Aging 101: Biological Causes of Aging, Hadrien Vielle, LongLongLife.org, 2017
This article suggest that aging is the result of a variety of mechanisms that interfere with the aging process. The author suggests that to influence these mechanisms there needs to be an understanding of the causes of aging, how aging works and the factors that determine life expectancy.
Unit 2: The Quality of Later Life
Measuring and Improving Quality of Life in Older Adults with Special Needs, Crystal McGaha, American Society on Aging, 2016
Older adults with physical and mental impairments tend to experience a significant decrease in quality of life. This article suggests the reasons for this phenomenon and offers suggestions to improve the quality of life of people with special needs.
Population Health and Older Adults: A Public Health Issue that is Coming of Age, Kathryn Kietzman, American Society of Aging, 2016
Public health prevention initiatives need to include secondary and tertiary prevention efforts focused on older adults. This article further suggests public policy initiatives that address the diversity of health status among older adults.
Unit 3: Societal Attitudes Toward Old Age
Social and Health Disparities in Aging: Gender Inequities in Long-term Care, Nancy R. Hooyman, Generations, 2015
This article suggests that the bulk of family caregiving is performed by women. Family caregiving, in general, is undervalued even though the economic value is estimated to be $450 billion. The low status of caregiving encourages gender-based social and health disparities in aging.
The Public Policies We Need to Redress Ageism, Robert B. Blancato and Meredith Ponder, Generations, 2015
The authors suggest in this article that ageism exists in some federal programs. The failure exists in the current caregiving challenges not addressed in federal programs, benefit disparity based on gender in Social Security, age-based discrimination in the workplace, access to benefit programs, and others. Society needs to take action to address these issues.
Health Disparities among Lesbian, Gay, and Bisexual Older Adults: Results from a Population-Based Study, Karen I. Fredriksen-Goldsen, et al., American Journal of Public Health, 2013
The author points out the need for tailored interventions to address health disparities among lesbian, gay, and bisexual older adults. Furthermore, there is also a need for ongoing research across the life course to better understand health disparities by sexual orientation and age.
Attitudes about Aging: A Global Perspective, Pew Research Center, 2014
The Pew Research Center study suggests that most global populations are concerned about their standard of living as they age. They are concerned about the shrinking of the working age population group who will be tasked to support social insurance systems.
Sexual Orientation, Socioeconomic Status and Healthy Aging, Bridget K. Gorman and Zelma Oyarvide, Generations, 2018
The authors suggest that socioeconomic status is important to healthy aging. Disparities exist in socioeconomic status across groups, especially for older adults. This study suggests that across age groups, bisexual elders have the lowest rates of completed schooling, and live in lower-income households than to heterosexual, gay or lesbian older adults.
Unit 4: Problems and Potentials of Aging
Physician Supply and Demand Through 2025: Key Findings, Association of American Medical Colleges, 2016
This article is a summary of the study performed by IHS Inc. "The Complexities of Physician Supply and Demand: Projections from 2014 to 2025" on behalf of the Association of American Medical Colleges. The key findings include growth of demand for physicians, shortages by specialty, and brief suggested solutions.
Sexuality in Later Life, National Institute on Aging, 2017
This article suggests the problems experienced in sexuality in later life. Normal changes versus abnormal changes are discussed. The article further distinguishes the physical differences between men and women that occur as we age.
The Edinburgh Social Cognition Test (ESCoT), R. Asaad Baksh, et al., PLOS ONE, 2018
The authors suggest inconsistent findings in the effects of healthy aging on social cognition measures. The study examined the effects of age, measures of intelligence and the Broader Autism Phenotype (BAP) on the ESCoT and established tests of social cognition.
Gastric Balance: Heartburn Not Always Caused by Excess Acid, James English, NutritionReview.org, 2018
This article discusses the changes that take place in the ability to absorb minerals, vitamins and other nutrients with advancing age. These changes can affect digestive function over time. The authors define the symptoms and diseases that may accompany poor digestive function.
Caregiving Youth, Editorial Staff, Today's Caregiver, 2018
The author suggests there are many young children taking care of parents who have a medical condition or disability. The ways that children cope with the stress associated with caregiving is based on personality and life experiences. Caregiving can have a negative impact on young children. The author suggests several interventions to assist children in coping with their caregiving responsibilities.
Caregiver Stress, Alzheimer's Association, 2018
Caregivers of people with Alzheimer's disease experience a great deal of stress that can lead to burnout. This article provides caregivers with the symptoms of stress they may be experiencing and includes tips on how to manage stress. Resources are provided by the Alzheimer's Association included in this article.
Optimism, Pessimism, Coping, and Depression: A Study on Individuals with Parkinson's Disease, Kristen Anzaldi and Kim Shifren, The International Journal of Aging and Human Development, 2018
The study suggests that optimism and pessimism are mediators in the relationship between coping strategies and depression among subjects with Parkinson's Disease. The findings from this study could serve to support future research and to develop interventions to increase optimism in individuals with Parkinson's Disease.
Unit 5: Retirement: American Dream or Dilemma?
7 Big Estate Planning Mistakes, Bob Carlson, Forbes, 2018
This article addresses the seven costly estate planning mistakes people of make while planning their estates. This article answers the question of why so many people make these mistakes and what you can do to correct them. The author offers resources for further reading.
Why Baby Boomers Refuse to Retire, George Lorenzo, Fast Company, 2016
A Pew Research study suggests that baby boomers don't consider themselves old until around 72 years. This article suggests that old cultural norms regarding retirement do not extend to baby boomers. Baby boomers are staying healthy by working longer. Organizations such as AARP offers services to those boomers who intend to stay engaged as they get older.
Recordkeeping for Retirement Starts with MySSA, Kenn Beam Tacchino, Journal of Financial Service Professionals, 2014
The author suggests that encouraging clients to plan retirement by providing an array of documents necessary for a smooth transition includes registering at the website of the Social Security Administration, and using the tab "MySSA." The author further describes how the site can be accessed and how an account is created. The information provided through MySSA includes accurate earnings statements, accessing errors, and ensuring that benefits are accurate.
Unit 6: The Experience of Dying
Pain Control at the End of Life, Chris Woolston, HealthDay, 2016
This article suggests that end of life should be a time when patients should be with loved ones and reflect on life. The author further suggests that pain relief should be a priority. Furthermore, family or personnel involved in patient care should know the facts about pain control at the end of life.
Rehabilitation Counselor Ethical Considerations for End-of-Life Care, Jan C. Case, Terry L. Blackwell, and Matthew E. Sprong, Journal of Rehabilitation, 2016
This article suggests the revised 2010 Code of Professional Ethics for Rehabilitation Counselors of the Commission on Rehabilitation Certification (CRCC) provides guidance in three key areas including counselor competency with end-of-life clients, counselor scope of practice regarding end-of-life clients and counselor choices pertaining to confidentiality in patients who wish to hasten their deaths. The authors discuss the potential ramifications of these standards.
Coping with the Death of Your Pet, The Humane Society of the United States
This article suggests that while most people are understanding of the loss of a loved one, they may lack understanding of the grief experienced by families and especially older adults at the loss of a pet. Older adults are particularly vulnerable to grief at the loss of a pet because of living alone or the loss may trigger the memories of previous losses.
Death with Dignity Acts, Deathwithdignity.org, 2018
This article defines death with dignity laws; why the laws were enacted, and rules that apply. Death with dignity laws are also known as physician-assisted dying or aid-in-dying laws. These rules vary by state.
Palliative Care: Impact on Quality and Cost, Jessica D. Squazzo, Healthcare Executive Magazine, 2013
This article suggests that palliative care can improve the quality of care, communication, and coordination for critical patients, and has the potential to reduce the reliance on emergency rooms. Palliative care is a unique, team-oriented approach.
Unit 7: Living Environment in Later Life
Creating Communities That Support Healthy Aging, Nancy LeaMond, American Public Human Services Association Policy & Practice, 2013
The author discusses the challenges communities face when their residents are aging. One challenge is the need for infrastructure that accommodates the needs of aging residents. AARP offers pointers to community leaders that suggest they acknowledge an aging population, avoid a "wait and see" attitude, and seek successful community models to assist in making communities livable at any age.
Long-Term Care Ombudsman Program, Administration for Community Living, U.S. Department of Health and Human Services, 2016
This fact sheet provides information for older adults and families in understanding the purpose of the long-term care Ombudsman program. This article provides history, resident's rights, ombudsman responsibilities and resources for both families, patients, and assistance to ombudsmen.
Planning for Alzheimer's, Kimberly Lankford, Kiplinger's Personal Finance, 2013
According to the Alzheimer's Association, more than five million people have Alzheimer's disease. Long-term care and medical treatment are costly, while many family caregivers are providing unpaid care to cut the slack. This article discusses options to assist families and patients in long-term care decision-making.
The Top 10 Senior Housing Trends for 2016, Janet Marshall, Redfin, 2016
This article suggests the 2016 anticipated trends for senior housing. Attracting the new next generation is a priority and can be accomplished through marketing, technology, construction and design while continuing to serve the current generation.
The Culture Change Movement in Long-term Care: Is Person-Centered Care a Possibility for the Looming Age Wave? Laci Cornelison, NAELA Journal, 2016
This article discusses a culture change movement in long-term care that focuses on person-centered care. The author suggests challenges to the movement that include the long process of organizational change and the role of government and policy.
Unit 8: Social Policies, Programs, and Services for Older Americans
iHubs: A Community Solution to Aging in Place, Beth Roalstad, Generations, 2014
iHub is an intergenerational concept with a mission to collaborate with community stakeholders to organize resources, public policy, and citizen efforts to address the increase in the aging.
How to Save Social Security While Reducing the Deficit, Alexander Chaconas, Real Clear Policy, 2018
This article details the status of policymaker activities that do not adequately address the "social security crisis." The author suggests that policymakers need to place focus on retirement insurance benefits. The author suggests that the solution will not make those with high incomes happy but would save social security for low and middle-income households and help balance the budget.
What Should Lawyers Know about Advance Directives for Health Care? Daniel J. Brauner, Experience, 2013
This article outlines the history of CPR, success rates, importance of patient/client selecting the right person to serve as one's durable power of attorney (DPA) for health care. The author further suggests how lawyers can play an important role as an advocate for their clients by ensuring that their intentions are honored through their advance directives. The author advises lawyers to advise clients to remain "Full Code", choose the right DPA for healthcare, the DPA be educated about DNR and discussion with the DPA about the conditions of resuscitation.
The Aging Network and Long-Term Services and Supports: Synergy or Subordination? Robert B. Hudson, Generations, 2014
The American Society on Aging suggests that the National Aging Network has been challenged by the policies supporting long-term care services and support (LTSS), the responsibilities of the Network outside the realm of LTSS and which social institution should address LTSS needs. This article suggests solutions to these challenging issues.
2018 Medicare Costs, Centers for Medicare & Medicaid Services, 2017
This article outlines the current costs of Medicare. Parts A, B, C, and D monthly premiums and services provided are explained. The article also provides contact information for resources about Medicare costs.