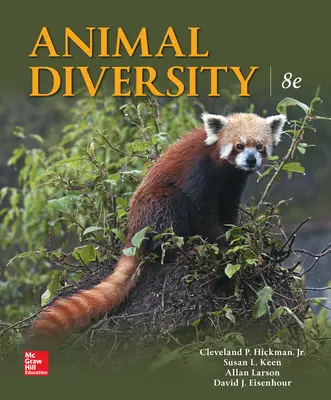 Animal Diversity
8th Edition
By Cleveland Hickman and Larry Roberts and Susan Keen and Allan Larson and David Eisenhour
ISBN10: 1259756882
ISBN13: 9781259756887
Copyright:
2018
Program Details
1. Science of Zoology and Evolution of Animal Diversity2. Animal Ecology
3. Animal Architecture
4. Taxonomy and Phylogeny of Animals
5. Unicellular Eukaryotes
6. Sponges: Phylum Porifera
7. Cnidarians and Ctenophores
8. Acoelomorpha, Platyzoa, and Mesozoa: Flatworms, Gastrotrichs, Gnathiferans, and Mesozoans
9. Polyzoa and Kryptrochozoa: Cycliophora, Entoprocta, Ectoprocta, Brachiopoda, Phoronida, and Nemertea
10. Molluscs
11. Annelids and Allied Taxa
12. Smaller Ecdysozoans
13. Arthropods
4. Chaetognaths, Echinoderms, and Hemichordates
15. Vertebrate Beginnings: The Chordates
16. Fishes
17. The Early Tetrapods and Modern Amphibians
18. Amniote Origins and Nonavian Reptiles
19. Birds
20. Mammals

How to Access Instructor Tools for your Course
Your text has great instructor tools – like presentation slides, instructor manuals, test banks and more. Follow the steps below to access your instructor resources or watch the step-by-step video.
To get started, you'll need to visit connect.mheducation.com to sign in. (If you do not have an account, you'll need to request one from your MH rep. To find your rep – visit the Find Your Rep page).
Then, under "Find a Title," you'll search by title, author or subject.
Select your desired title and create a course. (Note – you do not have to create assignments, just a course instance)
Then go to your Connect course homepage.
In the top navigation, select library to access the instructor resources that accompany the title.