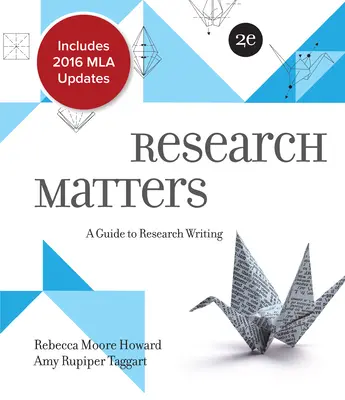 Research Matters MLA 2016 Update
,
2nd Edition
ISBN10: 1260088294 | ISBN13: 9781260088298
Purchase Options:
* The estimated amount of time this product will be on the market is based on a number of factors, including faculty input to instructional design and the prior revision cycle and updates to academic research-which typically results in a revision cycle ranging from every two to four years for this product. Pricing subject to change at any time.
Additional Product Information:
Research Matters. Make it your own. Research Matters unites research, reasoning, documentation, and composing into a cohesive whole, helping students see the conventions of writing as a network of responsibilities writers have . . . . . .to other writers. Research Matters clarifies the responsibility writers have to one another - to treat information fairly and accurately and to craft writing that is fresh and original - their own! . . .to the audience. Research Matters stresses the importance of using conventions appropriate to the audience, to write clearly, and to provide readers with the information and interpretation they need to make sense of a topic. . . .to the topic. Research Matters emphasizes the writer's responsibility to explore a topic thoroughly and creatively, to assess sources carefully, and to provide reliable information at a depth that does the topic justice. . . .to themselves. Research Matters encourages writers to take their writing seriously and to approach writing and research as an opportunity to learn about a topic and to expand their scope as writers. By framing writing in the context of responsibility, Research Matters addresses composition students as mature and capable fellow participants in the research and writing process. The second edition includes more information on the author's exciting research findings from the Citation Project which helps students better understand proper sourcing and documentation and how to avoid plagiarism in their research.
Research Matters, Second Edition Table of Contents Part I: Preparation Matters 1. Owning your research a. Understanding the benefits b. Having a sense of purpose c. Tapping personal and professional interests d. Finding space in the assignment e. Making room in your schedule f. Raising questions g. Developing confidence: What do you already know? h. Presenting your research in an alternate form 2. Reading your sources a. Reading to comprehend b. Reading to reflect c. Reading to write Citing Like an Expert Feature: 1-2 pages on helping students use summary more and on reading whole sources 3. Exploring and sharpening your topic a. Exploring research topics b. Focusing your topic c. Developing your research question 4. Developing a sense of purpose and context for your research a. Understanding purpose, audience, and context through genres b. Determining who cares about the topic c. Writing purposefully d. Knowing where the research is going 5. Writing a research proposal a. Understanding typical components of a research proposal b. Analyzing the rhetorical situation c. Drafting research questions and hypotheses d. Providing a rationale e. Establishing methods f. Setting a schedule g. Choosing sources strategically h. Developing a working bibliography i. Annotating your working bibliography j. Developing a literature review k. Formatting the project proposal Part II: Information Matters 6. Gathering information a. Consulting a variety of sources b. Finding periodicals using databases and indexes c. Finding reference works d. Finding books e. Finding government publications and other documents f. Finding sources in special collections: Rare books, manuscripts, and archives g. Finding multimedia sources 7. Meeting the challenges of online research a. Web and database searches: Developing search strategies b. Finding other electronic sources c. Finding multimedia sources online 8. Developing new information a. Searching archives and primary information b. Conducting interviews c. Observing d. Surveying 9. Evaluating information a. Evaluating relevance b. Evaluating reliability c. Evaluating logic: Claims, grounds, and warrants d. Evaluating online texts: Websites, blogs, wikis, and web forums e. Evaluating visual sources Citing Like an Expert Feature: 2 page coverage of moving students from repeating claims to evaluating arguments and choosing complex texts 10. Taking notes and keeping records a. Choosing an organizer to fit your work style b. Keeping the trail: Your search notes c. Determining what to include in research notes d. Taking content notes e. Taking notes to avoid plagiarizing and patchwriting 11. Citing your sources and avoiding plagiarism a. Developing responsibility: Why use sources carefully b. Understanding what you must cite c. Knowing what you need not cite d. Understanding why are there so many ways to cite e. Drafting to avoid plagiarizing and patchwriting f. Getting permissions g. Collaborating and citing sources 12. Writing an annotated bibliography a. Understanding the annotated bibliography b. Preparing the citation c. Writing the annotation d. Formatting the annotated bibliography e. Sample student annotated bibliography (in MLA style) Part III: Organization Matters 13. Writing and refining your thesis a. Drafting a thesis statement b. Refining your thesis Citing Like an Expert Feature: 1 page on helping students represent source complexity 14. Organizing your project a. Reviewing your prewriting b. Grouping your ideas c. Arranging your ideas from general to specific d. Considering your project's overall shape e. Choosing an organizational strategy f. Choosing an outlining technique g. Checking your outline for unity and coherence Part IV: Writing Matters 15. Drafting your project a. Preparing to draft b. Developing a title c. Drafting the introduction d. Developing paragraphs e. Connecting paragraphs f. Drafting the conclusion g. Drafting responsibly sample student essay—first draft h. Drafting collaboratively 16. Entering conversations and supporting your claims a. Explaining and supporting your ideas: Reasons and evidence b. Using visuals as support c. Weaving it all together d. Quoting, paraphrasing, and summarizing 17. Citing expertly a. Integrating source material b. Representing your voice c. Providing context Citing Like an Expert Feature: 2 pages on avoiding patchwriting and showing where sources begin and end 18. Revising, editing, and proofreading Revising globally a. Gaining perspective b. Revising your draft c. Reconsidering your title Revising locally d. Choosing your words with care e. Crafting grammatically correct, varied, and concise sentences Revising with others f. Receiving feedback Proofreading 19. Designing and presenting your project a. Understanding design principles b. Planning your design project c. Applying the principles of design d. Designing an academic research paper e. Presenting your research Part V: Documentation Matters 20. Conducting research in the disciplines a. Conducting research and writing in the humanities b. Conducting research and writing in the social, physical, and natural sciences 21. Documenting sources: MLA style a. Creating MLA-style in-text citations b. Preparing an MLA-style list of works cited c. Using MLA style for content and bibliographic notes d. Formatting a paper in MLA style Citing Like an Expert Feature: One page on handling indirect quotation 22. Documenting sources: APA style a. Creating APA-style in-text citations b. Preparing an APA-style reference list c. Using APA style for notes d. Formatting a paper in APA style 23. Documenting sources: Chicago style a. Creating Chicago-style notes and bibliography entries b. Using Chicago style for tables and figures c. Using Chicago style for content notes d. Formatting a paper in Chicago style 24. Documenting sources: CSE Style a. Creating CSE-style in-text citations b. Preparing a CSE-style reference list c. Formatting a paper in CSE style Appendix Credits Index
Your text has great instructor tools, like presentation slides, instructor manuals, test banks and more. Follow the steps below to access your instructor resources or watch the step-by-step video.
Steps to access instructor resources:
To get started, visit connect.mheducation.com to sign in. (If you do not have an account, request one from your McGraw Hill rep. To find your rep, visit Find Your Rep)
Then, under "Find a Title," search by title, author, or subject
Select your desired title, and create a course. (You do not have to create assignments, just a course instance)
Go to your Connect course homepage
In the top navigation, select library to access the title's instructor resources