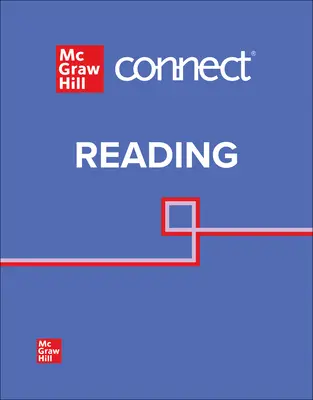 Connect Reading 3.0 Online Access
3rd Edition
By McGraw Hill
ISBN10: 0078036313
ISBN13: 9780078036316
Copyright:
2015
Product Details

+
McGraw-Hill's Connect is a subscription-based learning service accessible online through your personal computer or tablet. Choose this option if your instructor will require Connect to be used in the course. Your subscription to Connect includes the following:
A digital version of the course textbook that saves you time while improving performance.
Access to your instructor's homework assignments, quizzes, syllabus, notes, reminders, and other important files for the cou
Read more +
---
Instructors: choose ebook for fast access or receive a print copy.
---
Program Details
o

A Love that Gives Her Paws
o

An Open Letter to My Kids About Suing Mom and Dad
o

Have You Seen My Brother Standing in the Shadows?
o

Marital bliss? Maybe Jay Z and Beyoncé don't have it all figured out
o

Textbook Excerpt: Peers and the Sociocultural World
•

Student/College Success
o

Building a Better Brain is within Every Student's Power
o

College Scholarships: He's Got an App for That
o

Fiala on Ethics: Brain Hackers Raise Social Questions about Learning, Understanding
o

Is College Still Worth it? Pew Research Says Yes
o

Setting and Achieving Goals (Textbook Excerpt)
o

The Truth about Multitasking
o

Tips for Better Time Management
o

World Sleep Day is Meant to be a Wake-Up Call
•

Work
o

Connecting School and Job Success (Textbook Excerpt) by Sharon K. Ferrett
o

Love Contracts Help Employers Avoid the Pitfalls of Office Romances by Diane Stafford
o

Managing the Five Stages of an Interview (Textbook Excerpt) by Donna Yena
•

Ethics
o

As Many as 50% of Students Admit to Cheating in College by Michael Kerwin
o

Can One Sibling Pull the Plug If the Others Don't Want To? by Janelle Nanos
o

Fatal Fashion: Movement Seeks Way to Change Global Clothing Production by Claudia Buck
o

Medical Ethicists Say Stop Guantanamo Force-Feeding by Carol Rosenberg
o

On Campus: Author Discusses Cheating Culture with College Students
o

Social and Ethical Criticisms of Advertising (Textbook Excerpt)
•

Reading and Study Skills
o

Reading and Study Skills


Main Idea


Supporting Details


Author's Purpose


Logical Patterns of Organization


Sentence Relationships


Context Clues


Bias


Tone


Fact and Opinion


Inferences and Conclusions


Author's Reasoning


Taking Tests