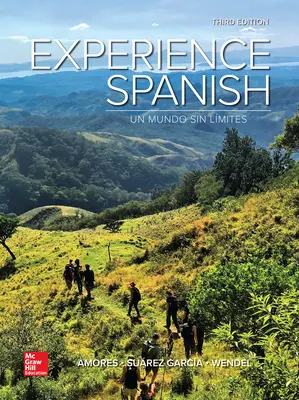 Experience Spanish
3rd Edition
By María Amores and Anne Wendel and José Luis Suárez-García
ISBN10: 1260016072
ISBN13: 9781260016079
Copyright: 2020
Product Details

+
Experience Spanish: Un mundo sin límites, presents vocabulary and grammar in action through culture. With emphasis on the 5C's, the Experience Spanish program delivers dynamic opportunities for communicative practice.
Program Details
Capítulo 1 ¿Qué estudias?
Capítulo 2 ¿Qué haces en tu tiempo libre?
Capítulo 3 La vida diaria
Capítulo 4 ¿Cómo es tu familia?
Capítulo 5 ¡Hogar, dulce hogar!
Capítulo 6 ¡A comer!
Capítulo 7 ¡Vamos de compras!
Capítulo 8 En la comunidad
Capítulo 9 Recuerdos del pasado
Capítulo 10 ¡Salgamos a explorar!
Capítulo 11 La música, el arte y las celebraciones
Capítulo 12 El bienestar
Capítulo 13 Nuestro futuro
Capítulo 14 Nosotros y el mundo natural
Capítulo 15 La vida moderna