Social Awareness
Primary (Gr. 1–2)
Foldable®: Shared Moments

Estimated Duration: 25-30 minutes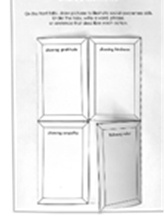 Cut along the outside solid black lines of the large Social Awareness Foldable. DO NOT cut the middle black cut-lines at this time.


Fold along the two long dotted lines in the middle of the Foldable. Always fold so the dots are visible along the fold line.  Students might help each other fold.  Glue the back of the folded Shutter Foldable onto the large gray rectangle in the student book.


NOW cut along the middle two solid black lines on each side of the shutterfold to form four tabs.  


On the front of the tabs, have students draw pictures that show them showing gratitude, showing kindness, showing empathy, and following the rules.  Students write words, phrases, or simple sentences under the tabs. 
Cut out the Pocket and the Wheel by cutting along the solid black lines.  


Glue the bottom and right edge of the pocket onto the labeled, gray strips in the student booklet. (Note that unlike anchor tabs, pockets have NO folds.)


Allow glue to dry a minute before placing the Wheel in the pocket. Read the information on the front of the pocket. Tell students that they will be evaluating their own social awareness actions. Read the questions to the students and have them rate themselves: one star for sometimes, two stars for often, and three stars for always. For those who want to, allow students to share their thoughts and responses. Tell students to visit this page when needed to self-evaluate their social-awareness skills by responding to the four questions on the pocket. What changes do they notice?
Go to other SEL competencies in this book (Primary - Grades 1–2): 

The teaching suggestions only work in accompaniment with the student portfolio, which has all the activity pages.
The teaching suggestions here are also available within a PDF of the entire teacher's manual.