Self-Awareness
Primary (Gr. 1–2)
Foldable®: Selfie Moments

Estimated Duration: 25-30 minutes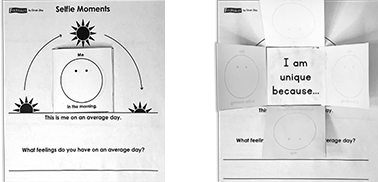 Cut along the solid black lines of the page with four mouth-less faces.  Discard the squares with hatch marks.  Keep the square that says, "This is how I feel…"


Fold along the four dotted lines. Fold so the dots show along the fold lines.  Students might help each other fold.  


Collapse the tabs inward to form a single square with a face on the front.  As they open and close the tabs, have students complete the pictures of themselves. Discuss how student emotions can differ at different times of the day. 


With all tabs open, glue the "This is how I feel…" square in the middle of the cross.  It will be covered when the tabs are closed and visible when the tabs are open.

Cut along the outside solid black lines of the My Moments Foldable.  DO NOT cut the middle black cut-line at this time.


Fold along the dotted line at the top of the rectangle to form an anchor tab.  Glue the folded tab on top of the gray My Moments anchor tab space in the student book.  Allow the glue to dry briefly while you discuss what types of feelings and actions students might experience.


NOW have students to cut along the middle solid black line to form two tabs. Have students record feelings and actions that make them special under the tabs. Their writing and sketches are private when covered by the tabs.  
Go to other SEL competencies in this book (Primary - Grades 1–2): 

The teaching suggestions only work in accompaniment with the student portfolio, which has all the activity pages.
The teaching suggestions here are also available within a PDF of the entire teacher's manual.