Self-Awareness
Intermediate 2 (Gr. 5–6)
Foldable®: Selfie Moments

Estimated Duration: 25-30 minutes

Cut along the outside solid black lines of "I" pocket and the word wheel.


Glue the white edges of the "I" pocket onto the Selfie Moments page of the student book.


After the glue has dried, insert the word wheel and turn it to form different phrases.


Students mentally and/or orally complete the phrases to learn more about themselves.


Students could record some of their responses in a notebook or journal.


Some students might want to share their self-discovery and others will want this to be private.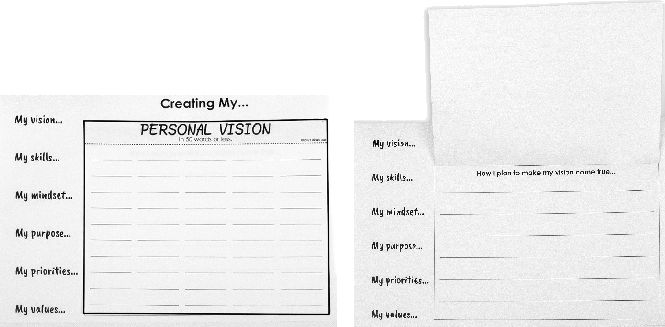 Cut along the outside solid black lines of the One-Tab Foldable.


Fold along the dotted line at the top of the rectangle to form an anchor tab.


Glue the folded tab on top of the gray space in the student book that says: Glue anchor tab here: My Personal Vision.


Guide students to use the prompts on this page and things they discovered in the "I Wheel" to develop their own personal vision statement.  Using fifty words or less, students summarize their priorities, determine what they enjoy, and identify their strengths and weaknesses. 


Under the tab, students write about how they plan to make their vision become a reality.  As a class, discuss that it takes time and effort to reach a personal vision, and visions can change over time as students change and learn more about themselves and the world around them.


Some students might want to share their personal visions and others will want to keep them private.
Go to other SEL competencies in this book (Intermediate 2 - Grades 5–6): 

The teaching suggestions only work in accompaniment with the student portfolio, which has all the activity pages.
The teaching suggestions here are also available within a PDF of the entire teacher's manual.