Social Awareness
Intermediate (Gr. 3–4) 
Foldable®: Shared Moments

Estimated Duration: 25-30 minutes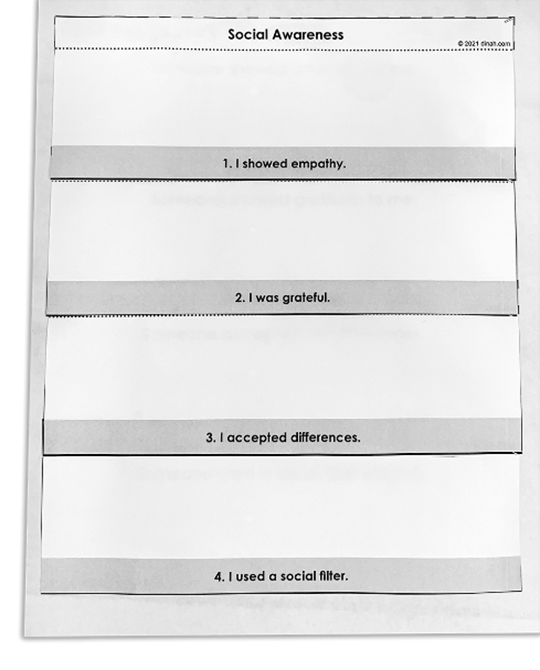 Cut along the solid black lines to make four rectangular sections. 


Make anchor tabs by folding along the dotted line on each section. 


Glue the four anchor tabs onto the gray strips in the student book. When glued, four layered tabs are formed.   


On the front of the tabs, have students draw or write about moments when they showed empathy, were grateful, accepted differences, and used a social filter. 


Under the tabs, have students record moments when others showed the same moments to them.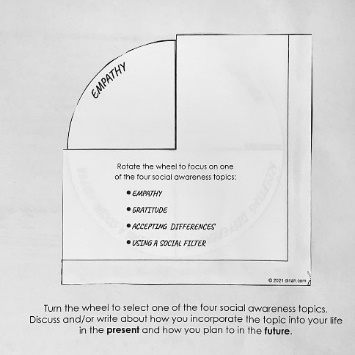 Cut out the I am socially aware: Pocket and Wheel by cutting along the solid black lines.   


Glue the bottom and right edge of the pocket onto the labeled, gray strips in the student booklet. (Note that unlike anchor tabs, pockets have NO folds.)  


Allow glue to dry a minute before placing the wheel in the pocket. Read the information on the front of the pocket while the glue dries.   


Ask students to rotate the wheel to focus on one of the four social awareness topics. Help students analyze how they can incorporate the selected topic into their life in the future. Discuss the importance of social awareness collectively – with all its parts functioning all the time. Ask students: Do you think this takes practice? Do you think it will always take practice and attention to be your best at social awareness? Why or why not?  
Go to other SEL competencies in this book (Intermediate - Grades 3–4): 

The teaching suggestions only work in accompaniment with the student portfolio, which has all the activity pages.
The teaching suggestions here are also available within a PDF of the entire teacher's manual.