Social Awareness
Intermediate 2 (Gr. 5–6) 
Foldable®: Shared Moments

Estimated Duration: 25-30 minutes

Help students find current events related to social justice that they would like to investigate. Students write the title of the current event in their book. 


Cut along the outside solid black line of the two Two-Tab Foldables.  Do NOT cut the middle lines at this time.


Fold along the dotted lines on each rectangle to form anchor tabs.


Glue the folded tabs on top of the gray spaces in the student book labeled: Glue anchor tab here. Notice that one anchor tab is to the left and one is to the right. 


When the glue is set, cut along the solid black line in the middle of each rectangular to form four tabs with the questions: What, When, Where, and How.


Students answer the question with a simple phrase on the front of each tab and then write one or more related details under the tabs.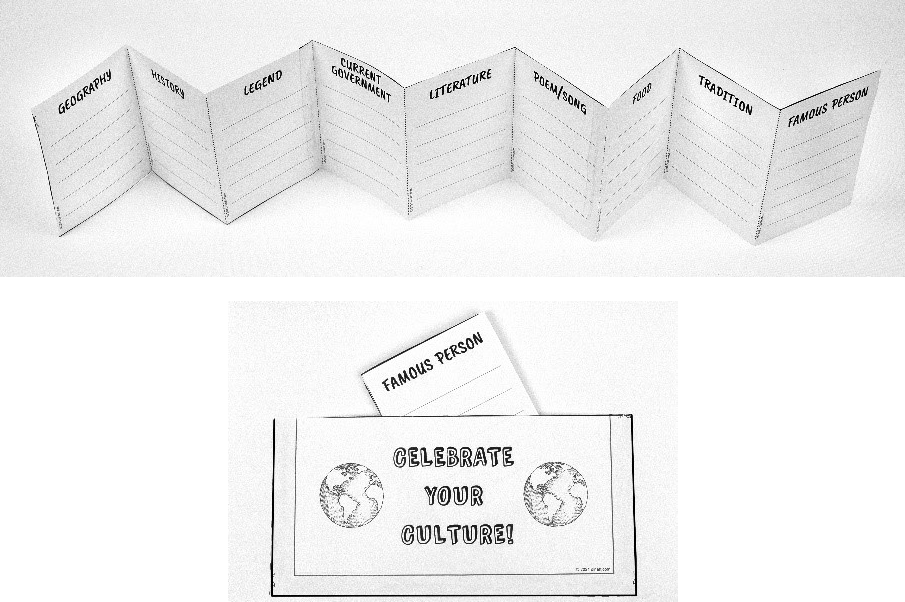 Discuss the meaning of culture and use this activity to help students celebrate their own culture.


Cut along the outside solid black lines of the Celebrate Your Culture Pocket.  Glue three of the outer edges into the student book to form a pocket.


Cut along the outside solid black lines of the three strips with three titles on each.


Glue the ends of the UNFOLDED strips together to form a very long strip.


Allow the glue to dry for a minute or two before folding along every fold line so the dots show on top of the fold.  This is the easiest way to fold along dots.


Now, refold the long strip to form an accordion booklet.  Store the booklet in the pocket. 


Students research their culture and record information on the tabs.  They can use reference materials from the internet, library, and they can interview relatives, and use other primary sources.


This activity can be visited and revisited over time; it will not be finished in one class.
Go to other SEL competencies in this book (Intermediate 2 - Grades 5–6): 

The teaching suggestions only work in accompaniment with the student portfolio, which has all the activity pages.
The teaching suggestions here are also available within a PDF of the entire teacher's manual.