Responsible Decision-Making
Primary (Gr. 1–2)
Foldable®: When Moments®

Estimated Duration: 25-30 minutes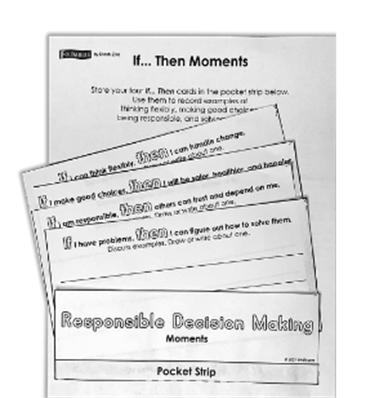 Cut out the Pocket Strip and the four If…Then Cards by cutting on the dark black lines. 


Glue the Pocket Strip onto the gray strip near the bottom of the page of the student book. Remember, do NOT make folds on Pocket Strips.  Allow glue to dry.


Review what students know about being flexible, making good choices, being responsible, and solving problems by having them complete the If…then boxes on the four large cards. Students store their If…then Cards in the Pocket Strip.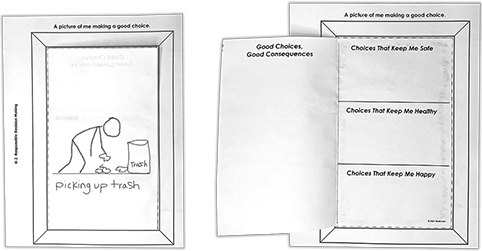 Cut along the one black line on the Good Choices and Good Consequences page to remove the title strip.  Fold the page in half along the dotted line to make a Folded Book. First fold so the dots show along the fold, then refold on the same line so the dots and the writing are inside the Folded Book.


On the blank front of the Folded Book, students draw and color a picture of themselves making a good choice.  


Glue the back of the Folded Book in the middle of the picture frame in the student book. Student artwork will be framed when glued onto the page.


Inside the Half-Book Foldable, students draw or write to record how good choices make them safer, healthier, and happier.
Go to other SEL competencies in this book (Primary - Grades 1–2): 

The teaching suggestions only work in accompaniment with the student portfolio, which has all the activity pages.
The teaching suggestions here are also available within a PDF of the entire teacher's manual.