Responsible Decision-Making
Intermediate (Gr. 3–4) 
Foldable®: If...Then Moments

Estimated Duration: 25-30 minutes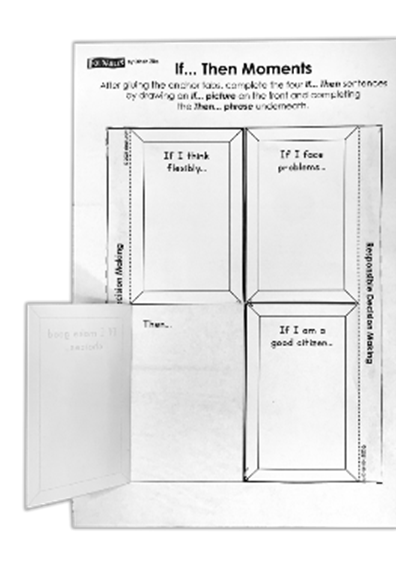 Cut along the dark outside black lines to make one large rectangle.


Cut along the center black line to make two long, thin rectangular sections.


Fold along the dotted line on each section to form anchor tabs – one to the left and one to the right.


Glue the anchor tabs onto the gray sections of the student book. Allow the glue to dry for a minute and then cut the middle black line on each side. This will make four tabs with picture frames and titles on the front of each.


Review how each of these relates to responsible decision making—being flexible, making good choices, facing problems, and being a good citizen.


Have students draw or write under the tabs to complete If…then sentences.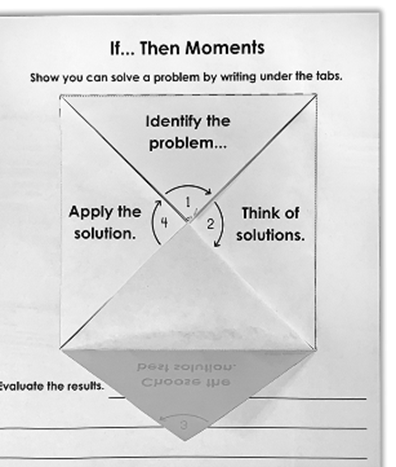 Cut along the outside solid black lines of the square Responsible Decision Making Foldable.  


Fold along the four dotted lines in the middle of the Foldable. Always fold so the dots are visible along the fold line. Students might help each other fold. Folding will form a square with four triangular tabs. 


Glue the back of the Envelope Foldable onto the large gray square in the student book. Look at the gray section to see how to glue the square. Section #1 should be at the top of the page. 


Students will demonstrate how they use the Problem-Solving process under the tabs. Tabs make student writing private. They will identify a problem and work through the process. This may take course over varying periods of time. When they have finished the process, have students evaluate their results. Would they change anything? Remind students that improving decision making skills is a life-long process. 
Go to other SEL competencies in this book (Intermediate - Grades 3–4): 

The teaching suggestions only work in accompaniment with the student portfolio, which has all the activity pages.
The teaching suggestions here are also available within a PDF of the entire teacher's manual.