Relationship Skills
Intermediate (Gr. 3–4) 
Foldable®: When Moments®

Estimated Duration: 25-30 minutes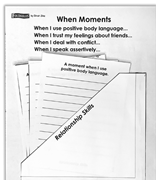 Cut out the Relationship Skills Pocket and the four Quarter-sheet Cards by cutting along the solid black lines.   


Glue the bottom edge and right edge of the pocket onto the labeled, gray strips in the student booklet. (Note that unlike anchor tabs, pockets have NO folds.) 


Allow glue to dry a minute before placing the Quarter-sheet Cards in the pocket.   


Students write in response to the prompts on each card and store them in the pocket.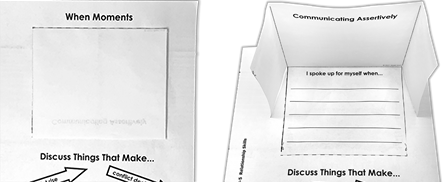 Cut along the solid black lines of the large Display Foldable entitled Someone I Admire. 


Fold along the three dotted lines of the Foldable. Always fold so the dots are visible along the fold line. On this Foldable, REFOLD each fold again forward and backward so the tabs move both directions. Students might remind each other to refold.  


Under the title, have students draw a picture of someone they admire who communicates assertively. Then, have them write about moments when they (themselves) need to communicate assertively. 


When students are finished drawing and writing on the display, fold in the side tabs and fold the whole display flat into a rectangle. Glue the back of the display onto the large gray rectangle in the student book. NOTE: After it is glued into the student book, the display should fold inward and fold flat so the book can be closed.  When the book is open to this page, the display can be opened and folded into a standing diorama. 


When their display is finished, have students talk and write about strategies that make conflict decline. 
Go to other SEL competencies in this book (Intermediate - Grades 3–4): 

The teaching suggestions only work in accompaniment with the student portfolio, which has all the activity pages.
The teaching suggestions here are also available within a PDF of the entire teacher's manual.