Self-Management
Primary 1 (PreK–K)
Foldable®: Action Moments

Estimated Duration: 25-30 minutes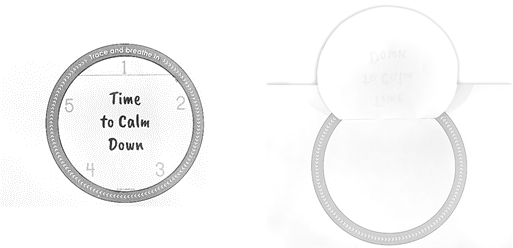 Cut along the outside solid black line of the two Time to Calm Down circles.


Fold along the dotted line at the top of each circle to form a small anchor tab.


Glue the folded tab on top of the gray space in the student book that says: Glue Counter Anchor Tab Here.


Have students look at the numbers as they count to five.


Show students how to use their finger to trace in the direction of the arrows on the counter.


Now, have students trace around the arrows for 5 seconds and breathe in or breathe out at the same time.


Under the counter tabs, have students draw examples of two times they needed to calm down.


Encourage students to discuss what helps them calm down the most – counting, breathing, tracing, or combinations of these.
Go to other SEL competencies in this book (Primary 1 - Grades PreK–K): 

The teaching suggestions only work in accompaniment with the student portfolio, which has all the activity pages.
The teaching suggestions here are also available within a PDF of the entire teacher's manual.