Self-Management
Intermediate 2 (Gr. 5–6)
Activity 1: ​
My Survival Guide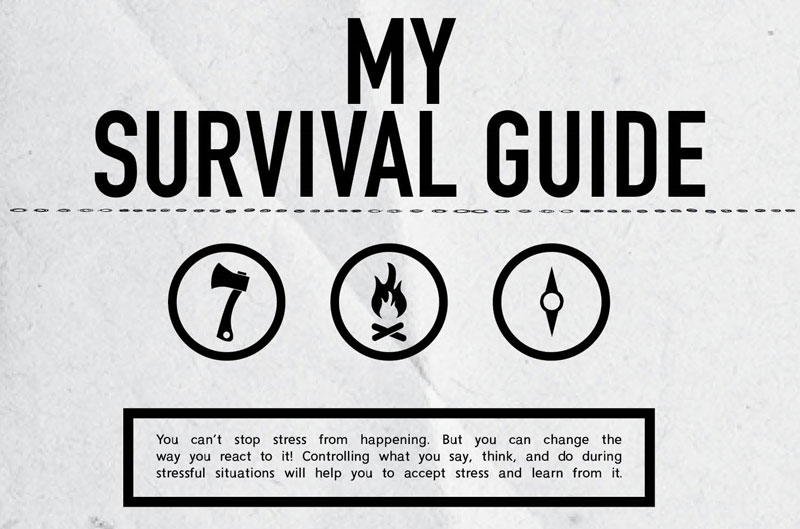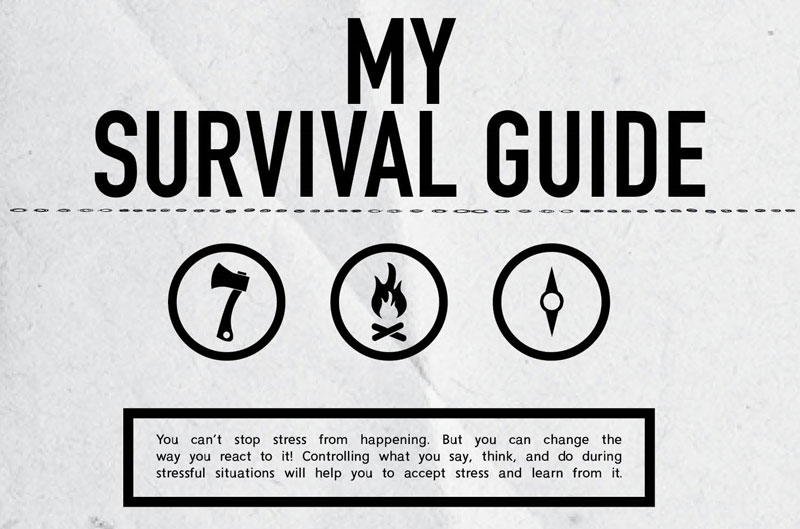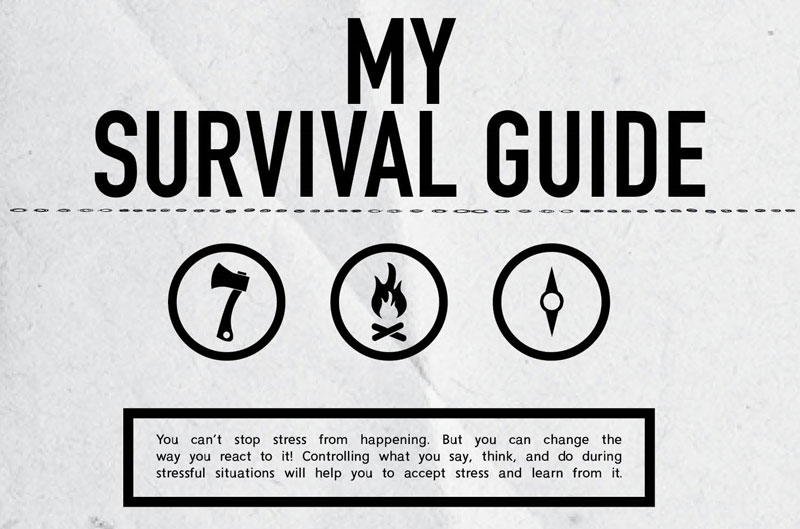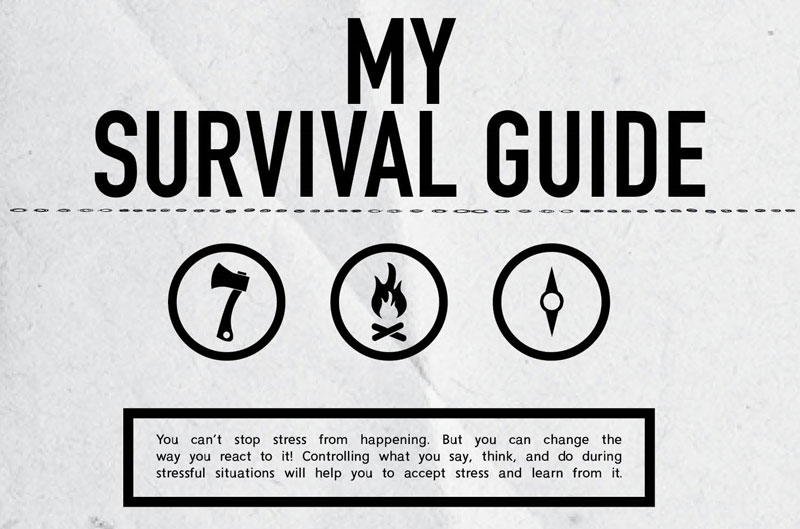 Objective: Students will be able to manage stress during difficult situations.
Estimated Duration: 20 minutes
Description: A certain level of stress is normal. It can even be positive. Positive stress such as changing schools and meeting new friends can help students learn and grow.
However, not all stress is good. When exposed to repeated stressful events without the tools to manage feelings, stress can become emotionally and physically harmful. Helping students develop a plan for dealing with stressful situations is one way to make sure that students are prepared to handle what comes their way.
This activity will help students develop a guide for surviving stressful situations. They will respond to prompts to help them recognize what they can control and how they can respond when feeling stress.
Teachable Moments: There are many ways you can help students manage stress:
Work with teachers on your team to limit homework overload, so tests and projects are spread out.
Incorporate stations to keep kids moving. This gives them the opportunity to take breaks from sitting too long, working with the same peers, or the same assignment.
Schedule time to help students gets organized. Have them clean out their desks, backpacks, and folders.
Allow students to use standing desks, exercise balls, or work on the floor.
Provide quiet areas that students can go to and complete work. Add comfortable seating and positive messages to help students refocus and limit nervous energy.
Activity 2: ​
I Can See Success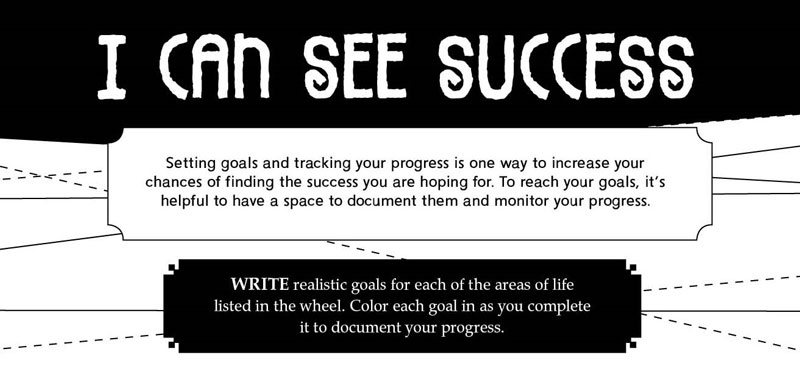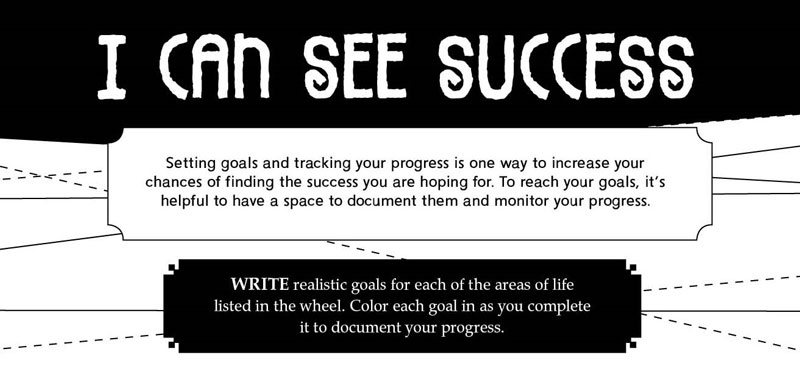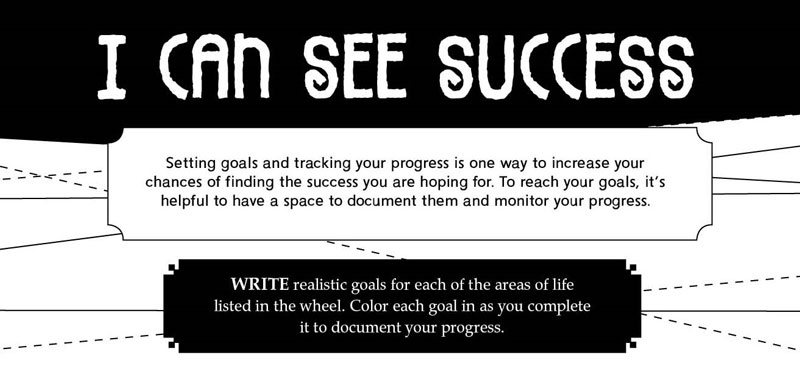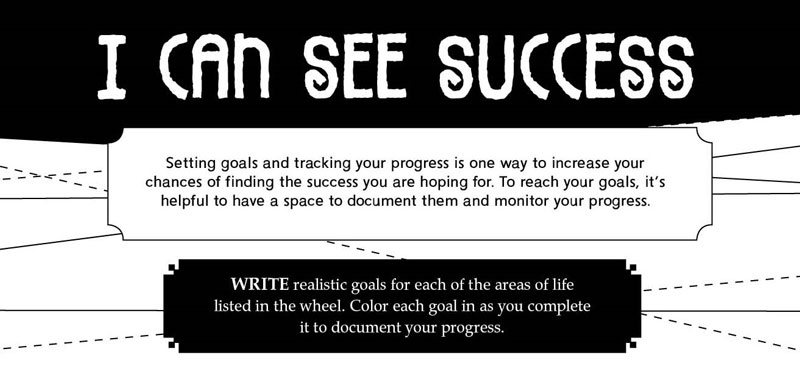 Objective: Students will name and work toward achieving a personal goal.
Estimated Duration: 20-25 minutes
Description:: Setting and achieving goals is a life skill necessary for success and happiness. Teaching students how to set goals will give them the opportunity for early wins and help them develop belief in themselves.
By measuring and celebrating their achievements, students can see what they have done over a period of time. They can see what they can do if they put their minds to something. For many students having a list of goals provides them anchors. Having a way to separate them and document progress is important.
This activity has students write goals for each of the following areas in their life, academics, social life, sports/exercise, family, hobbies/interests, and long-term plans. Help students set goals that are specific, measurable, attainable, relevant, and timely.
Teachable Moments: There are many ways you can help students set and achieve goals:
Help students write clear and measurable goals.
Help students create a specific action plan for each goal.
Have students read their goals often and visualize themselves accomplishing them.
Have students reflect on their progress to see if they are on target.
Have students revise their action plans if needed.
Celebrate their accomplishments.
Activity 3: ​
Actions Speak Louder Than Words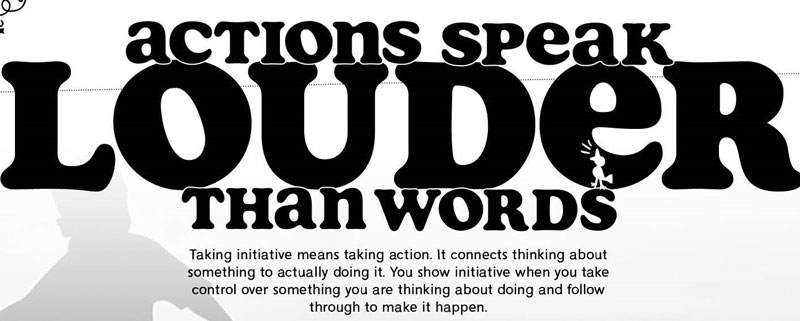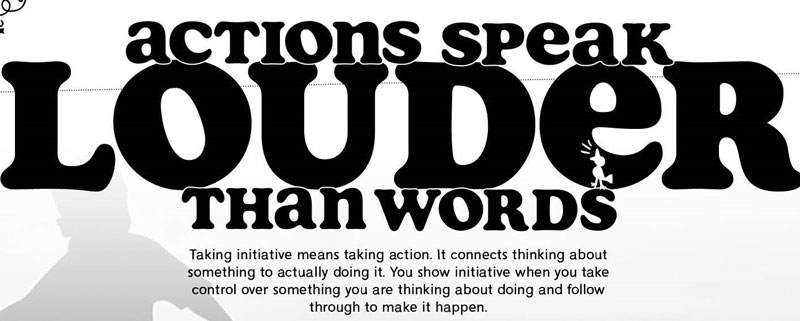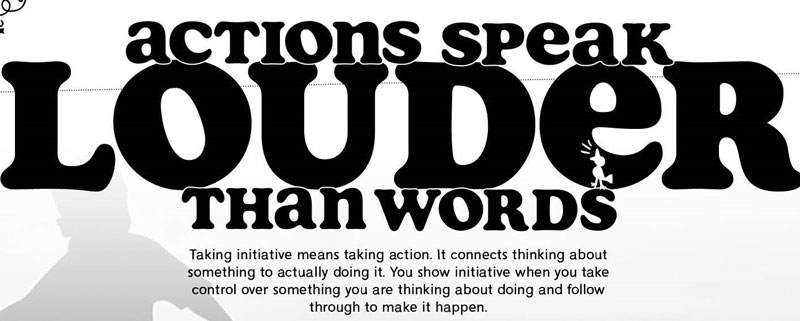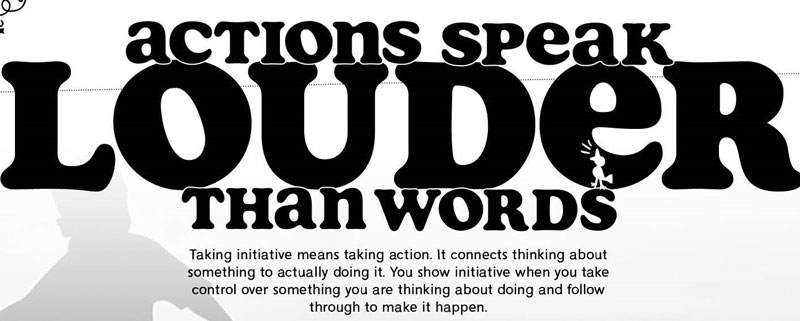 Objective: Students will be able to identify how to take initiative to take action.
Estimated Duration: 20 minutes
Description: Taking initiative is the link between thinking about something and doing it. In other words, it's taking action.
Learning to take initiative is important. It is a behavior that helps kids navigate their lives with courage and optimism. Initiative is also a quality of a good leader, and having it promotes teamwork and cooperation. It directs our attention toward a challenging goal and helps us overcome obstacles.
This activity will allow students to think about something they can do to take initiative in their community to help others. They will create a poster that will help them put their thoughts into action.
Teachable Moments: There are many ways you can encourage students to take initiative:
Have students choose activities for themselves to experience internal rewards.
Encourage students to get back on their feet after they fail. Show them that you believe in them and their abilities.
Be a helpful guide. Help students identify challenges, reflect on their choices, make decisions, modify strategies, and plans next steps.
Remind students that taking initiative, does not mean to just follow the rules and wait for someone to offer options. Instead, it's doing the work themselves.
Be a role model. Say things like, "Looks like the trash is full. I'm going to take it out." Small things can make a huge impact.
Activity 4: ​
Get Organized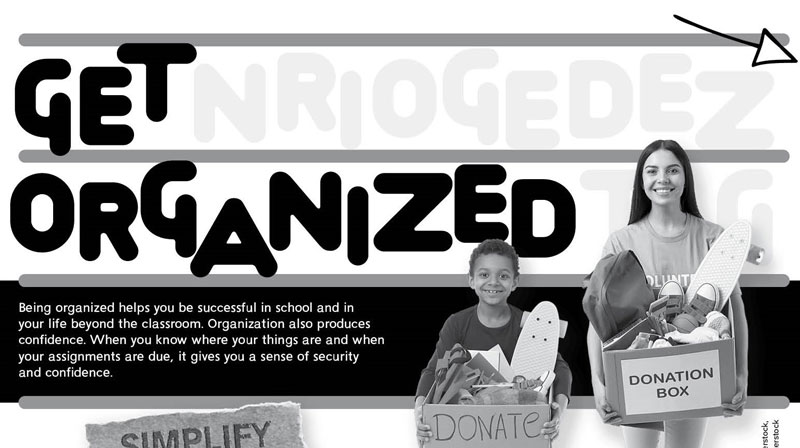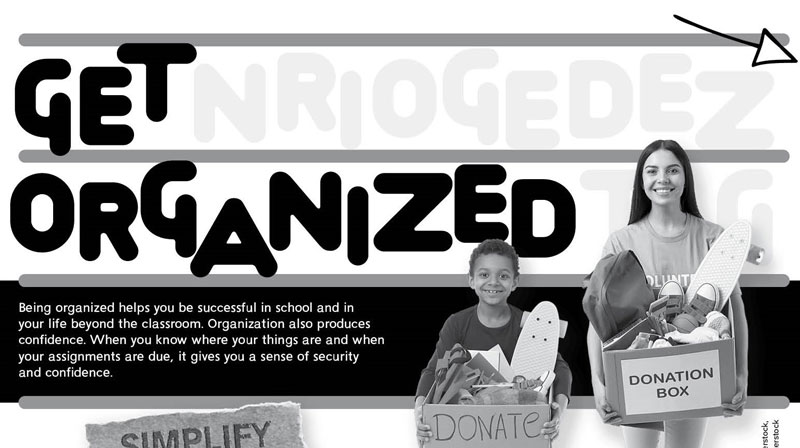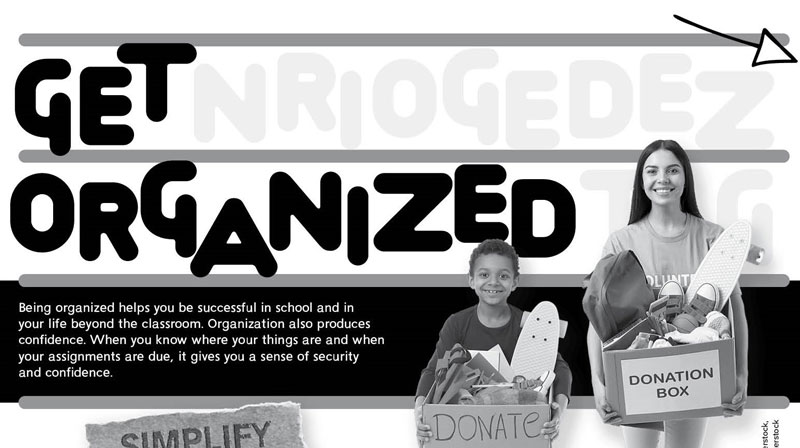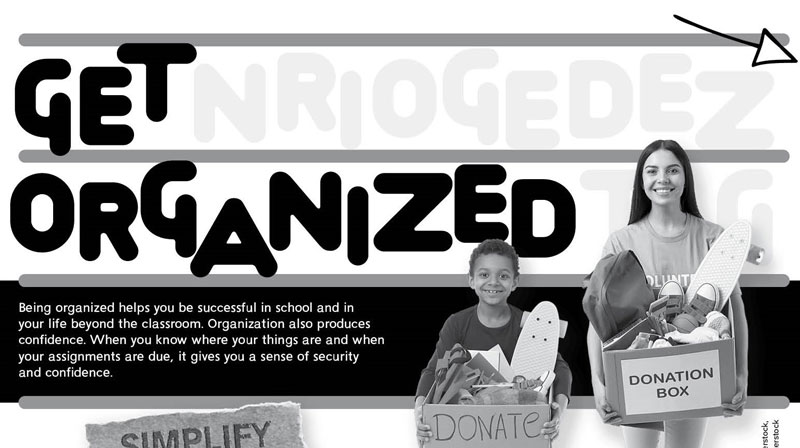 Objective: Students will learn planning and organizational skills.
Estimated Duration: 20-25 minutes
Description: Being organized helps students be successful in school and their lives beyond school. Organizational and planning skills are essential to a student's ability to interpret and retain information.
Students who have weak planning and organizational skills often have difficulty setting priorities, making plans, sticking to a task, and getting things done.
Being able to know when an assignment is due or a test is taking place is an important part of being organized. If work and studying are not planned in advance, it is easy to underestimate how much time a task requires. A weekly planner can help plan out time so that it is clear when assignments are due and plan out when work may be done.
This activity will help students learn how to create a weekly planner and keep track of their tasks for each week.
Teachable Moments: There are many ways you can help students learn planning and organizational skills:
Have students use checklists. Get them in the habit of using "to-do" lists and jotting things down.
Have students sort and organize their papers and documents
Encourage students to use their planner every day.
Have students set a designated study time and place.
Have students keep an organized notebook.
Schedule a cleaning time for students.
Model organization in the classroom.
Foldable®: Action Moments
Estimated Duration: 25-30 minutes
Circle Tri-Foldables
Cut along the outside solid black lines of the two circles.
Fold along the three dotted lines on each circle to form two equilateral triangles. The triangles each have three tabs labeled: thoughts, feelings, actions.
Glue the back of the triangles on top of the triangular gray spaces in the student book that says: Glue Foldable here.
Discuss what kinds of thoughts students have about their favorite class. What feelings do students experience because of these thoughts? How do they act upon these feelings and how do their actions lead back to their thoughts? Follow this same line of questioning to discuss thoughts students have outside their favorite class.
Under the semicircular-tabs, students record examples of their thoughts, feelings and actions in their favorite class and outside of the class.




Go to other SEL competencies in this book (Intermediate 2 - Grades 5–6): 




The teaching suggestions only work in accompaniment with the student portfolio, which has all the activity pages.
The teaching suggestions here are also available within a PDF of the entire teacher's manual.