Responsible Decision-Making
Primary (Gr. PreK–K)
Foldable®: If...Then Moments

Estimated Duration: 25-30 minutes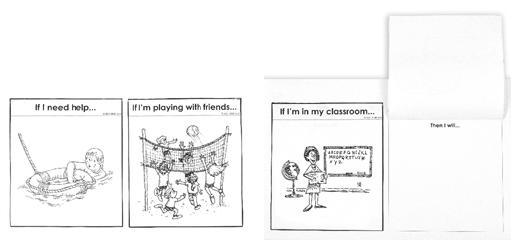 Cut along the outside solid black lines of the four One-Tab Foldables. 


Fold along the dotted line at the top of each rectangle to form an anchor tab. 


Glue the folded tabs on top of the four gray areas in the student book.  Match the tab titles before gluing. 


On each tab, students observe the picture and the If statement. Under the tabs, students draw their Then responses.  


Discuss how there are many ways to respond to If…then statements.  If students are playing with friends, then…they might have to share, take turns, compromise, help someone, wait for something, work together, and more. 
Go to other SEL competencies in this book (Primary 1 - Grades PreK–K): 

The teaching suggestions only work in accompaniment with the student portfolio, which has all the activity pages.
The teaching suggestions here are also available within a PDF of the entire teacher's manual.