The Science of Psychology: An Appreciative View (King)
The Science of Psychology: An Appreciative View provides a flexible solution for the Advanced Placement* Psychology class. Laura King's appreciative perspective - treating psychology as an integrated science that places function before dysfunction - links perfectly with the College Board's AP* Psychology topics and learning objectives. The text keeps scientific thought at its core while remaining perfectly accessible to today's high school students.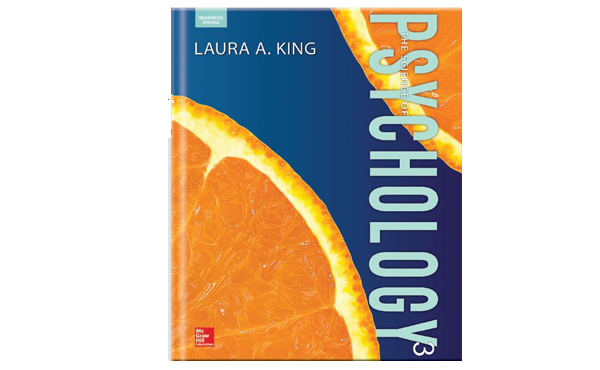 About the Program
Special inserts Touring the Brain and Nervous System and Touring the Senses feature detailed, full-color transparency overlays of important figures to help students learn and understand these biological functions. Psychological Inquiry features stimulate students' analytical thinking about the practical applications of psychology. Intersection boxes include research at the crossroads of two areas of study, such as social psychology and developmental psychology, to analyze concepts from differing perspectives.
Additional Features:
Advanced Placement Suggested Assignments - This section of Connect® provides a preset collection of resources ideal for the AP classroom. It includes 2 Complete AP Practice Exams, AP Chapter Introductions, AP Chapter banks, AP Interactives, and additional quizzes and tests that can be used to track student progress as they review what they've learned in their AP Psychology class.
Concept Clips - Concept Clips help students comprehend the more difficult concepts in Introductory Psychology. Colorful graphics and stimulating animations break down core concepts in a step-by-step manner, engaging students and aiding in retention.
Newsflash - Newsflash exercises tie current news stories to key psychological principles and learning objectives. After interacting with a contemporary news story, students are assessed on their ability to make the connections between real-life and research findings.
Advanced Student Reporting - The Student Activity View allows you to see your student's progress on a given assignment and you can even see the exact version of the problem they are working on. This helps you determine where a given student may be struggling. Connect's Section Performance report provides a dashboard view of how well your students are doing on course assignments.
The McGraw-Hill AP advantage - The AP advantage is a three-step digital solution for AP success that includes ONboard™ course preparation, the Connect® integrated learning platform, and SCOREboard™ AP exam preparation. Together, the AP advantage suite of digital products supports students from before class starts all the way through to passing the exam.

---
AP®, Advanced Placement®, and Advanced Placement Program® are trademarks registered by the College Board, which was not involved in the production of, and does not endorse, these products.
Program Components
Narrow by
Clear All Filters
Products
To learn about the specific purchase options for this program, please contact our Customer Service team at 800-338-3987
Additional Details & Resources