StudySync 9-12: A High School Literacy Curriculum
Deliver inspiration with your ELA curriculum
StudySync® engages digitally-connected high school students with media-rich learning experiences, real-world topics, and a direct read-write connection while giving teachers flexible instructional tools to teach the literature they love.
Components for StudySync 9–12
Both low-tech and high-tech high school classrooms can take full advantage of the rigor, relevance, and flexibility of StudySync. Access it anytime, anywhere, and on any device with downloadable apps for offline access to assignments. Full print support including a comprehensive Teacher's Edition and consumable Student Reading and Writing Companions are available.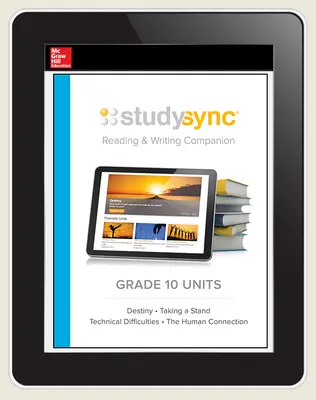 Digital Subscription
Students
In the StudySync digital student edition, 9-12 students can access assignments, view completed work, and search the StudySync digital library of texts. When students log in, they see assignments that have yet to be completed. When students choose an assignment, they have automatic access to any scaffolds or graphic organizers associated with that lesson.
Teachers
In the StudySync digital teacher edition, teachers can view all the lessons and components in a unit, modify lessons and activities as necessary for the needs of their classroom and students, explore Prompts, Blasts, Skills, and Texts in the StudySync Library, access student work and grade book, and modify student settings for language proficiency and supplemental language. In the digital platform, teachers have access to all components of lessons, lesson plans, scaffolds, and supplemental materials.