Administrator Experience
To enable all students to succeed in literacy, districts must select programs that are grounded in research, have proven efficacy, and address the needs of diverse student populations. FLEX Literacy® gives district administrators confidence and peace-of-mind knowing that all students are receiving high-quality, comprehensive reading instruction and assessment, and teachers are receiving the professional development and resources needed to support student achievement.
FLEX Literacy is powerful enough to foster reading achievement for all learners and flexible enough to align with your district's literacy goals and seamlessly integrate into existing curricula. FLEX Literacy equips administrators with the tools and information needed for critical decision making, including a variety of reports that present student progress data at the class, school, grade, and district levels.
District

Report

The District-Level Comparison Reports show student progress data at the class, school, or grade level. These reports—available for Lexile Measure, State Standards, and Benchmark data—give administrators the information they need to evaluate performance and growth across the district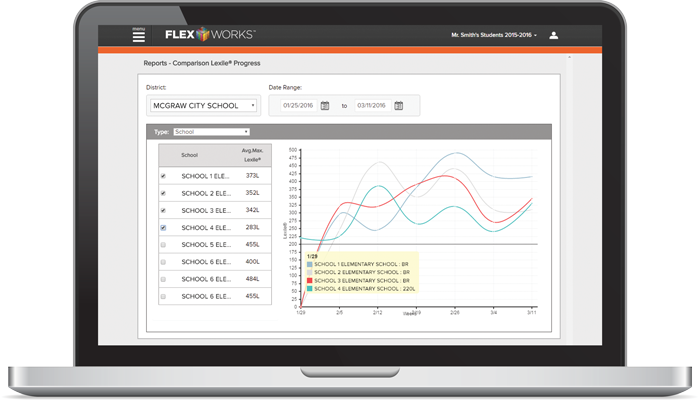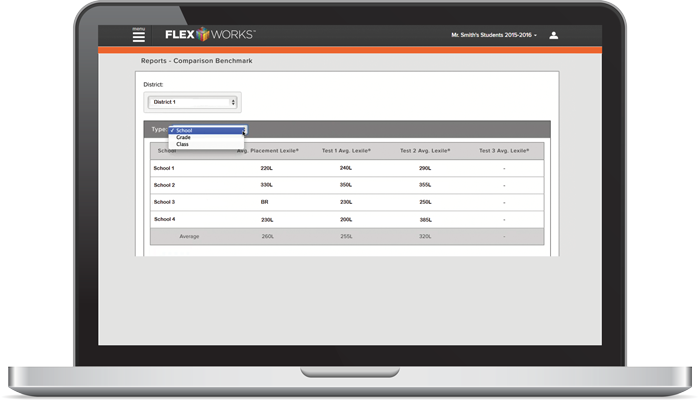 See how FLEX Literacy accelerated the reading skills of students at Urban Community School in Cleveland, Ohio.