6–8 and Accelerated Grade 7 Pedagogy
A Research-Based Approach to Our 6–8 Math Curriculum
The Science of Learning Meets the Art of Teaching
Teach students that "I can" is the most powerful way to think.
Rich Tasks
Online Explore activities begin with an open-ended question that requires deep conceptual thinking from the learner. Focused on student exploration and reasoning over right answers, students apply their learning to the Inquiry Question, located in every lesson.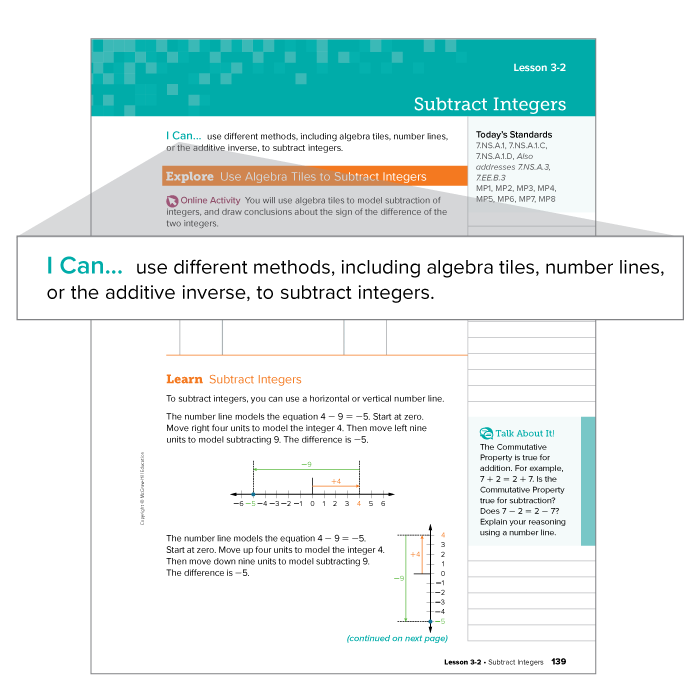 "I Can" Statements
Learning targets in the form of "I Can" statements appear at the beginning of each lesson to communicate the objective in student-friendly language.
Mindset Matters Tips
Each module in the teacher edition includes Mindset Matters tips. They provide strategies for encouraging a growth mindset and productive approaches to problem solving.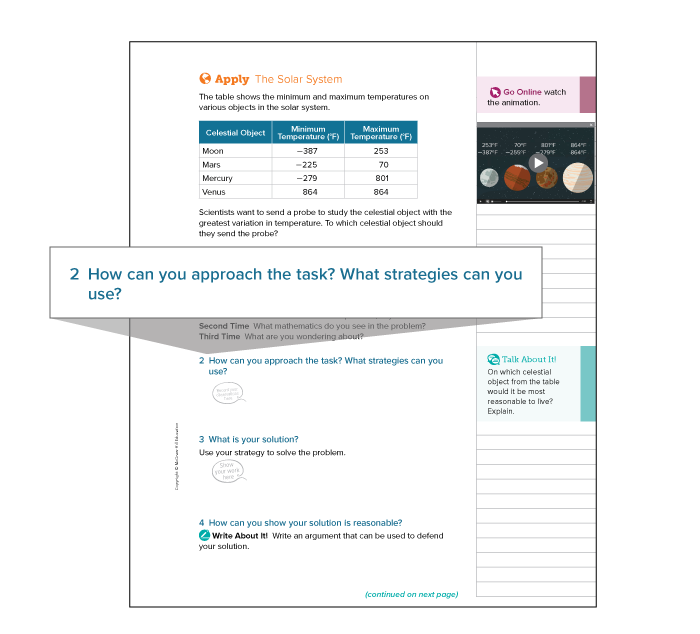 Productive Struggle Problems
Problems that can be solved with multiple solution paths encourage productive struggle and challenge student thinking.
6–8 Math Curriculum Lesson Model
The abundant print and digital resources in Reveal Math intersect in a meaningful way to heighten the learning experience. Interactive print and digital tools increase student engagement while simultaneously deepening comprehension.
Beyond 6–8 Core Math: Intervention and Personalized Learning
Reveal Math Learning System
There is no such thing as an average learner. All students can achieve success with a comprehensive system of support. With the complete classroom solution of Reveal Math, Arrive Math Booster, and ALEKS, the needs of every student can be met with engaging and targeted resources.
Core Instruction for All
Provides all universal Tier 1 instruction with whole-class, small-group, and individual activities, comprehensive assessments, and data-driven differentiation support.
Personalized,
Adaptive Learning
Remediates and accelerates learning by delivering and adjusting content each student is ready to learn.
*Optional purchase
Take Another Look
Integrated digital intervention lessons that target specific skills to fill learning gaps.
Targeted Intervention
Integrates intervention support into the classroom with 15-minute, teacher-led, hands-on digital lessons.
*Optional purchase
Spanish Resources
A Spanish version of the interactive student edition is available for both Reveal Math 6–8 and Reveal Accelerated Grade 7, as well as additional resources to enhance English proficiency.