Discovering World Geography, Western Hemisphere © 2014
Grade Levels: 6-8
McGraw-Hill Networks™: A Social Studies Learning System is a multiple award winning program. Connect today's students to the people and places from around the world with integrated print and digital middle school world geography curriculum grounded in solid pedagogy with a full suite of teaching and learning tools for a flexible, customized learning experience.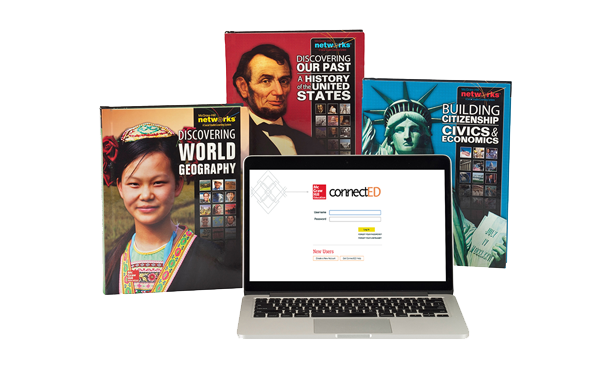 About the Program
Features:
Bring the world to your students with Explore the Continent to introduce the physical and human geography
Engage students to learn people, places, culture and history with The Story Matters chapter openers, Step Into Place maps and Step Into Time timelines, Global Connections with vibrant interactive maps and animations
Dynamic standards-based curriculum uses the five themes of geography and integrated Common Core State Standards for English Language History Social Studies ensures mastery of skills
Customize the learning experience with differentiated instruction, leveled reading, customizable assessments and worksheets, and flexible online learning tools
Access all of your teaching resources anywhere, anytime with just a point and click
eAssessment - 2014 SIIA CODiE Finalist
Everything you need to administer tests and track data – completely online! Included as part of your McGraw-Hill program purchase, eAssessment contains a robust test generator, differentiated online administration options, complete CCSS reporting capabilities and easy access from any device.

Program Components
Discovering World Geography, Western Hemisphere, Complete Classroom Set, Digital 1-Year Subscription

Discovering World Geography, Western Hemisphere, Complete Classroom Set, Digital 6-Year Subscription

Discovering World Geography, Western Hemisphere, Complete Classroom Set, Print and Digital 1-Year Subscription

Discovering World Geography, Western Hemisphere, Complete Classroom Set, Print and Digital 6-Year Subscription
Discovering World Geography, Western Hemisphere, Chapter Tests and Lesson Quizzes

Discovering World Geography, Western Hemisphere, Reading Essentials and Study Guide, Answer Key

Discovering World Geography, Western Hemisphere, Spanish Reading Essentials and Study Guide, Answer Key

Discovering World Geography, Western Hemisphere, Teacher Edition

Discovering World Geography, Western Hemisphere, Teacher Lesson Center, 1-Year Subscription

Discovering World Geography, Western Hemisphere, Teacher Lesson Center, 6-Year Subscription

Discovering World Geography, Western Hemisphere, Teacher Suite, 1-Year Subscription

Discovering World Geography, Western Hemisphere, Teacher Suite, 6-Year Subscription
Discovering World Geography, Western Hemisphere, Reading Essentials and Study Guide, Student Workbook

Discovering World Geography, Western Hemisphere, Spanish Reading Essentials and Study Guide, Student Workbook

Discovering World Geography, Western Hemisphere, Student Edition

Discovering World Geography, Western Hemisphere, Student Learning Center, 1-Year Subscription

Discovering World Geography, Western Hemisphere, Student Learning Center, 6-Year Subscription

Discovering World Geography, Western Hemisphere, Student Suite, 1-Year Subscription

Discovering World Geography, Western Hemisphere, Student Suite, 6-Year Subscription
Narrow by
Clear All Filters
Products
To learn about the specific purchase options for this program, please contact our Customer Service team at 800-338-3987
Additional Details & Resources
Networks Digital Overview