Common Core Basics: Building Essential Test Readiness Skills
Grade Levels: 6-8
Introducing Common Core Basics, the first installment in our all-new suite of programs designed for 2014 high school equivalency test success! Starting in January 2014, the Common Core Standards will be the foundation for college readiness and new high school equivalency tests. Common Core Basics helps students build the essential test readiness skills necessary to master the Common Core and succeed on any 2014 high school equivalency exam.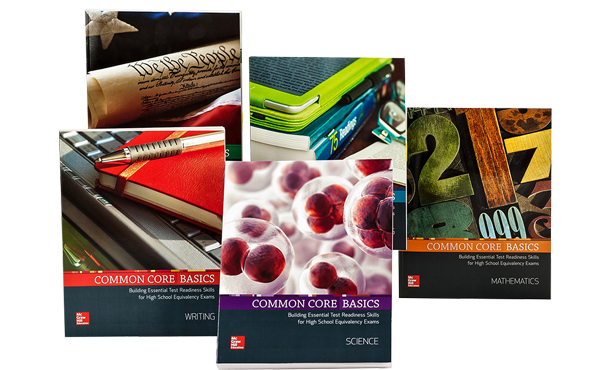 About the Program
Succeed with our three-part solution:
5 Core Subject Modules
Builds key skills, strategies, and content knowledge for Common Core-based high school equivalency exams in the areas of Reading, Writing, Math, Science, and Social Studies.

PowerUP! Getting Started with Computers and Keyboarding
Develops basic computer and typing skills necessary for new 2014 high school equivalency exams, college classes, and the 21st Century workplace. Includes online test-taking skills.

Instructor Resource Binder
Includes easy-to-follow lesson plans with Before, During, and After lesson support, full answer keys, and CCSS correlations for each lesson.
Program Components
Common Core Basics Spanish Core Subject Module, 5-copy Value Set

Common Core Basics Spanish, Core Subject Module, 25-copy Value Set

Common Core Basics, Instructor Resource Binder Package
Common Core Basics Core Subject Module, 5-copy Value Set

Common Core Basics Spanish Core Subject Module Mathematics Student Edition

Common Core Basics Spanish Core Subject Module Reading Student Edition

Common Core Basics Spanish Core Subject Module Science Student Edition

Common Core Basics Spanish Core Subject Module Social Studies Student Edition

Common Core Basics Spanish Core Subject Module Writing Student Edition

Common Core Basics, Core Subject Module, 25-copy Value Set

Common Core Basics, Mathematics Core Subject Module

Common Core Basics, Reading Core Subject Module

Common Core Basics, Science Core Subject Module

Common Core Basics, Social Studies Core Subject Module

Common Core Basics, Writing Core Subject Module
Narrow by
Clear All Filters
Products
To learn about the specific purchase options for this program, please contact our Customer Service team at 800-338-3987
Additional Details & Resources