American Democracy Now
Engaging, Modern, and Fresh
At the heart of American Democracy Now NEW AP Edition is a rich set of pedagogical tools that move students along the path to critical thinking and success on the AP US Government & Politics exam. The Constitution is explained in everyday language to aid true student understanding. Visually appealing and highly interesting, American Democracy Now is a student favorite.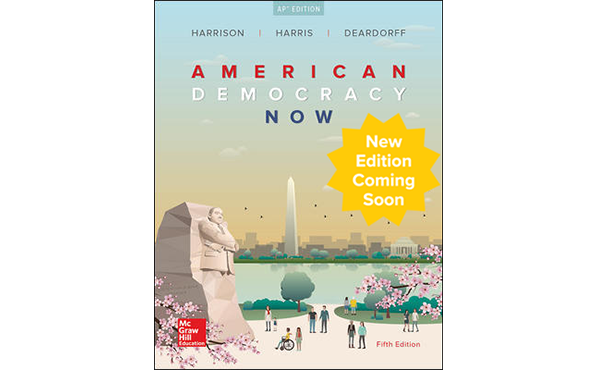 About the Program
The new AP edition engages students and teachers through:
AP chapter openers and chapter summaries, including multiple choice and free response questions
AP vocabulary and documents highlighted to help students focus on the most important concepts.
AP Analyzing the Sources, which guides students in thinking through primary resources
AP Teacher Manual, which provides classroom activities, a pacing guide, AP Exam practice and more.
AP Question Banks, which provides practice with AP-style multiple choice and free response questions
Connect®, an integrated learning system that contains an AP SmartBook adaptive eBook

Program Components
Narrow by
Clear All Filters
Products
To learn about the specific purchase options for this program, please contact our Customer Service team at 800-338-3987
We have stopped printing many old products, but we might have some stock in our warehouse.
Select legacy products are available on Create® EasyOrder.
Additional Details & Resources
CHAPTER 1 People, Politics, and Participation
CHAPTER 2 The Constitution
CHAPTER 3 Federalism
CHAPTER 4 Civil Liberties
CHAPTER 5 Civil Rights
CHAPTER 6 Political Socialization and Public Opinion
CHAPTER 7 Interest Groups
CHAPTER 8 Political Parties
CHAPTER 9 Elections, Campaigns, and Voting
CHAPTER 10 The Media
CHAPTER 11 Politics and Technology
CHAPTER 12 Congress
CHAPTER 13 The Presidency
CHAPTER 14 The Bureaucracy
CHAPTER 15 The Judiciary
CHAPTER 16 Economic Policy
CHAPTER 17 Domestic Policy
CHAPTER 18 Foreign Policy and National Security