Connecting Math Concepts®: Comprehensive Edition 2012
Grade Levels: K-5
SRA Connecting Math Concepts: Comprehensive Edition has been revised for levels A-E and students in grades K-5. This program gives students who are at-risk of falling behind or who have already fallen behind the chance to catch up and learn significant mathematics.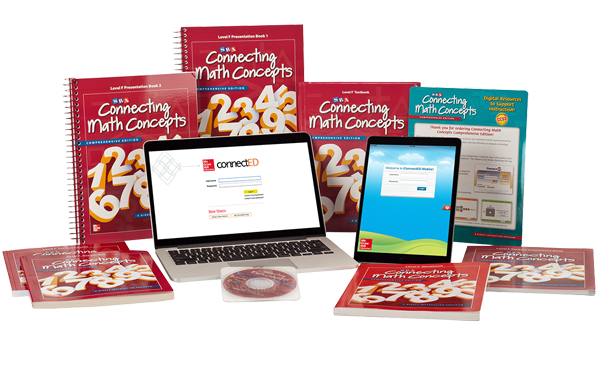 About the Program
SRA Connecting Math Concepts: Comprehensive Edition has proven field results for Tier 1 and Tier 3 at-risk students. The program provides explicit, systematic, intensive instruction to:
Introduce key concepts clearly and carefully to accelerate student progress
Teach students to connect skills and "big idea" concepts
Monitor each student's progress daily to differentiate instruction
Offer online activities to reinforce students' mastery
Use explicit strategies that incorporate oral and written responses
SRA 2Inform makes collecting and interpreting student data easy so teachers can effectively respond to student needs.
New for this edition:
NEW digital resources with over 150 learning activities to differentiate learning!
Reinvent student learning objectives by meeting the Common Core State Standards
Re-imagine integrated technology and activity practice for teachers and students
Rethink how students key master math concepts
SRA Connecting Math Concepts: Comprehensive Edition is based on students understanding math skills and concepts that require making connections among related math topics and between procedures and knowledge.
Features:
Offers step-by-step lessons that have been rigorously field-tested and shaped to meet the needs of students who struggle with math.
Teaches explicit strategies and processes that work in a variety of contexts to accelerate progress.
Introduces key concepts over the course of multiple lessons - providing the time students need to learn, process, and buiold a deep understanding.
Meets the math standards specified in the Common Cote State Standards.
Benefits:
SRA Connecting Math Concepts: Comprehensive Edition combines facts, procedures, conceptual understanding, applications, and the development of problem solving to provide a comprehensive curriculum for students who struggle with mathematics.
A coherent progression of key topics with an emphasis on proficiency ensures optimal learning and achievement.
Explicit, teacher-directed instruction sets an expectation for student involvement and gives learners the direction and support needed to be successful.
Ongoing assessment helps teachers identify and differentiate instruction to meet every student's needs.
Student Materials:
Student Workbook (Level A-E)
Provides challenging application activities
Workbooks give each student extra practice so students master the basics as they expand their understanding of mathematics
Correspond to each lesson so students get the most out of each concept
Student Hardcover Textbook (Level C-E)
Provide challenging application activities
Clear and concise directions for each activity
Independent work perfect for seat work or take home activities
Mathematical rules and examples for easy recall
Student Assessment Book (Level A-E)
Provides mastery tests and remedy sheets
Includes cumulative test questions and exercises
Teacher Portal:
This convenient teacher portal powered by ConnectED features a set of easy-to-use online tools that will help you integrate technology into your classroom!
Board Displays
Instantly display instructional math visuals and problems to help students follow daily routines
Grade Book and Reporting
Place students, track daily independent progress, and provide mastery tests data with corresponding classroom remedies
Monitor performance on mastery tests and cumulative tests using a variety of reports while providing a snapshot of current student and class understanding
Practice Software (single student license, 1-year subscription is a separate purchase)
Provide students time to practice and reinforce concepts, skills, and math facts with fun games!
Track student progress and time on task instantly
eBook Teacher's Guide
Conveniently preview placement tests, scope and sequence, Common Core State Standards alignment, learn program instructional strategies, rationales, and teaching tips
eBook Teacher Presentation Books
Quickly preview lessons, planning pages, and Common Core State Standards correlations
Teacher Resources
Easily view, download, and print Math Fact Worksheets for students who require extra practice. Also access all teacher lesson materials online from any computer any time
Teacher Materials:
Levels A and B kit includes: Presentation Books (3); Teacher's Guide, Board Displays CD-ROM, Workbooks 1 and 2, Assessment Book, 6-year access to online content via ConnectEd.
Level C kit includes: Presentation Books (2), Teacher's Guide, Answer Key, Board Displays CD-ROM, Textbook, Workbooks 1 and 2, Assessment Book, 6-year access to online content via Connect Ed
Presentation Books provide fully scripted lesson plans that make teaching efficient and highly effective:
Planning pages provide Common Core State Standards references to help you meet grade level expectations
Feature instructional strategies, teaching tips, and a Scope and Sequence in the Teacher Guide
Clearly labeled answer keys, making it easy to check independent work (Level A and B)
Additional Teacher's Guides
Feature instructional strategies, teaching tips, and a Scope and Sequence, reproducible Placement Test
Additional Answer Key (Level C-E)
Clearly labeled answer keys, making it easy to check independent work
Online Math Facts Blackline Masters (Level A-D)
Provide extra worksheets for students who require extra practice in math facts Test pages for teachers to assess student's mastery of the facts
Program Components
Connecting Math Concepts Level A, Teacher Materials Package

Connecting Math Concepts Level B, Teacher Materials Package

Connecting Math Concepts Level C, Teacher Materials Package

Connecting Math Concepts Level D, Teacher Materials Package

Connecting Math Concepts Level E, Teacher Materials Package

Connecting Math Concepts Level F, Teacher Materials Package
Connecting Math Concepts Level A, Teacher's Guide

Connecting Math Concepts Level B, Additional Teacher's Guide

Connecting Math Concepts Level C, Additional Answer Key

Connecting Math Concepts Level C, Additional Teacher's Guide

Connecting Math Concepts Level D, Additional Answer Key

Connecting Math Concepts Level D, Additional Teacher Guide

Connecting Math Concepts Level E, Additional Answer Key

Connecting Math Concepts Level E, Additional Teacher Guide

Connecting Math Concepts Level F, Additional Answer Key

Connecting Math Concepts Level F, Additional Teacher's Guide
Connecting Math Concepts Level A, Student Assessment Book

Connecting Math Concepts Level A, Workbook 1

Connecting Math Concepts Level A, Workbook 2

Connecting Math Concepts Level B, Student Assessment Book

Connecting Math Concepts Level B, Workbook 1

Connecting Math Concepts Level B, Workbook 2

Connecting Math Concepts Level C, Student Assessment Book

Connecting Math Concepts Level C, Student Textbook

Connecting Math Concepts Level C, Workbook 1

Connecting Math Concepts Level C, Workbook 2

Connecting Math Concepts Level D, Student Assessment Book

Connecting Math Concepts Level D, Textbook
Narrow by
Clear All Filters
Products
To learn about the specific purchase options for this program, please contact our Customer Service team at 800-338-3987
Additional Details & Resources
Research Base
Randomized Controlled Studies
Non-Randomized Controlled Studies
Evidence of Success