Shier, Hole's Essentials of Human Anatomy & Physiology, High School Edition ©2018, 1e
Hole's Essentials of Human Anatomy & Physiology High School Edition assumes no prior science knowledge, makes difficult concepts relevant to students, and provides students with a solid understanding of the important concepts in anatomy and physiology. This NEW high school edition is correlated to the Next Generation Science Standards, uses an approachable, one-column design, and features additional content to help students succeed.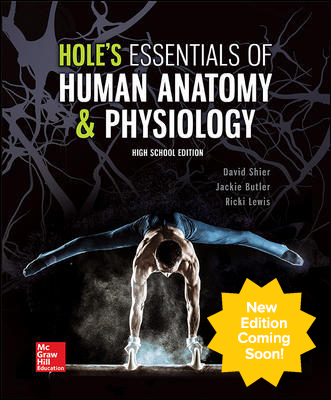 About the Program
This edition also includes unique activities that apply science and engineering practices, activities to provide ELL and ELA support, and Lab Data Analysis activities that provide students with an opportunity to work with real data. Hole's Essentials of Human Anatomy & Physiology also features:
• A dynamic art program with brighter colors and enhanced 3D effects.
• A NEW High School Lab Manual with 34 hands-on activities designed to complement any Anatomy & Physiology course or text.
• An eBook and a SmartBook® adaptive reading experience, designed to help students learn faster, study more efficiently, and retain more knowledge.

Program Components
Narrow by
Clear All Filters
Products
To learn about the specific purchase options for this program, please contact our Customer Service team at 800-338-3987
We have stopped printing many old products, but we might have some stock in our warehouse.
Select legacy products are available on Create® EasyOrder.
Additional Details & Resources
UNIT 1: LEVELS OF ORGANIZATION
CHAPTER 1 Introduction to Human Anatomy and Physiology
CHAPTER 2 Chemical Basis of Life
CHAPTER 3 Cells
CHAPTER 4 Cellular Metabolism
CHAPTER 5 Tissues
UNIT 2: SUPPORT AND MOVEMENT
CHAPTER 6 Integumentary System
CHAPTER 7 Skeletal System
CHAPTER 8 Muscular System
UNIT 3: INTEGRATION AND COORDINATION
CHAPTER 9 Nervous System
CHAPTER 10 The Senses
CHAPTER 11 Endocrine System
UNIT 4: TRANSPORT
CHAPTER 12 Blood
CHAPTER 13 Cardiovascular System
CHAPTER 14 Lymphatic System and Immunity
UNIT 5: ABSORPTION AND EXCRETION
CHAPTER 15 Digestive System and Nutrition
CHAPTER 16 Respiratory System
CHAPTER 17 Urinary System
CHAPTER 18 Water, Electrolyte, and Acid-Base Balance
UNIT 6: THE HUMAN LIFE CYCLE
CHAPTER 19 Reproductive Systems
CHAPTER 20 Pregnancy, Growth, Development, and Genetics