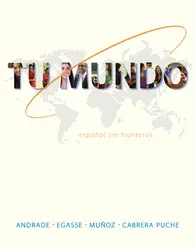 Tu mundo UPDATED EDITION
Copyright: 2014
Publication Date: April 9, 2013
MHID: 0073375098
ISBN 13: 9780073375090
Price :

$150.00

Qty :

Total :

$150.00
The purchase quantity range should be
1
-
29
for this product.
Pricing subject to change at any time. We only ship to US locations
New Features
Each chapter is divided into four segments: Comunícate, Exprésate, Entérate, and Infórmate unlike most traditional programs divided into sections for vocabulary, grammar, culture, and skills.
An all-new Cast of characters have been developed to lend a narrative thread to the program. Each chapter focuses on one of the fifteen characters and his or her home country. They are all members of a student club called Amigos sin fronteras. They are integrated throughout the text, workbook/lab manual, and video programs.
In the Comunícate section, vocabulary is presented and contextualized through a series of communicative activities and art at the start of each chapter.
Infórmate boxes (lexical items that lend themselves to grammar explanations) in the Comunícate section help students incorporate relevant grammar information in the communicative activities.
Actividad integral provides students an opportunity to integrate their new vocabulary with the Cast of Characters storyline through a series of interactive activities.
Tu mundo places grammar concepts and practice at the end of each chapter (Infórmate) to support the philosophy that grammar supports communicative functions rather than be an end-all in itself. Lee Infórmate reminders are included throughout the chapter to remind students when to learn and practice key grammar concepts.
The Exprésate section offers students the opportunity to write early in each chapter about their lives and experiences related to the chapter theme and cultural content.
The culture of one Spanish speaking country is presented in each chapter. That culture is fully integrated into the semantic theme of the chapter: communicative activities, readings, and Videoteca.
The Entérate section at the end of the communication activities features Mundopedia and Conexión cultural. Mundopedia is a Wikipedia-like reading which, in Connect, will provide navigation tools from one Mundopedia to another; Voces gives students a sample of country specific vocabulary , while Conexión cultural invites students to further explore cultural themes from the country of focus.
Amigos sin Fronteras: Each Videoteca segment features a connected story involving the members of the Amigos sin Fronteras international club. Pre- and post-activities are available in Connect and the Workbook/Lab Manual.
Mi país: A vivid, informative, and colorful introduction to the country of focus narrated by the character from that country or region. Pre- and post-activities available within Connect and the Workbook/Lab Manual.
Mundo interactivo: interactive, task-based scenarios, explore a wide variety of topics based on behind-the-scenes interviews with the cast of the Amigos sin fronteras video segments. Available within Connect Spanish.
The Instructors Resource Kit includes a variety of additional activities for use in class, including TPR, Lecturas, and Oral Proficiency role-plays. The IRK also includes extensive lesson plans, powerpoints, and exams.
An interactive ebook, the complete Workbook/Lab Manual, grammar tutorials, and all the audio and video materials.
LearnSmart, the only super-adaptive learning tool on the market, is proven to significantly enhance students' learning and improve course outcomes. Available within Connect Spanish and as a mobile app, LearnSmart provides students with targeted feedback specific to their individual performance, and additional practice in areas where students need help the most.
Additional interactive activities using drag-and-drop functionality, embedded audio, voice recorders, and videos targeting key vocabulary, grammar, and cultural content for extra practice.
A comprehensive gradebook to view your assignment results.
Voice Board and Blackboard IM, two powerful tools integrated into Connect Spanish, promote communication and collaboration outside the classroom.
Practice Spanish: Study Abroad, our immersive online game for Introductory Spanish available online and as a mobile-ready app (additional cost).
Tu mundo UPDATED EDITION
Capítulo 1 ¡A conversar!
Comunícate
Los nombres de los compañeros de clase

La ropa, los colores y los números del 0 al 49

La descripción de las personas

Los saludos
Infórmate
Subject Pronouns and the Verb ser

Gender and Number of Nouns

Adjective-Noun Agreement

Negation
Mi país: Los Estados Unidos
Capítulo 2 Amigos y compañeros
Comunícate
Los cumpleaños y la edad

Las cosas en el salón de clase y los mandatos

El cuerpo humano

Amigos sin Fronteras
Infórmate
Expressing Age: The Verb tener

Expressing Location: The Verb estar

Forms and Placement of Adjectives

Origin: ser de
Mi país: Paraguay
Capítulo 3 Las actividades y el tiempo libre
Comunícate
Las actividades favoritas

La hora

Las actividades diarias

El tiempo
Infórmate
Using gustar to Express Likes and Dislikes

Telling Time: ¿Qué hora es? ¿A qué hora… ?
Mi país: Argentina y Uruguay
Capítulo 4 La familia y los amigos
Comunícate
En familia

Las preferencias y los deseos

Datos personales

Los planes
Infórmate
Possession: tener, ser de, and Possessive Adjectives

The verbs preferir and querer + Infinitive

Question Formation

Making Plans: pensar, tener ganas de, and ir a with Activities and Places
Mi país: Ecuador
Capítulo 5 La rutina diaria
Comunícate
La rutina

Las tres comidas

Los días festivos

Los estados físicos y anímicos
Infórmate
Present Tense of Reflexive Verbs

Verbs with Stem Vowel Changes (ie, ue) in the Present Tense

Impersonal Direct Object Pronouns: lo, la, los, las

Irregular Verbs
Mi país: El Salvador, Honduras y Nicaragua
Capítulo 6 Las carreras y los oficios
Comunícate
Las materias

Las actividades en la clase

Las habilidades

El empleo
Infórmate
Indirect Object Pronouns

Present Progressive

Saber and poder + Infinitive

Obligations: tener que, deber, necesitar; hay que, es necesario + Infinitive
Mi país: Chile
Capítulo 7 Los lugares y la residencia
Comunícate
Los lugares en la ciudad

La casa y el vecindario

Las actividades domésticas

Actividades en casa y en otros lugares
Infórmate
Knowing People, Places, and Facts: conocer and saber

Comparisons of Inequality: más/menos

Comparisons of Equality: tan/tanto

The Preterite Tense of Regular Verbs
Mi país: Colombia y Panamá
Capítulo 8 Hablando del pasado
Comunícate
Mis experiencias

Las experiencias con los demás

Hechos memorables
Infórmate
Verbs with Irregular Preterite Forms

Stem-Changing Verbs in the Preterite

Verbs with Special Meaning in the Preterite: conocer, poder, querer, saber, tener

Expressing ago: hacer + Time
Mi país: México
Capítulo 9 ¡Buen provecho!
Comunícate
La cocina del mundo hispano

La nutrición

La preparación de la comida

En el restaurante
Infórmate
Personal and Impersonal Direct Object Pronouns: lo, la, los, and las

Using Affirmative and Negative Words: alguien/nadie, algo/nada

Expressing one or you: The Impersonal se

Stem-Changing Verbs: pedir and servir
Mi país: Perú y Bolivia
Capítulo 10 Los recuerdos
Comunícate
La familia y los parientes

La niñez

La adolescencia
Infórmate
Prepositions and Pronouns

The Imperfect Tense

Talking About Past Actions in Progress: The Imperfect Progressive

Using the Imperfect to Express Intention: ir + a, querer and pensar + Infinitive
Mi país: Cuba
Capítulo 11 De viaje
Comunícate
La geografía y el clima

Los medios de transporte

En busca de sitios

Los viajes
Infórmate
The Present Perfect

Destination and Time: por and para (Part 1)

Polite Commands

Using the Imperfect and the Preterite Together
Mi país: España
Capítulo 12 La salud
Comunícate
El cuerpo humano y la salud

Las enfermedades y su tratamiento

La atención médica

Los accidentes y las emergencias
Infórmate
Present Subjunctive with querer, recomendar, and Other Verbs of Volition

The Subjunctive in Time Clauses

Indirect Object Pronouns with Commands and Present Subjunctive

Unplanned Occurrences: se
Mi país: Venezuela
Capítulo 13 La familia y la crianza
Comunícate
Los lazos familiares

Las órdenes y los consejos y los buenos deseos

La crianza
Infórmate
Describing: ser and estar

Informal Commands

More Uses of the Subjunctive (Part 1)

Narrating Past Experiences: The Present Perfect, Imperfect, and Preterite
Mi país: Puerto Rico y la República Dominicana
Capítulo 14 De compras
Comunícate
Los productos y los materiales

Comprando ropa

Las compras y el regateo

¿Gastar o ahorrar?
Infórmate
Price, Beneficiary and Purpose: por and para (Part 2)

Using Indirect and Direct Object Pronouns Together

Pronoun Placement Summary

Opinions and Reactions: Indicative and Subjunctive
Mi país: Guatemala
Capítulo 15 Nuestro provenir
Comunícate
Las metas personales

Cuestiones sociales

La tecnología

El futuro del planeta
Infórmate
The Future Tense

More Uses of the Subjunctive (Part 2)

The Conditional

Past Subjunctive and Summary of Uses of the Subjunctive
Mi país: Costa Rica